LOUISVILLE, Ky. (WDRB) -- Educators in Kentucky and Indiana hope to see more money coming their way by the end of legislative sessions that start next month.
But for different reasons, policymakers in both states say that'll be easier said than done.
In Kentucky, the 2020 budget session will be the first real test of Democratic Gov. Andy Beshear's ability to navigate his priorities through a General Assembly with Republican supermajorities in both houses.
One of his campaign pledges — a $2,000 across-the-board pay raise for Kentucky's teachers — will be especially tricky with rising costs in other areas and tepid revenue growth projected for the upcoming two-year period.
With an estimated 42,000 teachers in the state, that would equal at least an extra $168 million over the two-year budget period.
"I don't think anyone disagrees that public education needs to be a priority, but we will have to have an earnest conversation about additional sources of revenue, like expanded gaming and sports betting, so we can free up some of the money we will need to address education funding," Beshear, who took office Dec. 10, said in a statement.
Republican Sen. Chris McDaniel, who chairs the Senate Appropriations and Revenue Committee, said the most conservative estimates have Kentucky lawmakers starting off with a budget deficit of about $650 million. He said he's unsure where Beshear will find the money to finance such a pay hike for teachers in a tight two-year budget.
"Frankly, I think he would be well-served, as would everybody, to pay our past debts first — our pension contributions, our commitment to school safety, things like that — before we start getting into those other programs," McDaniel, of Taylor Mill in northern Kentucky, said in an interview with WDRB News.
A similar push from the Indiana State Teachers Association for salary increases for Hoosier educators faces resistance from Republican lawmakers and GOP Gov. Eric Holcomb, who assembled a panel to study teacher compensation ahead of the 2021 budget session.
Keith Gambill, president of the Indiana teacher's group, said lawmakers should consider using some of the state's budget surplus at the close of the 2019 fiscal year to start improving teacher salaries.
The raise should be viewed "as a down payment in getting us to where to governor wants Indiana to be, and that's in the top three within the region in terms of salary," Gambill said in an interview.
"We're last in the region just in terms of total salary," he said, referencing National Education Association statistics that show Indiana teachers made $35,943 on average during the 2017-18 school year.
"While there are some that are saying it's not a budget year, our position as a state as it relates to teacher pay is not going to improve without making some serious effort at that," he said. "The state has collected over $400 million in revenue above what was projected, and we believe that $75 million of that would be payment in the right direction to get us moving to where we should be."
Other education-related bills are sure to come up during next year's legislative sessions, including the re-emergence of a push to legalize scholarship tax credits in Kentucky.
Charles Leis, president of EdChoice Kentucky, said his group is more optimistic than ever that its pursuit of a scholarship-tax-credit program will pay off in the upcoming session. The program would give up to $25 million in total tax breaks to those who donate to organizations that dole out scholarships to private schools.
He expects House Speaker David Osborne and other members of Republican leadership in the lower chamber will again sign on as co-sponsors of the bill once it's filed. Although there was some debate as to whether lawmakers would need to gather 60 votes to pass such a bill in this year's session, the 60-vote threshold will not apply during next year's budget session.
"They've all indicated to me that they intend to support, and they intend to give it priority and to put it out there," Leis said. "They're concerned our state just doesn't have school choice of virtually any kind, and they think it's the right thing to do."
Seeking more in a tight Kentucky budget
Kentucky's General Assembly will have little new revenue to spend in the upcoming budget.
On Dec. 17, the state economists set revenue estimates at $11.7 billion for fiscal year 2021 and $11.9 billion for fiscal year 2022. Those figures seem large but represent increases of $146 million and $207 million, respectively.
Eddie Campbell, president of the Kentucky Education Association, wants to see more money flow into classrooms and paychecks across the state.
Teachers aren't the only school workers who deserve a $2,000 bump in their annual salaries, he said. He hopes bus drivers, food service employees, janitors and anyone else who works in K-12 education can see a similar uptick in pay during next year's budget session.
"It's important that all of those individuals are compensated and are of high quality, because we want to give the very best that we can for the students of Kentucky," Campbell said. "...Everybody deserves to be paid as a professional."
But Beshear, who galvanized teachers in his successful campaign to defeat Republican incumbent Matt Bevin in November, has said his proposed budget will focus on providing teachers with higher pay, "a much-needed step in rebuilding a positive relationship with our educators and growing Kentucky's economy."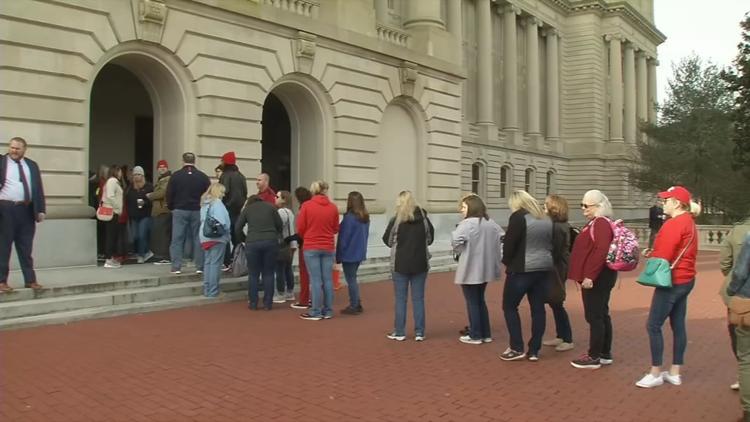 "Our current teacher shortage is harming our children and our families," he said in a statement. "This raise is necessary to not only attract good new teachers, but also to retain the ones we have."
Beshear said his spending proposal will also include attention to postsecondary and vocational education to provide more opportunities for Kentucky students once they graduate from high school.
Upcoming budget talks will provide an opportunity to reevaluate state funding for K-12 education, Campbell said.
The state pays for primary and secondary education through Supporting Education Excellence in Kentucky distributions, which supplements local property tax receipts for school districts. Districts with wealthier tax bases, like Jefferson County Public Schools, get fewer per-pupil dollars from the state while districts in poorer communities get larger per-student shares of the so-called SEEK funding.
But KEA and other groups contend that SEEK funding has not kept pace with inflation, based on an analysis by the Kentucky Center for Economic Policy.
"We need to make sure that we're keeping up with inflation and investing in our public schools, investing in our students, because the return on that investment gives you five or six times the investment that you put into it on the other end," Campbell said.
He also hopes the upcoming budget reverses prior cuts in areas like the Kentucky Teacher Internship Program, professional development and textbook spending, while funding mandates from the new school safety law.
McDaniel, however, said increased state contributions to pensions for teachers and school workers should be considered in discussions of how adequately lawmakers are funding education.
The share of spending on education is only poised to grow with school safety requirements that were included in Senate Bill 1 this year.
The Kentucky School Boards Association estimated that recurring personnel costs for school resource officers and counselors could top $121 million annually and it could cost districts $18.2 million to bring their buildings into compliance. McDaniel said lawmakers have not settled on an amount for the upcoming budget.
"We've put money in the most direct manner possible into the classrooms, a lot of new money, and that's via our contributions to the teachers' retirement system," McDaniel said.
"If retention and recruiting are their biggest issues," he said, the Kentucky Teachers Retirement System "provides an incredible pension, and we have funded that in a manner that's unparalleled."
Scholarship tax credits have been opposed by KEA and other education groups, and similar bills have gone nowhere in past legislative sessions.
The school-choice measure has support within the Republican caucus, but McDaniel said no legislation that impacts the biennial budget is a sure bet next year.
"It would be nice to say we can weigh these ideas and we've got extra money and this, that and the other, but the fact is that the long-term neglect the pension systems enjoyed or had before most of us even got to Frankfort, the bills are due," he said.
Raising pay a long shot in Indiana
Indiana lawmakers won't be writing a budget until the 2021 session, a fact that many policymakers in Indianapolis have noted as they try to tamp down expectations for teacher raises.
Holcomb's Next Level Teacher Compensation Commission is set to recommend ways to improve pay for educators in the state ahead of that year's session.
Rachel Hoffmeyer, Holcomb's press secretary, said the governor signed a budget this year that included "historic levels" of K-12 funding and $150 million to help pay off pension liabilities that freed up money for school districts throughout Indiana.
"The state is in receipt of the results from hundreds of the recently locally bargained contracts, and at the initial look, it appears a significant number of (teachers) received raises," Hoffmeyer said in a statement. "With the new developments in mind, the Governor is looking to see what the current gap is in addition to what the teacher compensation commission will uncover as well."
Lawmakers are equally wary of cracking open the current budget to give teachers more in annual pay.
Sen. Ron Grooms, R-Jeffersonville, said teacher pay is best left to local districts that currently make such decisions. The state does not set teacher salaries or include them in budgetary line-items, he said.
"Will that be opened for discussions about teacher raises? Not in my opinion," Grooms said in a phone interview.
Some have offered bills that would set salary floors for teachers, most recently a proposal from Rep. Ed DeLaney, D-Indianapolis, that would incentivize school districts to pay their teachers at least $40,000.
Gambill conceded that the pay increase will be "a difficult lift" next year.
"We have certainly heard the rhetoric from lawmakers, but we believe that we are positioned to be able to do something about it," he said.
Other major legislative priorities from ISTA will be easier to pass.
Holcomb and lawmakers have agreed with the union's call to keep this year's dismal ILEARN results from counting against schools and teachers, essentially allowing the first round of ILEARN scores to set a baseline for next year.
Evaluations and bonuses for teachers and state-level interventions for schools and districts are based on standardized test results in Indiana. This year marked the first round of ILEARN exams as the state transitioned to the new testing model.
"It was pretty much agreed that they would be held harmless, so to speak, for the results of that test," Grooms said.
Holcomb has also supported making optional a requirement that took effect this year that teachers complete 15 hours of professional development focused on career readiness as part of their licensure renewal, Hoffmeyer said.
Those hours could come through an "externship" with a company; professional development focused on opportunities for schools and employers to promote career pathways; and professional development that focuses on current and future economic needs.
The 15-hour externship has drawn the most scrutiny from teachers. ISTA wants the professional growth requirement repealed entirely next year.
After teacher demonstrations in Kentucky and elsewhere throughout the country, Indiana teachers closed down half of the state's districts for "Red for Ed Action Day" on Nov. 19 as lawmakers organized ahead of next year's session. Some 15,000 teachers descended on the Capitol that day.
Gambill said teachers will continue to make their views and concerns known as they work to move their agenda forward.
The showing in Indianapolis could be a preview of a more engaged voting bloc of teachers depending on how next year's session progresses, he said.
"Lawmakers will begin to see that those folks weren't just engaged on Nov. 19, but they're engaged back home as well," Gambill said. "That will include their work this session, and if they're putting their name on the ballot again, folks will know what their record is."
Copyright 2019 WDRB Media. All Rights Reserved.