JEFFERSONVILLE, Ind. (WDRB) – As supporters of new Ohio River bridges, officials at the Mister "P" Express trucking company looked forward to more routes between Louisville and Southern Indiana. But the two spans came with a price.
Mister "P" budgeted $500,000 to cover the cost of tolls during the first year of the all-electronic RiverLink system in 2017, in some cases passing along the increase to customers, said Cynthia Collier, the company's president and CEO.
"It's difficult to absorb over a half a million dollars off your bottom line, but we have managed to do that," she said.
Kentucky and Indiana set the highest toll rates on tractor-trailers and other heavy trucks -- $10 to $12 per crossing, with annual rate hikes – and are counting on the money to help pay off the $2.3 billion project in the decades to come.
Before tolls started in late 2016, some observers wondered if truck drivers might seek out the toll-free Sherman Minton Bridge to make trips across the river or, in the case of national carriers, bypass Louisville altogether.
But so far, truck traffic is exceeding expectations.
About 19,000 trucks are using the Ohio River's three toll bridges each day, or about 22 percent of all tolled crossings, according to a traffic count conducted earlier this year. Consultants had predicted that in 2018 trucks would account for about 16,600 crossings, or 15 percent of the toll bridges' daily traffic.
The new data seems to indicate that truck drivers are picking bridges that will get them across the river quickly, said Mindy Peterson, a RiverLink spokeswoman.
"When truckers are going across the tolled bridges, they are choosing a route that is likely the most direct and the fastest for them and that is going to save them money," she said.
The better-than-expected truck traffic is helping toll revenue exceed projections. Kentucky and Indiana received $96.5 million from tolls during the year that ended in June, beating estimates of $79.3 million for that 12-month period, according to data obtained through public records requests.
But passenger cars are making up a smaller proportion – 77 percent of crossriver trips each day -- than the 85 percent that experts thought. And the reliance on truck traffic comes as Indiana plans to consider adding tolls to several interstates, including I-65 north of Louisville.
Under the RiverLink system, Kentucky and Indiana charge for three crossings between Louisville and Southern Indiana: The Interstate 65 Lincoln and Kennedy bridges, which connect Louisville and Jeffersonville, and the Lewis and Clark Bridge that links Indiana's Lee Hamilton Highway and Kentucky's Gene Snyder Freeway.
"When we meet expectations with traffic and with revenue, all of the obligations are being fulfilled," Peterson said. "That's why we have tolling – so we can pay for the bridges project. If we don't meet numbers then we run into issues."
While revenues are on track, the traffic data collected in early 2018 paints a mixed picture of how truck and passenger vehicle drivers have responded to tolls.
In fact, there are fewer vehicles crossing the Ohio River than before the states added the two new bridges and rebuilt the Spaghetti Junction interchange in Louisville. In 2013, the year construction began, an average of 224,700 vehicles per day crossed the river.
After adding two new bridges – and tolls – the average daily traffic dropped to 220,200 in 2018. Consultants had expected more than 250,000 trips per day.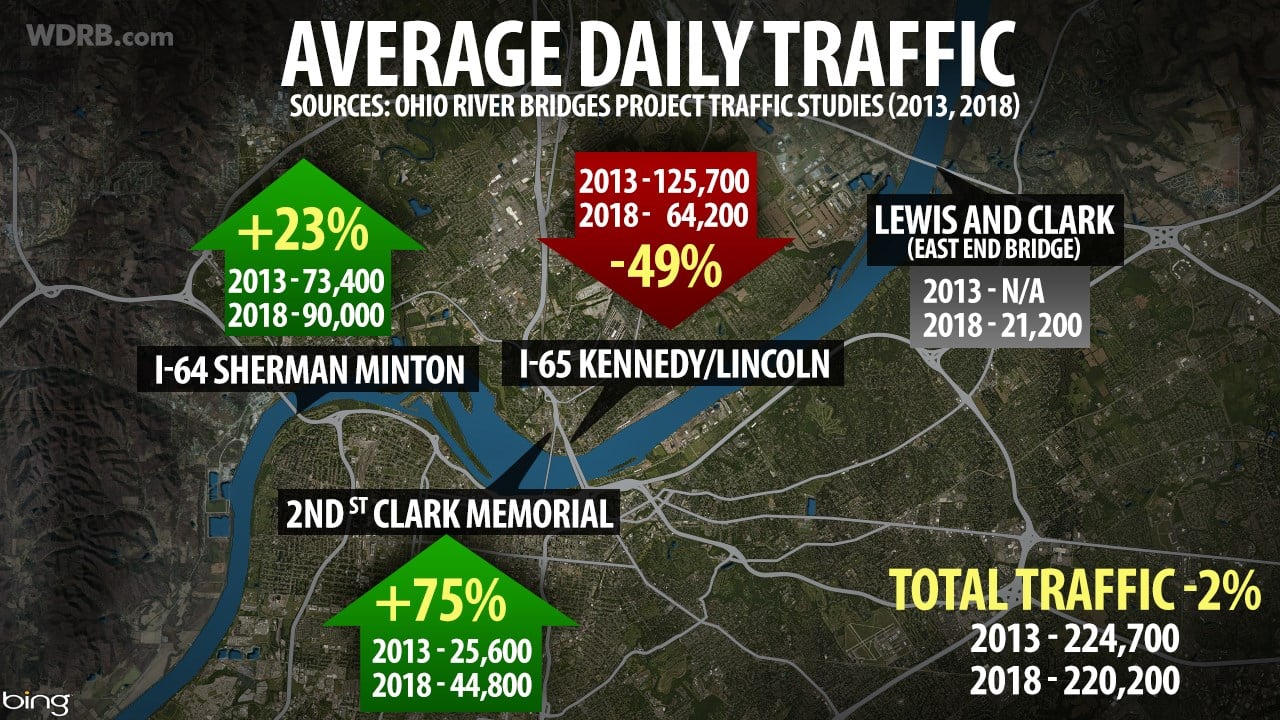 More tolls ahead?
As truck companies adjust to tolls on the Ohio River bridges for decades to come, they also are awaiting a study that could determine if Indiana will pursue tolls on its interstates.
Indiana is paying a consultant $9.6 million to deliver a plan to Gov. Eric Holcomb by December 1 that evaluates tolls on some interstate sections.
Holcomb told reporters during a stop in Clarksville, Ind., last week that he will wait until the study is done to discuss his approach, but said consultants will look at the prospect of tolls on Interstates 65 and 70, and a section of I-94 in northern Indiana. 
While Indiana has planned for road projects into the mid-2020s, Holcomb said the state eventually must consider how to pay for future work, especially while relying on gas taxes from increasingly fuel-efficient vehicles.
"Then you have to start to think: where is that additional revenue going to come from?" he said. "Having said all that, the state of Indiana has a plan in place that gets us well into the future, so this investment in this study is going to be very valuable to us not just now -- whether we toll or not -- but every year hereafter."
In September, Holcomb's administration pushed through a 35 percent, truck-only toll increase on the Indiana Toll Road in northern Indiana to pay for a $1 billion statewide infrastructure program.
The program includes funding to increase rural broadband internet access; grow the state's recreational trails system; add nonstop flights in Indianapolis; buy land for a new Ohio River port near Lawrenceburg; and speed up several highway projects, including a section of I-69 between Indianapolis and Martinsville. 
But singling out trucks for the toll hike caught trucking interests off guard. Todd Spencer, president and CEO of the Owner-Operator Independent Drivers Association, a national trade group with 4,650 members in Indiana, petitioned Holcomb to reconsider, calling the increase "burdensome to and discriminatory against interstate commerce."
The association also has called for its members to boycott the toll road.
Holcomb said his plan helps truckers by completing the I-69 section, which is part of a larger corridor meant to link Canada, the U.S. and Mexico.
"You know who that benefits the most? The trucking industry," he said. "That's connecting three countries, not a county to a county. So this corridor will continue to maximize our location, location, location."
But tolls are weighing on carriers, including those who can't pass along the costs to their customers, said Gary Langston, president of the Indiana Motor Truck Association. 
Langston said toll increases and proposed tolls in Indiana are causing "a lot of frustration and a lot of disappointment" among trucking companies.
"Indiana has always been known as a trucking-friendly state and for whatever reason the trucking industry doesn't feel that right now," he said. "It seems that at every opportunity they have to impact the trucking industry, it's taken."
Meanwhile, companies are adjusting.
In an effort to mitigate the cost of RiverLink tolls, Clarksville, Ind.-based Summitt Trucking bought a "drop yard" in Bullitt County south of Louisville. The facility lets the company keep trailers there, letting drivers in the Louisville area make pickups without crossing the toll bridges, said Jason Staker, Summitt's vice president of operations.
Without the extra space in Kentucky, where Summitt also operates a truck driving school, Staker estimated that the company's monthly toll costs would have been $65,000.
"Though we're taking it on the chin with the $23,000 that we didn't use to pay," he said, "it's a lot less than what it would have had we not had the drop yard."
Reach reporter Marcus Green at 502-585-0825, mgreen@wdrb.com, on Twitter or on Facebook. Copyright 2018 WDRB Media. All rights reserved.