LOUISVILLE, Ky. (WDRB) -- A Metro Council committee on Wednesday learned LMPD leaders and Mayor Greg Fischer's administration didn't always see eye-to-eye as they responded to Louisville protests.
Ahead of what ended up being a hearing that spanned more than five hours, council members put Chief of Public Safety Amy Hess and a collection of high-ranking LMPD commanders under oath.
In the testimony before the Government Oversight and Audit committee, the police leaders testified that the vast majority of protest days and actions were non-violent, but the council focused on the few that weren't.
Protests, in response to the police shooting that killed Breonna Taylor, began in Louisville on May 28. LMPD officers testified that, as the sun set on that night, the protest transitioned to rioting near the Second Street Bridge, and the police department was unprepared to respond.
Maj. Aubrey Gregory, who took command, said he decided to deploy tear gas and pepper balls because he had to break up the riot that formed near Metro Hall after seven were shot there.
"One of the gentlemen out there was not going to survive if we did not get him to the hospital immediately," Gregory said. "He had took a femoral artery hit."
Assistant Chief Josh Judah defended the decision to use tear gas and said it was the only way to disperse the crowd without engaging in "hand to hand combat."
"It can't be understated, what happened on May 28th was a cataclysmic event for this city," Judah said.
He also testified about the next night, May 29, one of the worst, if not the worst, of looting and rioting in the more than 100 days of protest.
Judah said, despite rumor, it wasn't a stand-down order from Mayor Greg Fischer that stopped officers from breaking up destruction at Fourth Street Live.
"We were completely locked in on four sides by that extremely hostile element who had pulled every piece of detritus there was downtown into barricades and set some of them on fire," he said.
But LMPD commanders say they were subject to stand-down orders from higher up on other nights.
Gregory testified one such order prevented officers from breaking up what they called risky protest caravans, and another prevented them from wearing riot gear when dispersing protesters from Jefferson Square Park.
Maj. Paul Humphrey said the decisions from higher up have had a larger impact on the lower ranking officers on the streets.
"The environment that we have right now is an effective stand-down order for the police," he said.
But testimony revealed some healing and understanding after what one major described as a "day of infamy," on June 15, when he said rioters, some of whom were throwing bricks and surrounding traffic, blocked the entrance to Interstate 64 on Ninth Street in the afternoon rush hour.
Officers originally were told to stand-down, Judah testified.
"I was on the phone with (Interim Chief Robert Schroeder), and I said, 'Sir, I can go end this right now.' And he said, 'No, you don't have enough numbers. Go back,'" he said.
During the hearing, Chief of Public Safety Amy Hess shouldered the blame from Schroeder.
"Mistakes were made," she said. "I made mistakes."
Hess said that she, along with Mayor Fischer, prioritize de-escalation tactics and restraint when dealing with hostile crowds.
"The mere presence of the police escalates the situation," she said.
However, after the Ninth Street riot on June 15, Hess, Fischer and LMPD commanders met the following day and made an important change, Judah testified.
"Essentially, you have to let the commander on the ground make the call when the call needs to be made, and you hold them accountable to that," Judah said.
Both Judah and Hess said the process of policing unrest improved since that agreement.
Judah was also asked about the city's May 31 response to 26th Street and Broadway, where the Kentucky National Guard shot and killed David McAtee just after midnight on June 1. A state official has said guard members were returning shots fired by McAtee.
The assistant chief said LMPD responded to that area with the National Guard after dispersing hostile crowds throughout the city. Judah said LMPD believed the crowd was going to re-group in West Louisville, and surveillance cameras spotted a large crowd at 26th Street and Broadway.
When the nearby Kroger and ATM were looted days later, council members said LMPD was slow to respond. Judah said officers wanted to respond faster, but it wasn't safe to do so.
"That was a decision of property over life," Judah told the committee. "That was a certainty of a gun battle."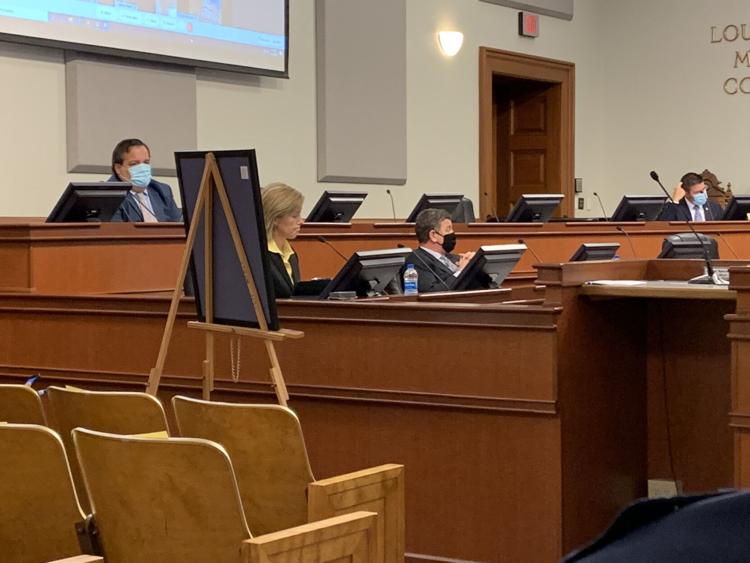 Schroeder, meanwhile, refused to testify during Wednesday night because his attorneys say his legal concerns still haven't been addressed. Schroeder was named personally in a recent lawsuit filed by the American Civil Liberties Union.
Councilman Brent Ackerson, the committee chair, said the committee will look to compel Schroeder's testimony next. He said it might also soon seek testimony from Fischer.
Fischer defended some of his decisions related to protests and unrest after the Wednesday hearing.
"As Mayor, I have the final responsibility for our top priority of public safety. I absolutely rely on and respect LMPD's expertise and experience – and appreciate the vital work they do for our community. My emphasis to LMPD has been to deescalate whenever possible, to avoid making difficult situations even worse," he wrote. "It would be negligent for me not to be involved in discussions about how we ensure people can exercise their First Amendment right to protest peacefully while maintaining public safety. Yet, I can now understand why some conversations and questions were interpreted as directives. It was never my intent to make LMPD command and officers feel unsupported or unfairly criticized."
Copyright 2020 WDRB Media. All Rights Reserved.