LOUISVILLE, Ky. (WDRB) -- This looks like the best week yet for the 2020 college football season.
Louisville and Kentucky are both slight favorites -- and in need of breaking two-game losing streaks.
Western Kentucky returns home to play one of its primary rivals in Conference USA.
And both the Atlantic Coast and Southeastern conferences feature Show Me game for two of college football's best know brands -- the Miami Hurricanes and Tennessee Volunteers.
Here are the selections from the WDRB Sports staff, which has started the season strong with three members picking more winners than losers.
1. Louisville at Georgia Tech (+5 1/2), Friday, 7 p.m., Bobby Dodd Stadium, Atlanta, Ga.
The Cardinals expected to be no worse than 2-1 heading to Atlanta and cannot afford to slip to 1-3 … The formula for improvement is simple: eliminate turnovers, improve the running game and upgrade the punting game. But the question is: Do the Cards have the personnel to achieve those items? The Yellow Jackets also have a second-year coach (Geoff Collins) … they were projected to finish last in the league but have already earned an ACC win against Florida State … Jeff Sims, Georgia Tech's freshman quarterback has thrown eight interceptions in three games but Louisville has only intercepted one pass in three games … U of L is 1-1-1 against the spread while Tech is 1-2.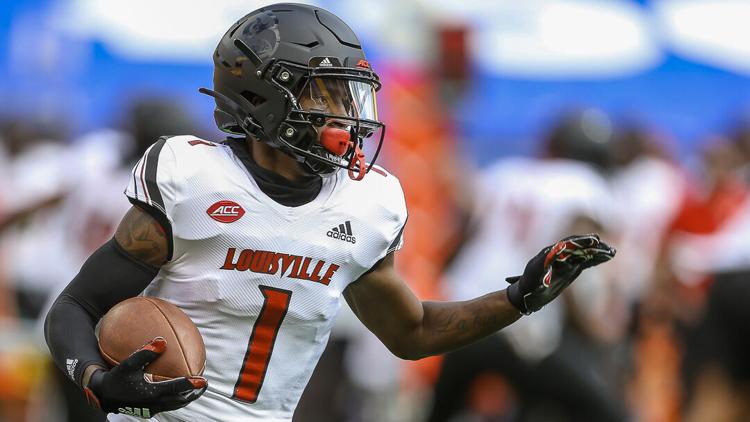 Eric Crawford: U of L 35, Georgia Tech 21
Tom Lane: U of L 28, Georgia Tech 21
John Lewis: U of L 34, Georgia Tech 17
Aaron Matas: U of L 31, Georgia Tech 28
Rick Bozich: U of L 35, Georgia Tech 24
Ruby: Georgia Tech
2. Mississippi State at Kentucky (-3); Saturday, 7:30 p.m., Kroger Field, Lexington, Ky.
Which Mississippi State team is going to show up Saturday night? The one that threw for 623 yards and five touchdowns while upsetting defending national champion Louisiana State on the road or the one that threw for 313 yards with three interceptions while losing at home to lowly Arkansas? The home team has won four straight in this series … the Wildcats will be without halfback Kavosiey Smoke for several weeks because of a rib injury but the running game should remain powerful because quarterback Terry Wilson and halfbacks A.J. Rose and Chris Rodriguez became the first UK trio in modern history to run for 100 yards in the same game last week … the Bulldogs rank first in the SEC in passing offense, while the UK defense is seventh in that category … UK is first in the SEC in rushing offense while State is second in rushing defense … the Bulldogs are 1-1 against the line while UK is 0-2.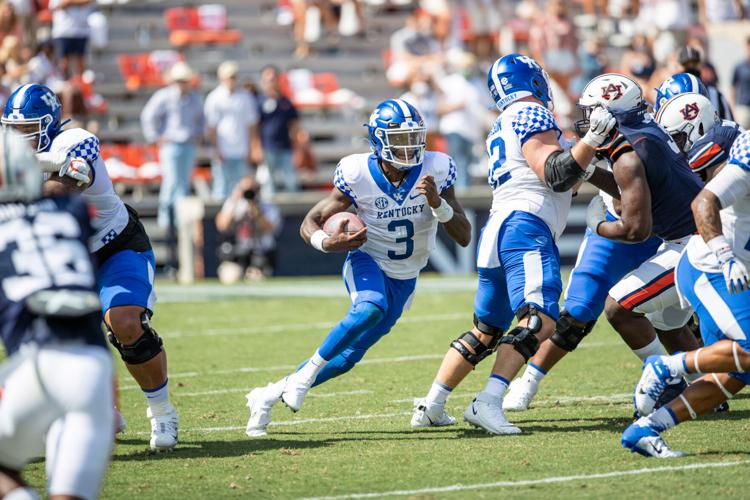 Eric Crawford: Miss State 38, UK 35
Tom Lane: Miss State 34, UK 31
John Lewis: UK 38, Miss State 31
Aaron Matas: Miss State 40, UK 35
Rick Bozich: UK 35, Miss State 31
Ruby: Miss State
3. Marshall at Western Kentucky (+7); Saturday, 7:30 p.m.; Houchens-Smith Stadium; Bowling Green, Ky.
The Hilltoppers will try to build on their victory at Middle Tennessee last week against a formidable Marshall squad that opened with a 59-0 victory over Eastern Kentucky and upset Appalachian State Sept. 19. That was the last time the Thundering Herd played … the last three games between the teams have been decided by a total of 13 points, including Marshall's 26-23 victory last season … Marshall has outgained its two opponents by an average of 238 yards per game while the Hilltoppers have been outgained by an average of 143 yards per game …Grant Wells, Marshall's freshman quarterback is second in Conference USA in total offense while WKU's Tyrrell Pigrome is sixth … Marshall is 1-0 against the spread while WKU is 0-3.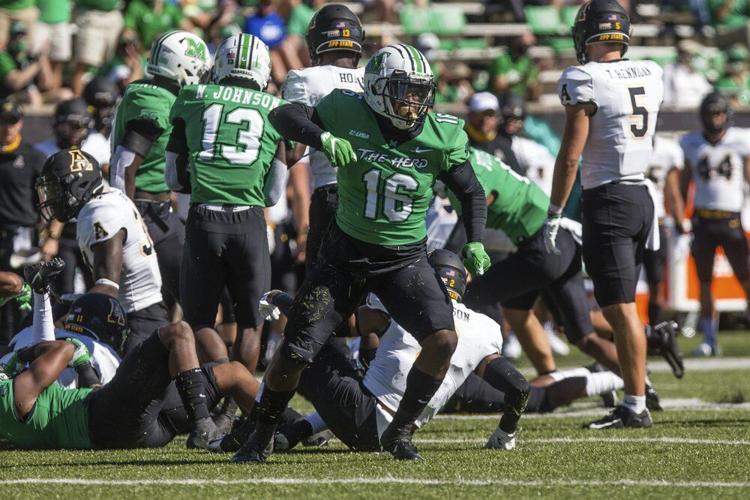 Eric Crawford: Marshall 28, WKU 24
Tom Lane: Marshall 20, WKU 14
John Lewis: Marshall 19, WKU 16
Aaron Matas: Marshall 31, WKU 21
Rick Bozich: Marshall 31, WKU 17
Ruby: WKU
4. Miami at Clemson (-15); Saturday, 7:30 p.m., Memorial Stadium, Clemson, S.C.
Honk for every story you've read that pushed the narrative that Miami football is back over the last decade … with three solid victories to open the season, the Hurricanes have caught the attention of ABC and ESPN, earning an appearance on College GameDay for the third time … Clemson is more than a measuring stick for the Hurricane. The Tigers are a mountain. Clemson has outscored Miami 96-3 the last two times the program has played … the game features a classic quarterback matchup. Clemson's Trevor Lawrence has completed better than 73 percent of his throws and leads the ACC with nearly 283 yards passing per game. Miami's D'Eriq King has thrown for 245 yards per game but also run for 52 yards. Neither quarterback has thrown an interception … Miami is 3-0 against the line while Clemson is 0-2.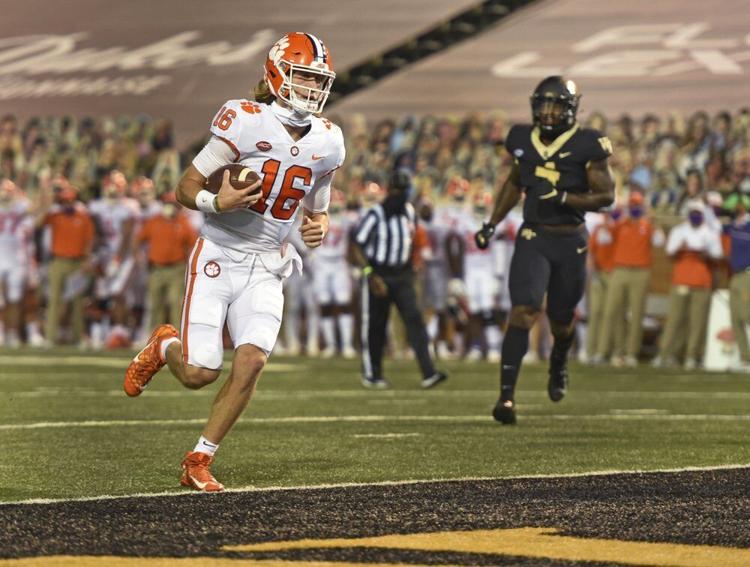 Eric Crawford: Clemson 45, Miami 35
Tom Lane: Clemson 34, Miami 24
John Lewis: Clemson 40, Miami 27
Aaron Matas: Clemson 42, Miami 31
Rick Bozich: Clemson 42, Miami 28
Ruby: Clemson
5. North Carolina State at Virginia (-9 1/2); Saturday, Noon; Scott Stadium, Charlottesville, Va.
The Wolfpack opened eyes last week with their upset victory at Pittsburgh while delivering a solid performance in a 41-23 loss at Clemson … the numbers suggest N.C. State has overachieved by winning two of its first three because the Wolfpack ranked 14th in the ACC in total defense and 10th in total offense … the Cavaliers have won nine consecutive home games and feature one of the ACC's rising stars in sophomore quarterback Brennan Armstrong who is averaging nearly 270 yards passing … both teams are 2-0 against the spread.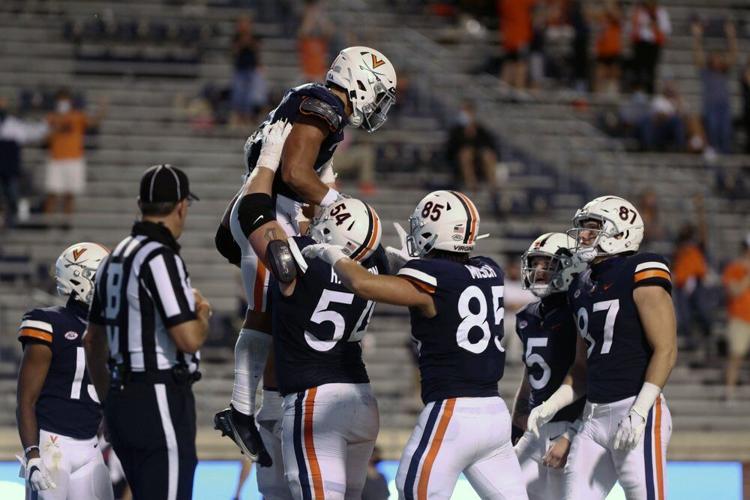 Eric Crawford: Virginia 31, NC State 21
Tom Lane: Virginia 28, NC State 20
John Lewis: Virginia 26, NC State 18
Aaron Matas: Virginia 28, NC State 10
Rick Bozich: Virginia 27, NC State 21
Ruby: Virginia
6. Virginia Tech at North Carolina (-5 1/2); Saturday, Noon; Kenan Stadium, Chapel Hill, N.C.
The list of five unbeatens in the ACC will be cut to at least three because like Clemson and Miami, both the Hokies and Tar Heels have not lost a league game … the Hokies have averaged nearly 42 points per game while handling N.C. State and Duke while UNC has limited Boston College and Syracuse to 28 total points … the Hokies have been without 20 players in both games because of injuries and the novel coronavirus. The Hokies have not said how many of those players are expected back for UNC but defensive coordinator Justin Hamilton has returned to work after missing both games because of the virus … both teams are 1-1 against the spread.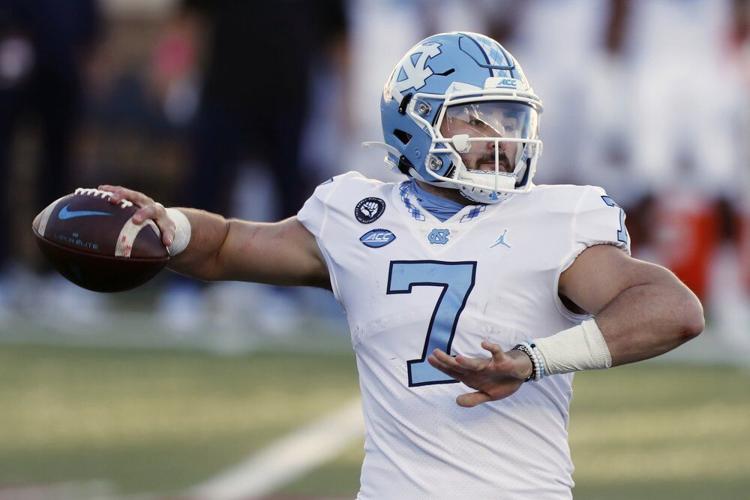 Eric Crawford: UNC 24, VT 17
Tom Lane: VT 27, UNC 21
John Lewis: VT 21, UNC 20
Aaron Matas: UNC 42, VT 31
Rick Bozich: UNC 24, VT 21
Ruby: Virginia Tech
7. Tennessee at Georgia (-13); Saturday, 3:30 p.m., Sanford Stadium, Athens, Ga.
Miami is not the only team facing a national Show Me game. With the Vols winners in eight consecutive games, Tennessee fans believe the program is primed to take its place at the top of the SEC East with Georgia and Florida. Skeptics will ask for more proof because Tennessee has lost three straight to Georgia and Florida … The Bulldogs roared to wins over Arkansas and Auburn, out-gaining those teams by 156 yards per game … the Vols defeated South Carolina and Missouri by out-gaining that pair by 46.5 yards per game … Stetson Bennett took charge as Georgia's quarterback against Auburn, completing 17 of 28 passes for a career-best 240 yards. Bennett has completed 13 of 18 third-down throws … the Vols have featured a powerful running game, which ranks second to only Kentucky at 182.5 yards per game. Tennessee has two of the SEC's top 10 rushers -- No. 1 Ty Chandler, 88 yards per game and No. 9 Eric Gray at 72.5 … Georgia is 1-1 against the line while Tennessee is 1-0-1.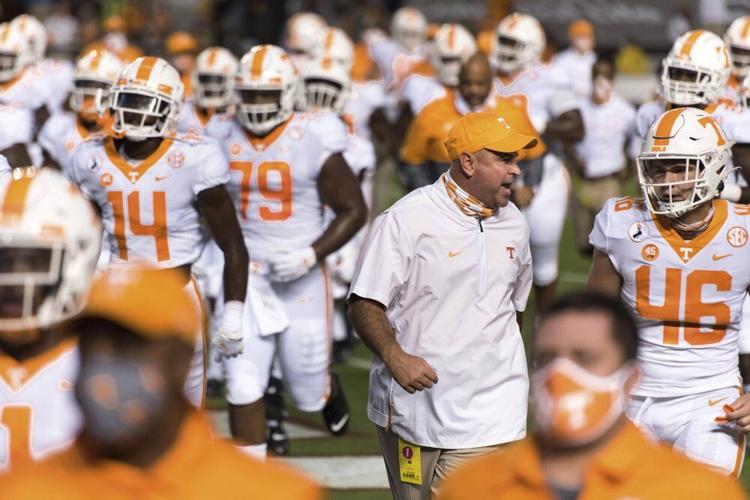 Eric Crawford: Georgia 35, Tennessee 21
Tom Lane: Georgia 30, Tennessee 13
John Lewis: Tennessee 28, Georgia 25
Aaron Matas: Georgia 52, Tennessee 20
Rick Bozich: Georgia 35, Tennessee 21
Ruby: Tennessee
Last week:
Tom Lane, 5-2
Aaron Matas, 4-3
Rick Bozich, 4-3
Eric Crawford, 4-3
John Lewis 2-5
Ruby 1-6
Season:
Tom Lane 14-12
Eric Crawford 14-12
Rick Bozich 14-12
Aaron Matas 13-13
John Lewis 10-1
Ruby 9-17
Copyright 2020 WDRB Media. All rights reserved.