LOUISVILLE, Ky. (WDRB) -- I had a question for Mike Woodson, which led to Mike Woodson having a question for me.
For me, his answer said something about what Woodson thought when he watched video clips of the Indiana University men's basketball from last season.
Woodson appeared to think what I thought: What defense were the Hoosiers attempting to play?
It wasn't the defense that Woodson or Quinn Buckner or Isiah Thomas or even Steve Alford played while winning Big Ten championships for Bob Knight at Indiana, the trademark defense-first mentality that regularly got the crowd roaring. Folks in Assembly Hall regularly responded to terrific defense with most enthusiastic approval to defense than offense.
As a four-year player for Knight, Woodson knows that.
"Knight thought out of the box when he worked with me here," Woodson said. "If we didn't do what was asked of us, he made it a point to make sure we got back in the box and did what we had to do.
"Defensively, we are going to try to be a hard-ass defensive team where we get after people and get stops and then rebound the ball and go try to have fun offensively. That's kind of my mindset going in."
But about this defense Indiana played the last four seasons, the defense that debuted by giving up 17 three-point field goals to Indiana State on Archie Miller's opening night in 2017? Did the IU players actually understand that stopping your man off the dribble is the most important defense any successful team can play?
Woodson has talked repeatedly about the offense he intends to employ with the Hoosiers: faster-paced, more shooters and more guys playing away from the basket. More emphasis on making Trayce Jackson-Davis, a potential All-American, a more versatile and efficient player.
But Woodson learned basketball from Knight at IU. Knight's teams did not play the non-sensical version of pack-line defense Miller taught in Bloomington.
So Wednesday morning, during a 20-minute Zoom interview session Woodson had with 25 media members, I asked Woodson about defense.
Indiana played the Pack-Line defense the last four years to mixed results.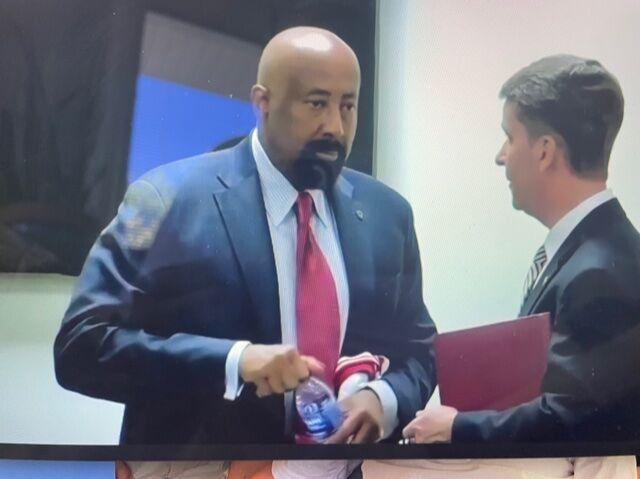 Can you explain that if an Indiana team is playing well, what kind of defense will we be watching?
"First of all, I've heard this Pack-Line," Woodson said. "What is that?"
"We don't know," I said.
I laughed.
Then I tried to explain: "It was meant to pack the lane and stop driving and penetration, leaving Indiana vulnerable many times to three-point shots because guys were slow to recover.
"It's Tony Bennett's system (at Virginia, which he actually borrowed from his father, Dick) that Archie picked up on."
"I'll say this from a defensive standpoint, the ball is the first and most important part when you start building a defense," Woodson said. "Somehow, I've got to get players to have pride in guarding the ball and not beg for help. That's where it starts."
Bingo.
Indiana was below average to unwatchable guarding the basketball the last three seasons under Miller. The Hoosiers ranked in the bottom half of the league in defensive efficiency in Big Ten games.
The trend line got worse, not better.
His first IU team ranked fourth in defensive efficiency. The last three years IU ranked ninth, eighth and 12th. All four of his teams ranked in the bottom half of the Big Ten in defending the three-point shot. Last season looked especially ugly as opponents made 36% of their shots from distance.
Only Minnesota was worse, and, like Miller, Gophers' coach Richard Pitino was fired, in part, because of that issue.
"You've to put a system in place where if there is a breakdown, you've got to have help there, and the helper has to have help, and the next man has to have help so it becomes a team defense," Woodson said.
"I think great defensive teams, they work as a unit, like everybody's on a string. When that damn ball goes up, everybody is responsible for rebounding so you can go and do what you do the other way.
"There's a lot of pieces in place that I've got to put in, because I'm very picky when it comes to defending. But it all goes hand in hand.
"Great defensive teams learn to protect the paint and they learn to get out to shooters. And it's all about effort and putting forth just the will to defend.
"And it ain't going to be perfect. I've learned over the years there is this thing called, 'What ifs?'
"If I say I want you to send the ball this way, and it doesn't get sent that way and it gets (sent) the other way, what are you going to do?
"Are you going to quit? Are you going to quit on the play? Is the next guy in line in position to help you? Is he going to help you stop the ball?
"You'd be surprised there are probably more 'What ifs," in the game than the real deal.
"These are things that as a coach, I kind of think out of the box when you are dealing with players."
I took that as a sign that the Pack-Line defense will disappear at Indiana, replaced by a system where the players who will be rewarded with playing time will be guys who understand the value of stopping the ball.
Woodson also shared several other interesting tidbits:
*There has been considerable chatter since the end of last season that the players wanted a more personal relationship with the coaching staff. Woodson created this rule:
"I make it a point when they come to work, they got to stop by my office and see me first so we can chat and see how their day is going and what's going on in their lives," he said. "That's important to me. I think it helps me from a bonding standpoint even before we hit the floor running."
*Speaking of bonding, it sounded like the bond between Woodson and Jerome Hunter was not everything Woodson wanted it to be.
Hunter followed Armaan Franklin (Virginia), Aljami Durham (Providence) and Joey Brunk (Providence) as the fourth Hoosiers to leave after last season. Hunter will play at Xavier.
"We just didn't ... we didn't mix the way I think I wanted it to be between he and I," Woodson said. "That's no knock against him.
"I think he's an excellent kid and we decided to part ways. He understood. I understood he left here and still landed on his feet at Xavier."
*And, finally, after four years of Miller seeming to keep his offseason interactions with the media to a minimum, Woodson was asked why he agreed to the Tuesday Zoom.
"Because it's OK to talk to you guys," he said. "I mean, when I look back over my career as a coach and player in the NBA, even when I was here in college, you are always going to have to deal with the media.
"I get it. You guys have a job to do, and I have a job to do as well."
Copyright 2021 WDRB Media. All Rights Reserved.