LOUISVILLE, Ky. (WDRB) -- Both games were over in the first 15 minutes — or less. Both teams lost the turnover battle, the yardage battle, the penalty battle, the public relations battle and other battles that decide football games.
Both teams — Louisville and Indiana — looked outclassed.
So one week into the 2021 college football season, the next question is natural:
Which team delivered a more deflating season-opening performance? Louisville, shutout for a half and then beaten 19 by Ole Miss, or Indiana, stuffed without a touchdown for an entire 60 minutes and beaten by 28 points by Iowa?
Kentucky and Western Kentucky pummeled opponents that accepted checks to take their pummeling. That's been a proven feel-good scheduling strategy for centuries.
Tennessee-Martin was the easiest game on the WKU schedule. Kentucky is just getting warmed up. The Wildcats have arranged a triple serving of 98-pound weaklings with Louisiana-Monroe (last Saturday), Chattanooga (Sept. 18) and New Mexico State (Nov. 20). None of those three has beaten an FBS opponent since 2019.
The Cardinals and Hoosiers were not scheduled for success. Neither played at home. Both played teams ranked in the top 30. Both were underdogs who could have earned style points by simply playing it close.
No style points were awarded, not when you lose the way U of L and IU lost.
But who delivered a more deflating performance?
My initial call is Indiana.
The Hoosiers went to Iowa City ranked No. 17 and quickly exited the Associated Press Top 25 in the latest poll issued Tuesday. Iowa looked good enough to jump from No. 18 to No. 10. Ole Miss beat U of L with enough gusto that the Rebels climbed from No. 27 to 20 in the new AP poll.
Give the Cards credit, because their equipment guys didn't distribute any jerseys with the school name misspelled.
I-N-D-I-N-I-A?
C-A-E-R-L-U-S-S.
S-L-O-P-P-E-E.
The Hoosiers showed rumors of an offense. Quarterback Michael Penix Jr. labored to find his strike zone, throwing too many pitches high and outside. As lackluster as Indiana's running game looked last season, it was more impotent against the formidable Hawkeyes.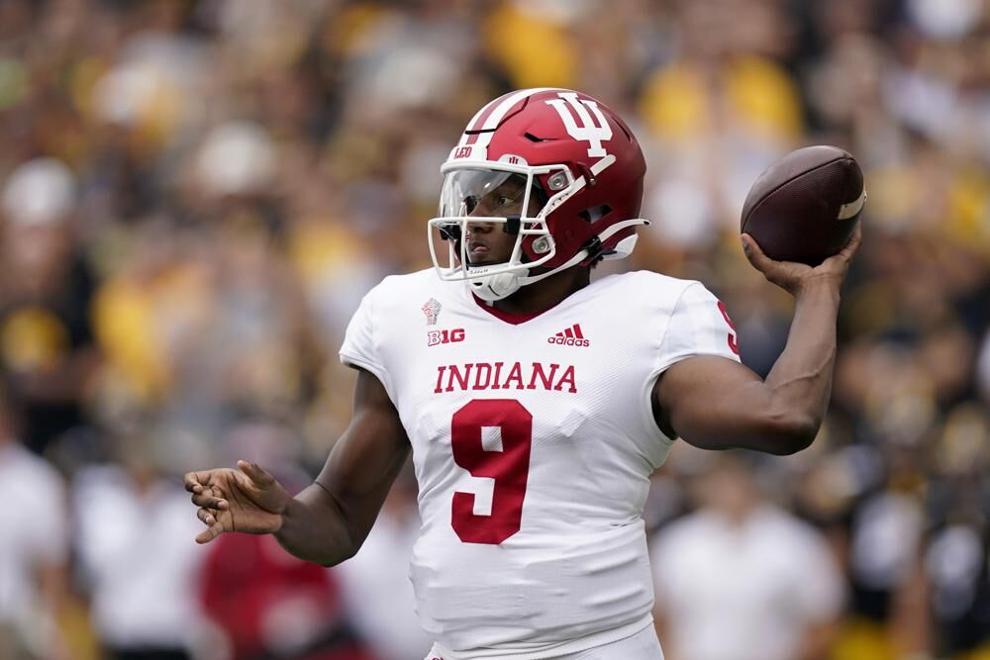 But Louisville also delivered a five-star stinker Monday night. For a half, the Cards made the Ole Miss defense look like Alabama. Louisville scrambled for 355 yards, and it was still the fewest yards the Rebels allowed in a game since 2019.
The Cards have a quarterback who likely runs too much. Malik Cunningham bolted for 79 of the 155 yards Louisville earned on the ground.
Indiana has a quarterback who likely isn't comfortable running enough, which is understandable considering the problems (two knee surgeries and clavicle injury) that stopped Penix in back-to-back-to-back seasons.
At times, Penix looked like a guy adjusting to the idea of getting hit again, behind a less than formidable offensive line.
"As you watch (game video), you see a lot of high throws and just getting comfortable in the pocket," IU head coach Tom Allen said. "Just being very transparent, I think you've got to go through — and he's got to work through — the process of being live, you know."
Translation: Penix must play through the rust and any lingering apprehension, starting Saturday night against Idaho, because the Hoosiers have two more top-25 opponents in the three games that follow the home opener.
But IU will need more from their quarterback than two carries for seven yards in losses. And they'll definitely need a passing game that completes more than 14 of 33 passes. The 42.5% completion percentage ranked 125th among 130 FBS programs in completion percentage.
If you're completing less than 43% of your passes and you're running for less than 2.5 yards per carry and you throw a pair of interceptions returned for touchdowns, then you can expect your win probability to shrink to 4.4% by halftime.
Meanwhile, in Atlanta, Louisville's win probability at halftime was a less robust 1.3%.
The Cards looked unprepared for the Ole Miss defense because they were not prepared for what the Rebels ran. They expected multiple blitzes. Ole Miss rushed three guys and did it with success. They covered with eight — and contained Cunningham from breaking outside for dynamic runs.
Give U of L head coach Scott Satterfield credit for making adjustments at halftime. But even though the Cards scored on all four of their second-half possessions, they failed to make Ole Miss sweat because they could not stop the Rebels.
No shame in that. Many teams will be unable to stop Ole Miss this season. Ask Nick Saban.
It's the offensive component that is worrisome for Louisville. It's year three, and Satterfield remains totally reliant on a quarterback who was recruited by the previous coaching staff without his own guy in line to take over and juice the offense.
The Louisville running backs looked OK. The receivers looked OK. But I didn't see a Michael Bush, Harry Douglas, Deion Branch or Bilal Powell, did you?
Looking at the uneven results that other Atlantic Coast Conference teams posted over the weekend, maybe OK will be good enough. Like Indiana with Idaho, Louisville has a Get Right game Saturday against Eastern Kentucky.
But Louisville's game with Ole Miss wasn't enough to enable the Cards to avoid the same alarms that gripped Indiana, a deflating performance that raised legitimate questions in the season opener.
Related Stories:
Copyright 2021 WDRB Media. All Rights Reserved.