LOUISVILLE, Ky. (WDRB) -- Alfred Hitchcock could not have scripted a more horrifying start to the college football season than the 34-6 loss that Indiana endured at Iowa Saturday afternoon.
"I didn't expect this to happen," IU coach Tom Allen said. "I thought it was going to be a great football game that would come right down to the finish ... just mistakes. Mistakes after mistake."
Instead of being decided in the last minute, this one was basically over after the first six minutes.
The Hawkeyes scored on a 56-yard run on their fourth snap and never trailed in sold out Kinnick Stadium. They intercepted three passes by IU quarterback Michael Penix Jr. and returned two for touchdowns.
Iowa squashed the Hoosier running game inside and outside the tackles. The No. 18 Hawkeyes waved off kicking a field goal on a fourth-and-two, converted and then smashed their way for a second-quarter touchdown.
"We started out sloppy," IU receiver Ty Fryfogle said. "We didn't get open as receivers and had a bunch of penalties."
The Hoosiers punted eight times and failed to push the football inside the Iowa 15-yard line. Indiana's 2.5 yards per rushing attempt was even worse than last season's 3.1 yard average. IU finished with 233 yards, only 88 in the second half.
Questions about IU's offensive line and play-calling remain after the Hoosiers managed only two field goals, one in each half, for their lowest point total since they were beaten by Wisconsin, 51-3, on Nov. 16, 2013.
"The offense was really, really disappointing for me," Allen said. "We have some things we have to get fixed. You've got to play at a high level right out of the gate and we didn't do that ...
"A lot of (the problems) were self-inflicted. You can't turn the ball over against a team like that. And the bottom line is we didn't run the ball very effectively."
Iowa beat the No. 17 Hoosiers so thoroughly that Indiana's stay in the Associated Press Top 25 will certainly end when the next poll arrives on Monday.
But, most of all, the Hoosiers opened the mic for all the critics and skeptics who are eager to exclaim that after a 6-2 performance during the strange novel coronavirus season of 2020, Indiana football has defaulted back to being Indiana football. With three ranked opponents remaining on the schedule, IU will have a chance to play its way back.
"I am surprised because I just expected us to come out and execute better and we didn't," IU defensive end Ryder Anderson said. "I know this team is good. The score might not show it, but I know we are a good team."
The game was a struggle for Penix and the Indiana running game. His second passing attempt went off receiver D.J. Matthews and into the hands of Iowa's Riley Moss, who returned it 30 yards for a touchdown. That was less than six minutes into the game and put the Hawkeyes ahead, 14-0, because Tyler Goodson crackled 56 yards for a touchdown on Iowa's fourth snap.
"Just poor execution," Penix said. "That's all. To be honest, I've got to be better. The turnovers killed us."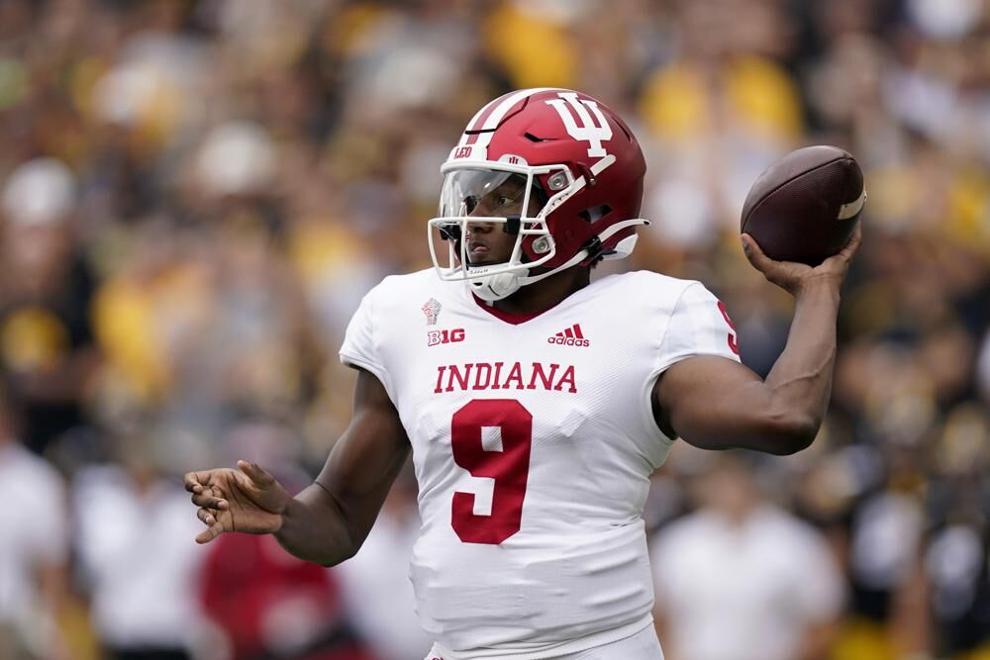 Penix failed to complete more than two consecutive throws in the first half. Penix threw a third interception late in the second quarter when he tried to deliver a pass to an IU running back Davion Ervin-Poindexter, who was not looking to make a catch.
"He definitely looked out of sync," Allen said. "He didn't look comfortable in the pocket."
Iowa also dropped at least one other interception and had another taken off the board when Iowa was flagged for roughing the passer. Penix finished 14 of 29 for 156 yards. He was replaced by Jack Tuttle early in the fourth quarter because Allen did not want to risk another injury and he wanted Tuttle to have some snaps.
The IU running game was equally lackluster, managing only 77 yards on 31 carries. Stephon Carr, the replacement for Stevie Scott, ran for 57 yards on 19 attempts.
The Hoosiers return to Memorial Stadium for a pair of non-conference games. On Saturday, Sept. 11 at 7:30 p.m., they will play host to Idaho, coached by former University of Louisville offensive coordinator Paul Petrino.
On Sept. 18, Indiana will have a shot to rebuild their Top 25 credentials when they host No. 8 Cincinnati, which is led by quarterback Desmond Ridder, a product of St. Xavier High School.
"We got knocked down," Allen said. "Now we've got to get back up and keep swinging."
Copyright 2021 WDRB Media. All rights reserved.