LOUISVILLE, Ky. (WDRB) -- Fascinating games are sprinkled across the local college football schedules.
Louisville will have Kirk Herbstreit of ESPN on the call of its season opener Monday against Ole Miss. Indiana (No. 17) at Iowa (No. 18) will be one of five games matching top-25 teams this week.
Kentucky scheduled an easy opening win over Louisiana-Monroe. Ditto for Western Kentucky, which will open Thursday against Tennessee-Martin.
I entered all 48 U of L, UK, IU and WKU regular-season games into Must-See Machine. These are the 13 that came out:
13. Indiana at Western Kentucky, Sept. 25
With a rebuilt offense expected to pass, pass, pass, the Hilltoppers are a bit of a mystery team. The game is perfectly scheduled for WKU. The Hilltoppers have an off week leading into it, while it is sandwiched between ranked opponents (Cincinnati and Penn State) for the Hoosiers. It's too soon to file an Upset Alert, but this will not be a gimme for Tom Allen's team.
12. Florida at Kentucky, Oct. 2
If the Wildcats are serious about their plan to take the next step in the East Division of the Southeastern Conference, this is the game they need to win. They have a reasonable chance to be 4-0 and ranked in the top 25 at kickoff. Kentucky will be at Kroger Field with the Gators coming off back-to-back games with Alabama and Tennessee. Defense remains a question in Gainesville, considering Florida's final three opponents last season averaged 48 points. Never been a better time to pounce.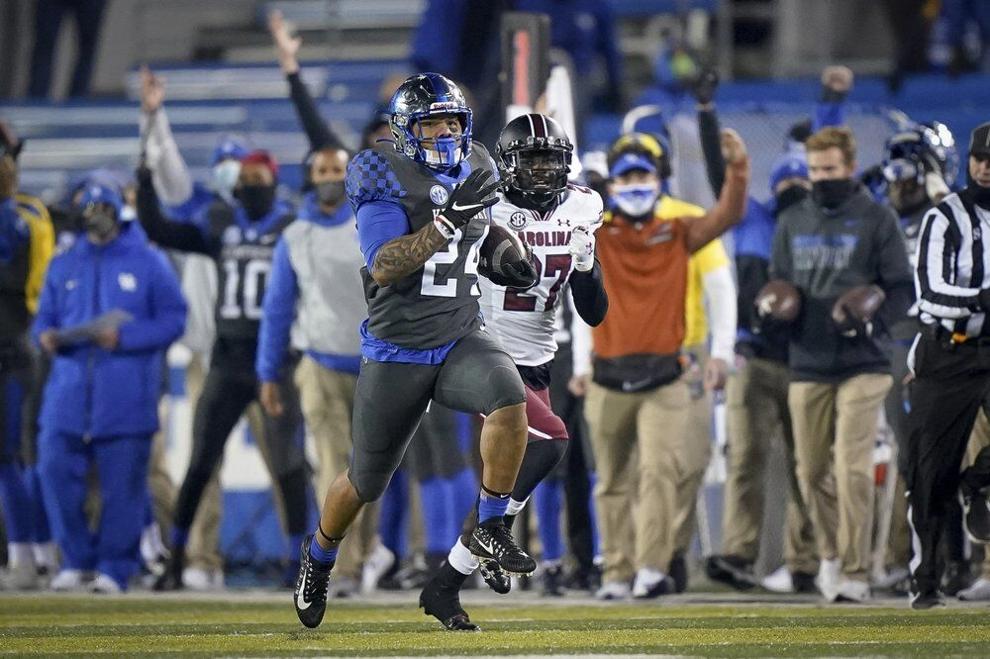 11. Louisville at Florida State, Sept. 25
If you look past the brand name, the Seminoles have been mired in mediocrity. They're trying to avoid their fourth-consecutive losing season with a 14-20 record during that stretch. They have uncertainty at quarterback, where former Card Jordan Travis is trying to hold off UCF transfer MacKenzie Milton for the job. The Cards blasted FSU last season but need to do it in Tallahassee, where they are 2-10.
10. Cincinnati at Indiana, Sept. 18
Memorial Stadium is expected to be full for this one, and both teams should be ranked in the top 25. Cincinnati returns 14 starters from a group that went 9-1, losing only to Georgia by three. Quarterback Desmond Ridder (of St. Xavier) and cornerback Ahmad Gardner were ranked among the top 100 players in the nation by ESPN. Who scheduled this game for the Hoosiers?
9. WKU at Michigan State Oct. 2
The Hilltoppers face Michigan State after getting Army and Indiana, and the Spartans are considered the least formidable team in that group. They're barely more than a season into their rebuild under coach Mel Tucker. Phil Steele predicted MSU will finish last in the Big Ten East, behind Rutgers. It's a great time to play the Spartans.
8. Kentucky at Mississippi State, Oct. 30
The Wildcats need to take advantage of having the Bulldogs as their annual SEC West opponent. It's only year two for Mike Leach, the offensive genius whose offense averaged fewer points than Kentucky last season. UK has been a better program than State the last five seasons and needs to prove it by winning in Starkville.
7. WKU at Army, Sept. 11
Playing at West Point is always a compelling, emotional scene, but the Hilltoppers are headed to spectacular Michie Stadium on the 20th anniversary of Sept. 11. Jeff Monken has done a terrific job at Army, winning at least eight games in four of the last five seasons. The Toppers beat Army in 2019. Doing it again would be more significant.
6. Indiana at Penn State, Oct. 2
In case you missed it, IU beat the Nittany Lions when quarterback Michael Penix Jr. dove into the pylon for the game-winning conversion last October. When I mentioned that to a Penn State graduate seven months after the call was confirmed by replay, her response was "too soon." IU has never defeated Penn State in consecutive games. IU has never won in Happy Valley. Phil Steele picked Penn State as his most improved team, and the most improved team in the nation is not supposed to lose to Indiana.
5. UCF at Louisville, Sept. 17
Friday night football against a Gus Malzahn-coached team should bump the atmosphere at Cardinal Stadium back to Tilt Mode. Central Florida, which opens Thursday against Boise State, gave up 34 or more points in six games last season. Winning this game would energize the mojo around U of L football.
4. Indiana at Iowa, Sept. 4
Iowa isn't Ohio State, but the Hawkeyes are consistently near the top of the next tier of Big Ten team:, rarely in the top 10 but usually in the top 25. Iowa is the kind of program Indiana should aspire to be: tough, sound, consistent. Winning in Iowa City would quiet the skeptics who question IU's 6-2 record in 2020 — and there are many.
3. Missouri at Kentucky, Sept. 11
The wise-guys are gaga about Missouri coach Eli Drinkwitz. The Tigers averaged more than 400 yards on offense last season. Connor Bazelak threw for more than 2,300 yards as a freshman. Mizzou won half their SEC games, including their matchup with UK. Kentucky can't lose a home game to Missouri and expect to finish in the top half of the SEC East.
2. Louisville vs. Ole Miss, Sept. 6
The point spread for this game opened at 7 1/2 on May 29. It went to eight. Then nine. Then 10. And then 10 1/2 on Tuesday morning before retreating to 10 on Tuesday afternoon. Ole Miss has SEC's best quarterback in Matt Corral, who had eight passing plays of more than 40 yards last season as well as the league's best all-purpose player in crackling halfback Jerrion Ealy.
Can Louisville win a shootout while breaking in a collection of receivers (Braden Smith, Jordan Watkins and Justin Marshall) who did not have a touchdown catch last season?
1. Kentucky at Louisville Nov. 27
The Cards have not defeated the Wildcats since Lamar Jackson left town. They've been outscored 101-23 in the last two meetings. The Surgeon General has determined it's not healthy for any football coach to let his rival turn the game into an automatic W. With the game at Cardinal Stadium, the Cards cannot tolerate another 56-10 (2018) or 45-13 (2019).
Copyright 2021 WDRB Media. All Rights Reserved.