LOUISVILLE, Ky. (WDRB) – All right, I think now would be an appropriate time for any Kentucky fans who are so inclined to melt down. What's that? They already have? No surprise.
Sometimes I blame myself. I've been covering a team in Louisville that looks at times as if it doesn't understand the game, doesn't communicate well, doesn't seem to play for each other.
So I pivot to cover a Kentucky game on Tuesday night. And darned if the team in Lexington hasn't started to play that way too.
On Tuesday night, in a so-called "get-well" game, the Wildcats got worse. Coming off an embarrassing 26-point setback at Alabama, Kentucky was a 20-point favorite heading into a home game against 6-7 South Carolina.
Instead, the Gamecocks sprinted to a 21-6 lead, and Kentucky never led. South Carolina outscored Kentucky 33-9 from beyond the arc and held off a late Wildcat bid to walk away from Rupp Arena for just its third win in Lexington, ever, 71-68.
It was just the second time that Kentucky lost to an SEC team with a losing record in Rupp Arena and just the fourth time it lost such a game in Lexington. Ever. (Stat courtesy of UK stat guru Corey Price, who also tweeted this gem: The loss set a new record for season losses for a team with a returning Naismith Player of the Year). It ended a 28-game winning streak at home.
This is ugly, and not just on the court.
Boos rang out after South Carolina grabbed a 13-2 lead. At one point, a fan in Rupp appeared to be escorted out of the arena for holding a sign encouraging Calipari to take the Texas job. (Later, UK said the fan left of his own accord rather than give up the sign, which was obstructing the view of other fans.) If Rupp security were in charge of post-game radio shows, they'd have ejected darn near the whole state. Multiple GoFundMe pages dedicating to buying out Calipari's contract have sprung up.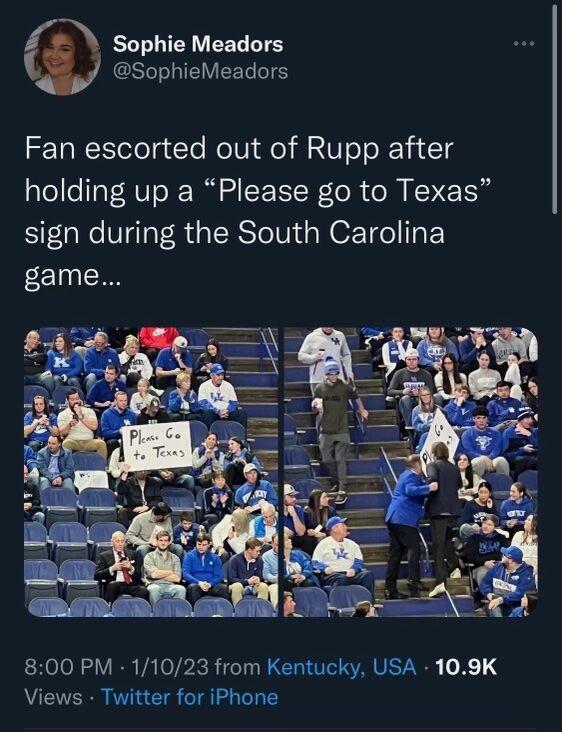 Yes, Kentucky was playing without Cason Wallace (back spasms), and without Jacob Toppin. It still had more talent than South Carolina could dream of having.
Asked what he would say to fans who are up in arms, Calipari said he understood the fan frustration.
"Stick with these kids," Cal said when asked for a message to fans. "If you want to get on me, that's fine. I'm the coach. If we're not ready to play, that's on me. Where were we mentally? I was trying things today to try to get them into a positive mindset, because when things go bad, it's hard. And it's hard here. I mean, I always say this isn't for everybody, including coaches. It's not for everybody. . . But if you want to be mad, be mad at me. These kids are trying. We're still not quite in sync.
". ,. . These kids need me to keep teaching and keep working with them, and keep believing in them. That's what they need from me. I don't listen to any of the clutter. None of it has any effect on me coaching these players. And our fans, man, they shouldn't be happy. We lost at home. We don't lose at home. We lost at home and we're down 10 at the half. I expect fans to be mad. And we have the best fans and I love our fans. I know they may be mad at me right now. But I've been here a long time teaching and working and having our fans be a big part of this. And all I'm saying is just be with these kids. They need you more now than they need you when they're 4-0."
Tuesday night, even after a gift chance to tie the game when South Carolina fumbled a ball out of bounds with just over 21 seconds left, Kentucky could not create a good look, with C.J. Frederick missing a fading 3-pointer with 11 seconds left and Antonio Reeves firing short with 2 seconds remaining.
The loss drops Kentucky to 10-6 overall, 1-3 in SEC play, but it drops the Wildcats even more in the estimation of onlookers both national and local. The lackadaisical start, allowing South Carolina to catch fire from 3-point range, and the inability to stop the Gamecocks off the dribble, the blatant inability to guard ball screens, don't create reason for optimism.
Calipari, however, is urging patience. I've seen Kentucky teams left for dead bounce back, we all have. I've seen them proclaimed dead, and wind up in the national title game. The feeling now, however, both on the court and off, are much different.
"This is a long season, it's a marathon," Calipari said. "Am I happy? No, I'm not happy. I hate losing. You know, we were undermanned, but it doesn't matter. You're still playing to win. And the first half, I was just like, you know, come on. Look, this this team, I've got to be a little bit of everything with this team. First of all, I've got to build them up. But I've still got to hold them accountable. And you're looking at guys, like, going nuts on people right now is not the answer. It's just not the answer. Now, can I be tougher on them in practice and all that? Yeah, I can. But, you know, again, there were things today that I look at, and I just say, you know, we're better than that. And now, for me, it's this is a marathon. I still think this team could be good. We've got to have a full roster, and then we've got to go."
Where the Wildcats are headed, however, is anything but clear.
Copyright 2023 WDRB Media. All Rights Reserved.