LOUISVILLE, Ky. (WDRB) – When you're a kid, everybody seems bigger than life. That's how you imagine them. And if you grow up and have a job like this one I have, you meet some of those famous people and realize that they're like the rest of us — just people.
Except for a few. There are a select few who, in fact, really are larger than life. Proximity and time do not diminish them.
Howard Schnellenberger was one of those people. The legendary coach and father of modern University of Louisville football passed away Saturday at the age of 87.
The last time I was around him was in 2018, when he came back for a football game. He had traded his trademark pipe for a cane. And he was still the biggest thing in that stadium. His voice still boomed. And when he spoke, it was in grand terms.
Today, that voice is silent, but the hopes he planted in football programs in Miami, in Louisville and again in Boca Raton, Florida, resound with the power of his message. In Louisville, his words still ring: "This program is on a collision course with the national championship. The only variable is time."
Who talks like that? In this city, only one man. He not only had to save Louisville football, but establish it. He coached not only the players, but the university administration and even the fans. He taught Louisville how to be a football city, from game days to tailgates and a hundred little things in between.
That much, for him, was easy, because he came from the city. He grew up in Shively, and like most of this city his first love was basketball, until Flaget coach Paulie Miller taught him to love football, the discipline it developed, the values it required.
Schnellenberger was still the football coach at Louisville when I started in sports writing in 1991, but I was worlds away — a full decade away — from getting to cover anything so lofty as a Louisville football game.
Often, I've lamented that I came to the profession too late, after most of the "characters" were gone. Schnellenberger was most definitely one of the characters. Like Bob Knight, Muhammad Ali, Rick Pitino, Paul Hornung, John Calipari, guys who take the big stage and outshine it, who will say and do things you cannot believe.
TRANSFORMING LOUISVILLE
Schnellenberger had just become football coach at Louisville when I enrolled as a student in 1986. When I looked out my window in Threlkeld Hall, which was just demolished this month, I saw a chain-link fence, a parking lot and nothing all the way over to a copy store and the interstate beyond. On the weekends, I had to hustle over to get a few things from a deli in one of the classroom buildings before noon, when it would shut down and there was no food service on campus until Monday morning. To the south, there was an old railyard that was officially classified as an environmental brownfield.
Today, that brownfield is where Cardinal Stadium and an outdoor practice facility, an indoor facility and the Howard Schnellenberger Football Complex all stand. Around it has sprung an entire university community of dorms, academic and athletic buildings, a student center and more stadiums, even a grocery and retail shops and restaurants.
Were it not for Schnellenberger and his vision, who knows what that area would look like today?
Football, in the mid-80s at Louisville, was an afterthought. It was on the chopping block in the early 1980s and nearly was downgraded to a lower division. Athletic director Bill Olsen, who understood the sport's importance to an overall university and athletic department, made a bold bid to bring Schnellenberger, who had won a national title at Miami, back home to save the program and set it on a solid course.
It was perhaps as important a recruiting triumph as any in the university's history.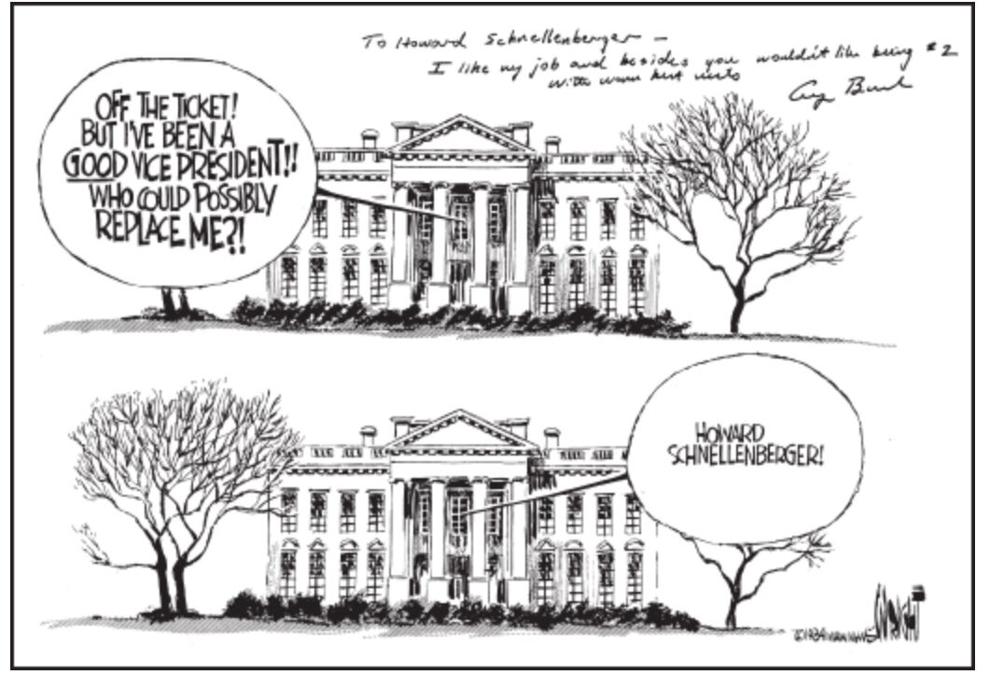 It's easy to forget how much of a feat that was. Schnellenberger was a national name. With the 1984 presidential election looming, there was some talk of President Ronald Reagan dropping George Bush from the ticket and picking up someone else. An editorial cartoon out of Washington D.C. showed the White House and a voice inside saying, "I've been a good Vice President. Who could possibly replace me?" In the next panel, another voice answers, "Howard Schnellenberger." Some time later, Bush would send Schnellenberger a signed panel of the cartoon.
The note reads: "I like my job and besides, you wouldn't like being #2."
Gene Lege of Louisville still recalls the day Schnellenberger was hired and shared what he was doing.
"I remember sitting in my car listening to WHAS for the press conference when coach was hired," he said. "I was out running errands, but I pulled over into a parking lot just to listen."
Schnellenberger had his work cut out for him. It started with losing his desired quarterbacks coach, Mark Trestman, because the coach was allergic to horses and he couldn't operate with the stables next to Old Cardinal Stadium. But there were far more obstacles.
If you wanted a football ticket when I was a student, all you had to do was stick out your hand. You'd be holding a half dozen with any effort at all. But few were interested. Schnellenberger not only had to build the program, he had to build the interest.
Don Shula said it best in his foreword to Schnellenberger's book, "Passing the Torch": "He not only built up the programs. He built up the communities."
I don't think of a city like Miami, for example, as one that needed much building up. But I was struck when Dan LeBatard, after Schnellenberger's death on Saturday, said via Twitter, "he presented our city to the world with pride."
Karl Schmitt, executive director of the Louisville Sports Commission, worked for Schnellenberger in Miami in those days.
"After we won the national championship at Miami that parade — Miami had gone through some tough times," Schmitt said. "But at the parade, people were all out, they were Black, they were brown, they were white, and everybody was unified around one thing. Of all the things, I think that's what made him the happiest about that whole experience."
Even a city as big as Miami points to Schnellenberger as a pivotal influence on its identity. It wasn't always easy. To do it, he had to become a showman. But it should be said, that came naturally to him.
He courted the media. Longtime Louisville media types still laugh about the press conferences with a speakerphone set up and Schnellenberger booming, "Is The New York Times on the line?"
"A lot of people in Louisville thought I should've been committed to Our Lady of Peace," he once told me in an interview. "But I wanted the populace excited about our football program."
He brought in Pop Warner teams to demonstrate plays on his weekly coaches' show. He took that show on the road. Schnellenberger toured the state — a practice that the athletic department continued until recently. He put his players on a charity relay from Lexington to Frankfort then down U.S. 60 back to Louisville.
He brought promotions to games. On "This is Louisville" night, he had Muhammad Ali, Pee Wee Reese, Johnny Unitas and Mary T. Meagher parading around the stadium in convertibles. And all the time, he was coaching.
It culminated in Louisville's appearance against Alabama in the 1991 Fiesta Bowl, a 34-7 victory that counts among the most important in U of L football history.
"We changed the perception of Louisville football forever," Schnellenberger said. "We created an outpouring of pride. We made believers of our skeptics. And we could begin to dream out-loud about an on-campus football stadium and becoming a residential campus instead of a commuter school."
In 1993, Louisville signed a contract to play state rival Kentucky, with the proviso that if Louisville ever built an on-campus stadium, the series would become a home-and-home series. By October of that year, the school had raised its first $15 million toward construction.
Schnellenberger had a vision for Louisville football, remaining independent, playing big-name opponents and trying to access the college football power structure that way. The administration wanted to join Conference USA and in fact did. Not long after, Schnellenberger was off for Oklahoma.
His Oklahoma experience, however, wasn't a happy one. He coached just one season, went 5-5-1, and resigned. He spent several years in the business world, then agreed in 1998 to build Florida Atlantic's football program from scratch. Tasked with the job of finding a coach, he wound up hiring himself. It was a good move. Eventually, he reached the NCAA Division I-AA playoffs at the FCS level, then went to two bowl games after the program's conversion to Division I-A football.
PLANTING SEEDS
But more than all that, people in Louisville remember his encounters with them. Brian Schaap, who ran track for Louisville when Schnellenberger was at the school, remembered, "I was recovering from an injury. I was on the Stairmaster in the training room at the football complex and was getting a good workout. Howard Schnellenberger saw me, walked over, and said 'Looking good son!' in his gravelly voice. He didn't have to stop by and say anything, but I appreciated that he did."
John Eagles recalled, "Coach always remembered soldiers. He brought his team to Fort Knox for a Spring Practice game in 1989 and even took part in a grenade throwing contest with Major General Tom Tait during a break. He made sure Fort Knox received comp tickets for the trainees."
Jeff Mahoney was an intern for a local special events company as a grad student at U of L in 1991. He and his roommate found themselves tasked with planning the Crusade for Children Volleyball Tournament fundraiser. They wanted to use the football practice fields to hold the event, and met face-to-face with the coach, who took them on a tour of the fields and complex.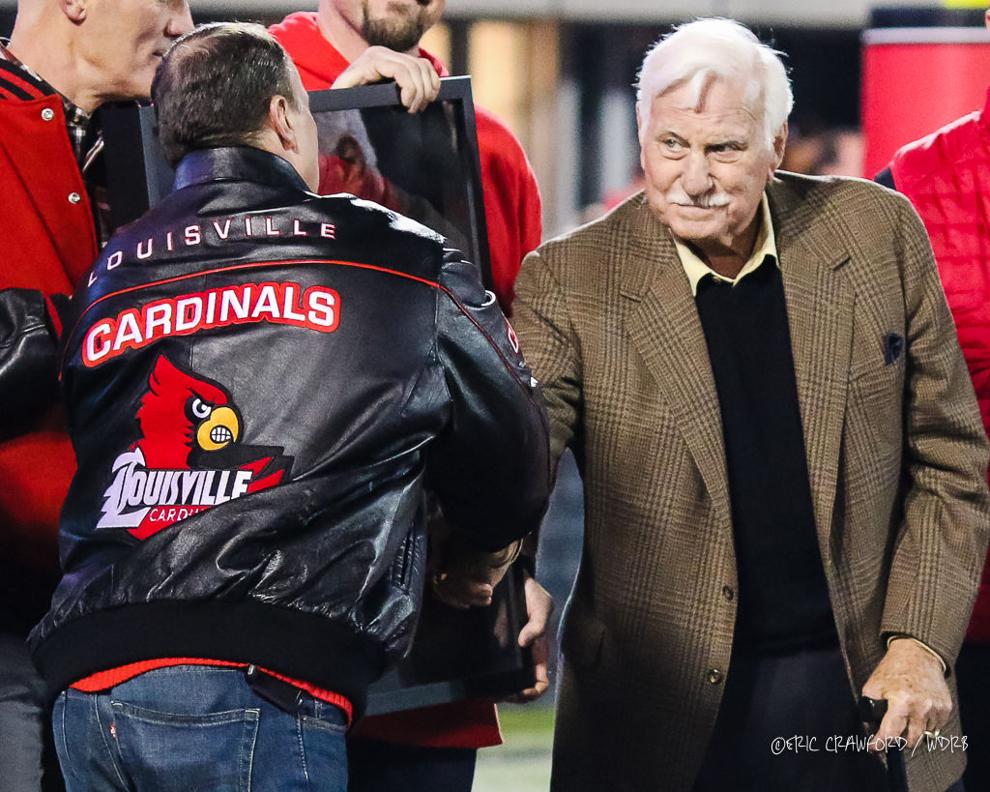 "Without hesitation he agreed to let us use the fields and unsolicited committed to providing two tickets to the 1992 Orange Bowl as one of the raffle prizes," Mahoney said. "I remember him stopping by the tournament to see how things were going, chatting with my roommate and I for several minutes, and shaking hands with several people. He was absolutely gracious throughout. An absolute gem of a man."
Jenny Sawyer is executive director of admissions at U of L. She throws a football kickoff party at her home every year, and in 2018, Schnellenberger showed up. That party is made up of people, many from the university, or friends of the university and many who have been following Louisville football for decades. It's not a black-tie deal. It's more of a "beer is in the garage" type of gathering. And having the coach in attendance was a big deal. He stayed and talked to people for two hours.
There are some, but there are not a lot, of big-time coaches who will do that kind of thing today. For them, media duties are a hassle. Events often have price tags attached. For Schnellenberger, they were part of his mission. They were a gift. And so was he.
"He was good at so many things. He was good at setting the stage, and he was so good at planting seeds," Schmitt said. "Literally, one time at Miami we were going to play Florida in Tampa, and we took some grass seed from Miami and planted it at the edge of the field in Tampa. But he was also good at planting seeds in the minds and hearts of people. Once you worked with or played for Coach Schnellenberger, he was always in your life. Many times the things that he believed in, you believed in. ... You learned things from him, not because he sat down and told you about them, but because he lived them, and you lived them with him."
Schnellenberger returned to Louisville as often as he could, and when he didn't he was checking in, calling Schmitt, calling Rick Bozich or anyone. He stayed in touch. Schmitt took him to a football game at UK after U of L had dismissed Rick Pitino and Tom Jurich and Kenny Klein rounded a corner in the press box. When he saw him, Schmitt said Schnellenberger pointed at Klein and said, "The last man standing!"
Olsen once told me that Schnellenberger liked to pull the old Bear Bryant trick of scheduling a meeting, then arriving 15 minutes early and having a "glad you could show up" attitude once you arrived. He'd do things like leaving the lights on in the football office late to make it look like they were still working. And often, they were still working.
But I think the best thing he did was this. On recruiting trips, sometimes he would leave his pipe behind, so that he'd have to go back and retrieve it the next day, and get another few moments with the prospect, or his family.
Schnellenberger had long since parted ways with his pipes. But today, on the day he has left us, I get the feeling he has left one behind anyway. We'll find them from time to time, a memory here, a scrap of something he said there, a low rumble, the occasional waft of pipe smoke, and he'll be back, poking his head through the door, for one more gravelly, resonant word, one more bold exhortation to pursue dreams that are larger than life.
Related Stories: 
Copyright 2021 WDRB Media. All Rights Reserved.