LOUISVILLE, Ky. (WDRB) – As the city of Louisville looks for a brand that will carry it into the future, past headlines of violence, unrest and injustice, away from images of boarded-up windows and empty office buildings, it could do worse than stop, right now, in this moment, and take a look at what is happening at Lynn Family Stadium.
On Wednesday, officials from two of Europe's top soccer brands, along with a global sports gender equity advocate who speaks on behalf of the United Nations, stood up to say that Louisville, Ky., can play a significant part in the worldwide growth of women's soccer, beginning with an expected near-capacity crowd for The Women's Cup, a four-team event to be held here in August featuring Racing Louisville FC, Chicago Red Stars, Bayern Munich FC and Paris Saint-Germain.
In fact, they went further than that. They didn't just say Louisville could play a part. They said Louisville could be at the forefront. Event organizers want this event to make a splash, and then grow. And they think Louisville is the place to plant the seed.
J.P. Reynal, director of The Women's Cup, didn't tiptoe around much.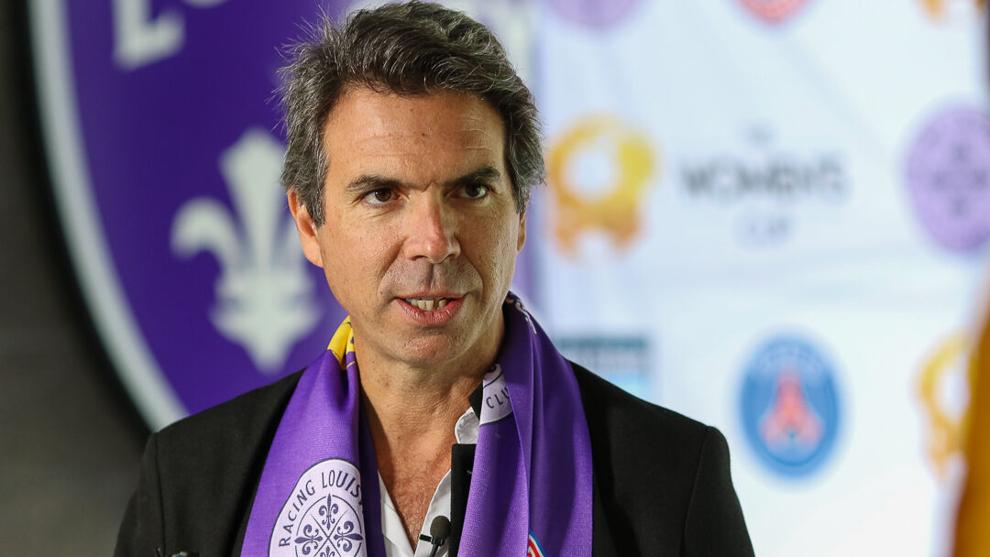 "I'm willing to say, that within the course of the next five years, I believe Louisville will overtake Portland, and will not only be the epicenter of women's soccer in the United States, but most likely and with the help and the efforts of The Women's Cup, will be the epicenter worldwide," he said. "It's a bold statement. But I believe this town has every one of the components."
There has been some groundwork laid in getting those components. The Louisville City FC men's franchise tapped into a love for the game in the city and led the way for a $75 million stadium. Club owners believed in what they were doing, spent another $15 million on a training facility and put resources toward a youth academy.
They landed a National Women's Soccer League franchise based on their solid foundation in the men's game, but more than that. They pledged exemplary leadership for the women's franchise. The training space built and devoted to the women's team is identical to the men's. The women's franchise here has committed to first-class treatment of its players and coaches.
Brad Estes, president of Racing Louisville FC, introduced the city to its visitors from Munich, Paris and Chicago on Wednesday as, "A place where women's sports don't just exist, but are celebrated."
He can say that unabashedly. Louisville is Basketball City USA. Yet several weeks ago, more people in this city watched a women's quarterfinal game in the NCAA Tournament than any of the men's four quarterfinal games. The women's basketball team here has been in the top 10 in the nation in attendance for 11 straight years. (In addition, programs at Indiana University and the University of Kentucky were ranked in the Top 20 of the AP poll all season.)
The most marketable athletes in this city – non-soccer version – are women's basketball players. One of them in a recent listing was Hailey Van Lith, a Louisville sophomore who was invited to participate in the 2021 USA Basketball Women's AmeriCup Team trials. Then there's Dana Evans, expected to be one of the top 10 players selected in tonight's WNBA Draft.
Racing Louisville kicks that up a notch. It brought in Yuki Nagasato, already an international brand unto herself.
It is a city that is ripe for women's sports to take root and grow.
And it is a city that would be well-advised to embrace that growing reputation. It has the means and the mechanisms.
Down the road from Lynn Family Stadium is the Muhammad Ali Center, which itself has an international name for celebrating diversity, inclusion and justice.
In Old Louisville, on the University of Louisville Campus, the Speed Art Museum this past Sunday was the subject of a New York Times Arts Section centerpiece story on its exhibit of art from the death of Breonna Taylor and subsequent protests, capturing the efforts to preserve her memory and the cause of those who are fighting to keep it alive through art.
Last Saturday when Racing Louisville played its first game, supporters taped the names of inspiring Louisville women across their cheering section.
The FIFA Women's World Cup took notice of the event, and Tweeted photos to its 878,000 followers.
Victoire Cogevina is the CEO and founder of the app "Gloria," a social-media outlet aimed at connecting players with scouts, agents and coaches. She also is a global advocate for gender equity in soccer, and speaks on behalf of the United Nations.
"For us, women's football is a vehicle," she said. "A vehicle for the changes and progress we strive for. A vehicle for healing, for equality and empowerment. Both in sports as well as broadly in society. . . . The Women's Cup is much more than a tournament, it's a bridge. A bridge in between two important markets and institutions that need to join forces and work together to globalize the game and turn into one of the highest grossing sports in the world. Ultimately, the Woman's cup is a statement, a testimony to the belief that an equal world is a better world."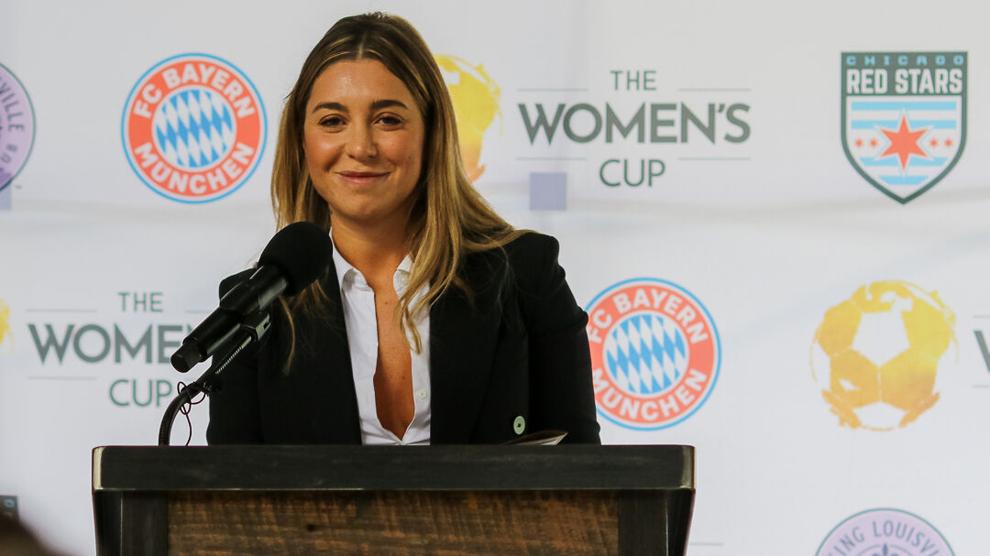 If Louisville is looking for a brand, Cogevina just articulated it, in that last sentence. And she, too, thinks that if the tournament is the kind of success that organizers believe it will be, images of the stands will be powerful messages not only to the cities involved in the event, but cities around the sport.
"They say that a picture is worth more than a million words," she said. "Louisville has a history of supporting women's sports. This will cement it. . . . Having a stage that is this big and brings this caliber of brands is important. Bridging the markets in Europe and the United States which are both fighting to make the sport more popular and bring it to the masses is important. And this event will do that."
She wrapped up her remarks to ask Louisville to embrace this identity.
"As the world starts to heal and fans are allowed back into stadiums, I cannot think of a better way to celebrate," she said. "If you are a sports fan, then I invite you to come watch some of the best players in the world right in your backyard. If you are a parent, then I urge that you bring your daughters and sons and show them what the future holds for them. The passion and grit you'll see on the pitch will move you. It will inspire you. There is a revolution happening, be a part of it."
Look, you can't just throw a big soccer tournament and fix all of a city's problems. That's not the point. But if someone can establish a global soccer event here and turn it into a bonafide marketable success story, you'd be silly not to study how it was done.
Laying a solid foundation. Fair treatment of women. Celebrating women's sports. Striving for excellence where you find it. Standing for equality.
In this transformative time, those are more than slogans for placards. They can be the beginnings of an identity this city can build on.
Copyright 2021 WDRB Media. All Rights Reserved.