LOUISVILLE, Ky. (WDRB) -- Many people will be celebrating Kentucky Derby 147 from home this year.
WDRB's Keith Kaiser got some Derby entertaining ideas from America's Chief Entertaining Officer, Tim Laird, that are bound to add flavor to any Derby party. 
Below you'll find some recipes created by Tim Laird and David Danielson, Churchill Downs Executive Chef, compiled in their book, The Bourbon Country Cookbook.
And you'll find some classic dishes and some creative twists.
Bourbon Pecan Fudge
Makes: 64 (1-inch) squares
20 ounces dark chocolate chips
1 (14-ounce) can sweetened condensed milk
¼ cup bourbon
2 teaspoons pure vanilla extract
½ teaspoon kosher salt
2 cups chopped pecans, lightly toasted
Line an 8 × 8-inch baking dish with waxed paper, leaving a 2-inch overhang on each side.
In a large, microwaveable bowl, heat the chocolate chips on high for 90 seconds. Remove and stir well. Repeat for another 90 seconds and stir until fully melted. Add the sweetened condensed milk, bourbon, vanilla, and salt. Stir until smooth. Add the nuts and stir until fully incorporated. 
Pour the mixture into the prepared pan. Refrigerate for 1 hour, or until firm. Using the waxed paper, lift the fudge out of the pan and turn it out onto a cutting board. Remove and discard the waxed paper and cut into 8 slices by 8 slices to make 64 (1-inch) squares. 
Wrap the fudge in a clean sheet of waxed paper and store in an airtight container in the refrigerator for up to 1 week or in the freezer for up to 1 month.
Recipes reprinted with permission from The Bourbon Country Cookbook by David Danielson and Tim Laird, Agate Surrey, 2018.
The Original Oaks Lily 
1 ounce Finlandia vodka
1 ounce lemonade
3 ounces cranberry juice
Splash of triple sec
Squeeze of 1 lime wedge
3 blackberries, for garnish
Combine the vodka, lemonade, cranberry juice, triple sec, and a squeeze of lime in a rocks glass filled with crushed ice. Stir the mixture, garnish with the blackberries, and serve.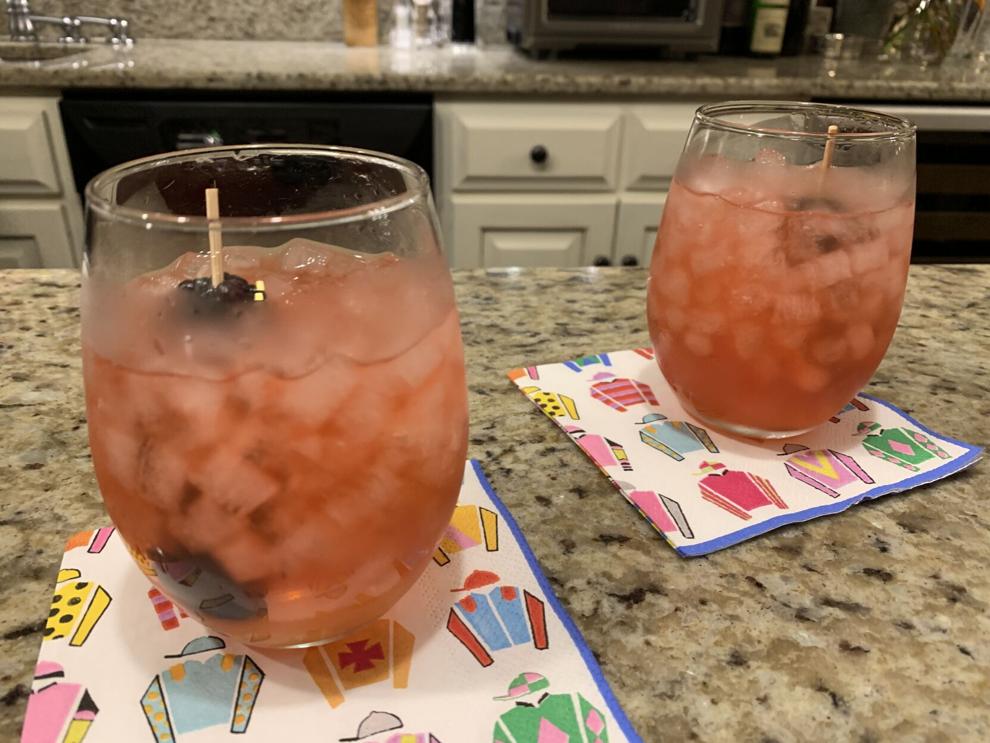 Note:  This drink debuted at the 132nd Oaks Day in 2006 and was created by Tim Laird for Churchill Downs as the first signature drink of this prestigious race, run on the Friday before Derby Day. This drink now rivals the Mint Julep. The color of the drink emulates the Stargazer Lily, which is the flower in the prized blanket awarded to the winning horse of the Oaks Race known as the "Lilies for the Fillies."
Reprinted with permission from That's Entertaining! with Tim Laird, America's CEO - Chief Entertaining Officer, Butler Books, 2010.
New Liquid Bourbon Ball Cocktail
Prepare a martini glass by dipping the rim in melted chocolate (can make ahead of time)
In a shaker with ice, add:
3 ounces of Ballotin Chocolate Whiskey Bourbon Ball
Shake and strain into prepared martini glass.
Garnish with optional pecan pieces.
Hot Brown Dogs
In a hot dog bun, add:
Turkey hot dog, cooked
Bacon strip
Sliced tomatoes
Then, drizzle with cheese sauce
Hot Brown Pizza
Purchase a prepared pizza crust
Top with cheese sauce
Then add turkey pepperoni to ½ pie and cooked ground turkey to other ½ 
Top with tomato slices and bacon bits
Sprinkle with parmesan cheese 
Bake in oven or on grill until dough is cooked and cheese has melted
Julep Bar
Before your guests arrive, set out bourbon and Mint Simple Syrup as a base for your beverages. Add a variety of juices and nectars to add additional flavors and interest. Our favorites include strawberry nectar, peach nectar, mango nectar, guava nectar, blueberry juice, and pomegranate juice. 
Your guests will be able to build their own juleps by adding their favorite fruit flavor to their bourbon and simple syrup mixture (we recommend 2 ounces of bourbon, 1 ounce of simple syrup, and 1 ounce of fruit flavor). 
Signature Mint Julep
1 ounce Mint Simple Syrup (below)
2 ounces Woodford Reserve bourbon
1 mint sprig, for garnish
Fill a tall glass or julep cup with crushed ice. Add the syrup and then the bourbon. Top with more crushed ice, add a sipping straw, garnish with the mint, and serve.
Mint Simple Syrup
1 part sugar 
1 part water 
1 part packed fresh mint leaves 
In a small saucepan, over medium heat, combine the sugar and water. Simmer for 5 minutes, stirring occasionally, until the sugar has dissolved. Remove the pan from the heat, add the mint leaves, and let the mixture steep for 20 minutes. Strain before using, pressing on the mint leaves to extract as much syrup as possible. 
Reprinted with permission from The Bourbon Country Cookbook by David Danielson and Tim Laird, Agate Surrey, 2018.
Copyright 2021 WDRB Media. All Rights Reserved.