A Frost Advisory has been issued for part of our area Saturday morning. This is a prime example of why it's not safe to plant around here before Derby.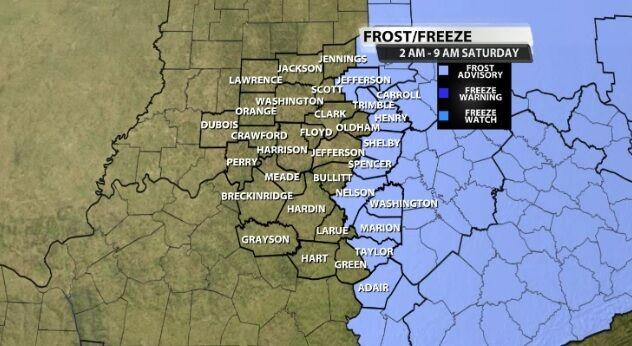 Below is the text issued with the Advisory: 
THE NATIONAL WEATHER SERVICE IN LOUISVILLE HAS ISSUED A FROST
ADVISORY, WHICH IS IN EFFECT FROM 2 AM EDT /1 AM CDT/ TO 9 AM EDT
/8 AM CDT/ SATURDAY. 

* TEMPERATURE...LOWS SATURDAY MORNING WILL BE IN THE MID 30S, 
  WITH LOWER READINGS POSSIBLE IN DEEPER VALLEYS AND SHELTERED 
  RURAL LOCATIONS. 

* IMPACTS...VEGETATION SENSITIVE TO FROST MAY BE DAMAGED OR 
  KILLED IF LEFT UNCOVERED. 

PRECAUTIONARY/PREPAREDNESS ACTIONS...

A FROST ADVISORY MEANS THAT WIDESPREAD FROST IS EXPECTED.
SENSITIVE OUTDOOR PLANTS MAY BE KILLED IF LEFT UNCOVERED.
A high pressure center will move through our area overnight clearing out the sky and slowing down the wind. That will allow temperatures to drop farther.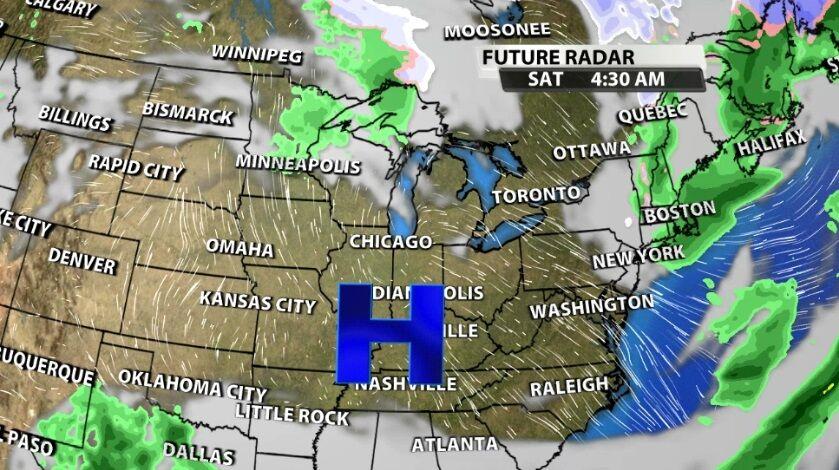 Temperatures will drop into the middle and upper 30s around our area by Saturday morning. In Louisville we will likely stay in the low 40s. If you have already planned, bring potted plants indoors and cover sensitive plants in the ground. Don't forget about pets, either! If it's too cold for you and your flowers, it's too cold outside for your pets.