LOUISVILLE, Ky. (WDRB) -- You don't cork your bat during the World Series. You don't deflate footballs during the NFL playoffs. And you absolutely, positively don't risk embarrassing the Kentucky Derby by allowing your horse to race with even a picogram of any substance certain to generate a flagged drug test.
Do that, and your horse deserves to be disqualified. Do that, and you've stained the most beloved event in your sport.
Your reputation is guaranteed to be tugged through the court of public opinion. Get ready for life as a Lance Armstrong, Mark McGwire character.
That's where Hall of Fame trainer Bob Baffert and his yet-to-be-disqualified 2021 Kentucky Derby winner Medina Spirit sit Wednesday, looking for a loophole that does not exist. They're 0-2 in drug tests after the split sample returned with the same result as the first blood and urine sample tested after the race — with an over-the-amount allowed of betamethasone, a substance not permitted in a horse's system at any level on race day.
Disqualification is the response the three stewards at Churchill Downs should have when the case makes its next move in front of them this month. Disqualification is the response the Kentucky Racing Commission should have when the matter gets bumped to them.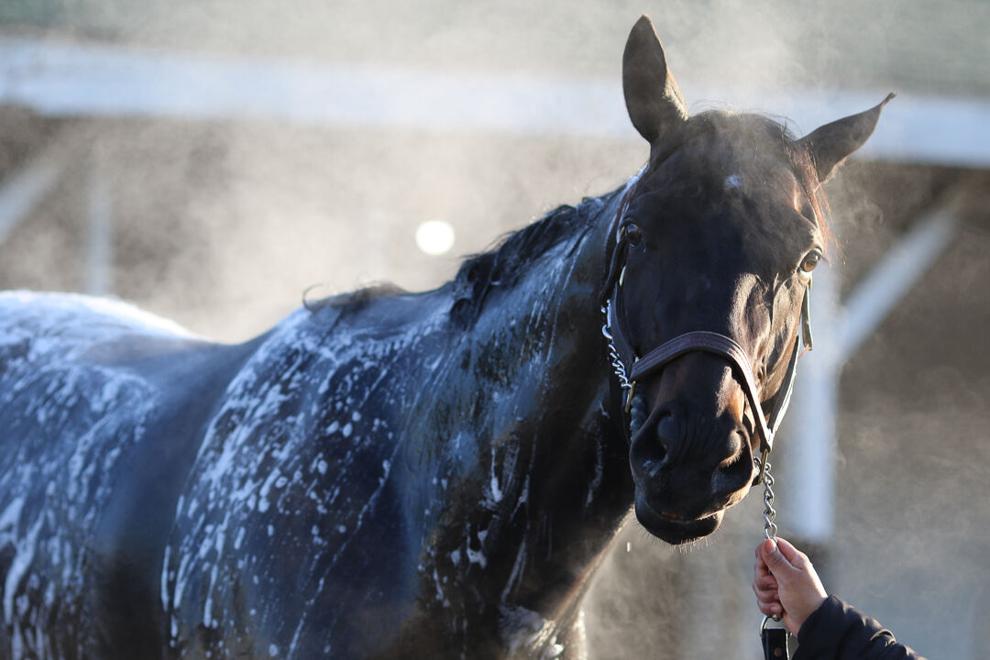 Churchill Downs Incorporated delivered its opinion with more force than any sports columnist, making the extraordinary announcement on Wednesday afternoon that Baffert was suspended from racing at the track (or any of its tracks) for two years. 
Didn't you used to be the face of the Kentucky Derby?
Expect the legal and public relations battle to become fierce. The Medina Spirit camp appears to be trying to create and thread a loophole to save their horse, their reputations and the purse money.
They're likely to argue the restrictions against betamethasone were written to stop horses from racing if the drug had been injected in the animal's system within 14 days of the race.
Initially, Baffert issued a strident claim that Medina Spirit was never treated with betamethasone in his barn.
Ooops.
Baffert later searched for nuance (and sympathy) in his explanation. The colt had a nasty skin rash. The vet treated the rash with a topical cream called Otomax, often used to treat ear infections in dogs.
One of the primary ingredients in Otomax is betamethasone, a case that I cracked in seven seconds by launching a Google search. (See it here.)
Baffert needed two days to make his U-turn and claim that the positive test was caused by a minor amount of the banned drug that was the result of a topical application, not an injection.
Sorry about that.
There is a problem with Baffert's loophole: It does not exist. Medina Spirit had an itch, but racing authorities should not scratch it.
I'll allow a veteran, respected racing steward with nearly four decades of experience to explain:
"All that stuff sounds nice," he said. "That part of the story will get some attention.
"But it's about the rules of the game. And when you sign the form for your training license, you agree to abide by the rules of the game.
"If you have a small amount of cancer, it's still cancer. If you have a mild heart attack, it's still a heart attack. If you're five or 10 miles over the speed limit, you're still speeding.
"These medication rules were written for scientific reasons after a lot of research and study. The levels of acceptability were established for very good reasons. From my reading of the rules, it was a level (of betamethasone) that was not supposed to be in the horse's system when he participated.
"I think it's pretty cut and dried."
Cut and dried is an Old School term. There isn't a ton of cut and dried in the world of sports and rule enforcement any more.
In baseball, there is a fight every year about whether McGwire, Barry Bonds, Roger Clemens and others belong in the Hall of Fame. One side questions their numbers. The other argues the punishment is out of proportion to the offense.
Prepare to sit back and watch this one get argued, debated, challenged, fussed about and litigated for years. Las Vegas should make odds.
This race is in the first furlong. You've likely seen the statement from Baffert's attorney, Craig Robertson. He is one of the best in the business, defending his client and trying to direct the narrative by saying this:
"In response to the inquiries, this will acknowledge that the Medina Spirit split sample confirmed the finding of betamethasone at 25 picograms. There is other testing that is being conducted, including DNA testing.
"We expect this additional testing to confirm that the presence of betamethasone was from the topical ointment, Otomax, and not an injection.
"At the end of the day, we anticipate this case to be about the treatment of Medina Spirit's skin rash with Otomax. We will have nothing further to say until the additional testing is complete."
No intent to cheat. Regretful mistake. Don't punish the horse.
About 15 minutes later, a voice on the other side, lobbed a dissenting view. That was Marty Irby, the executive director of the Animal Wellness Action.
In the conclusion of his statement, Irby wrote this:
"We call on Churchill Downs to show no mercy and permanently ban Bob Baffert and his horses from the Kentucky Derby and all of Churchill Downs' tracks. It's time to end the cheating and medication abuse in the fastest two minutes in sports and an example must be made."
This is going to be loud, lengthy and litigious. That is the surest bet of all.
Copyright 2021 WDRB Media. All Rights Reserved.