LOUISVILLE, Ky. (WDRB) -- So, what you're telling me is that the Kentucky Derby, the most famous, most watched horse race on American soil, the Greatest Two Minutes in Sports, the crown jewel of thoroughbred racing in the United States, has been sullied by a butt rash. 
That's the story? That's what we're settling on now? That's why my social media is filling up with pictures of Kentucky Derby winner Medina Spirit's right hind leg, with what looks like equine acne, as if I'm supposed to care, as if that might somehow be an acceptable excuse for throwing a sport and its signature event into national controversy?
Here's a picture I want to post. It's a great shot. It's a picture of a tube of Otomax, the anti-fungal ointment Bob Baffert says his veterinarian used to treat Medina Spirit in the weeks following the Santa Anita Derby up until the day before the Kentucky Derby.
The detail on this picture is amazing, even without an Instagram filter. There, on the line below the name of the ointment, is the ingredient, "Betamethasone Valerate, USP." You'll recognize that as the drug that showed up in Medina Spirit's post-Derby blood sample, which in turn has left the colt's status as Derby winner, and Baffert's status as the greatest Derby trainer, very much in question.
My concern here is not for the horse's reputation, nor for the trainer's. My concern is for the race, for the Kentucky Derby. My concern is for the health of the animals, the safety of the jockeys and the stability of the sport.
If ever there is an event for which trainers should be on high alert, for which veterinarians should mind their P's and Q's (picograms and quittors), it would be this one, out of respect for the event, out of respect for its meaning to the sport. This place, those Twin Spires, of all places, should inspire a maniacal hyper-vigilance.
Which begs this question: How in the name of the great Eclipse does that cream get used on a Kentucky Derby horse? At the very best, it is supreme carelessness. At the worst, it is runaway recklessness. In either event, it is clear negligence. That word, negligence, is defined in a legal sense as, "A failure to behave with the level of care that someone of ordinary prudence would have exercised under the same circumstances."
In a sport that is all about gambling, it is taking too big a risk. It is a risk I can't believe Baffert would take, a risk I can't believe he would condone, knowingly or unknowingly. It is a risk that Baffert told a group of reporters, me among them, that he would never take as we huddled outside his barn at Churchill Downs on Sunday morning.
"The last thing I want to do is do something that would jeopardize the greatest two minutes in sports," Baffert said.
And yet he did. That's what he told us Tuesday. That's what he has done.
He may not have applied the ointment. But with everything on the line, he wasn't watching. That's basically what he is saying.  It took him two days to learn about something he says went on in his barn for three weeks. And the argument will be that it was just ointment, just used to treat a skin condition, not injected into joints. It was only 21 picograms (per milliliter), they will argue, ignoring that the allowable level in the race is zero.
My argument is this. It's the Kentucky bleeping Derby. Give the horse something legal. Scratch him and treat it with the skin ointment all you want. Consult with Churchill's Equine Medical Director on everything. That butt rash was not worth leaving a blemish on the Kentucky Derby (let alone risking the reputation of a Hall of Fame training career).
All of this assumes, of course, that Baffert's proposed explanation is correct. That a topical application could produce that kind of test result. That the explanation doesn't lie elsewhere.
Here's another good photo. This one is a contract signed by every trainer, and his veterinarian, when he brings horses to be stabled at Churchill Downs. At the top it says, "Rules and Conditions for Racing and Training." It's a contract Baffert signed with Churchill Downs on April 7. His veterinarian, Dr. Kevin Dunlavy, signed it a week later on April 14.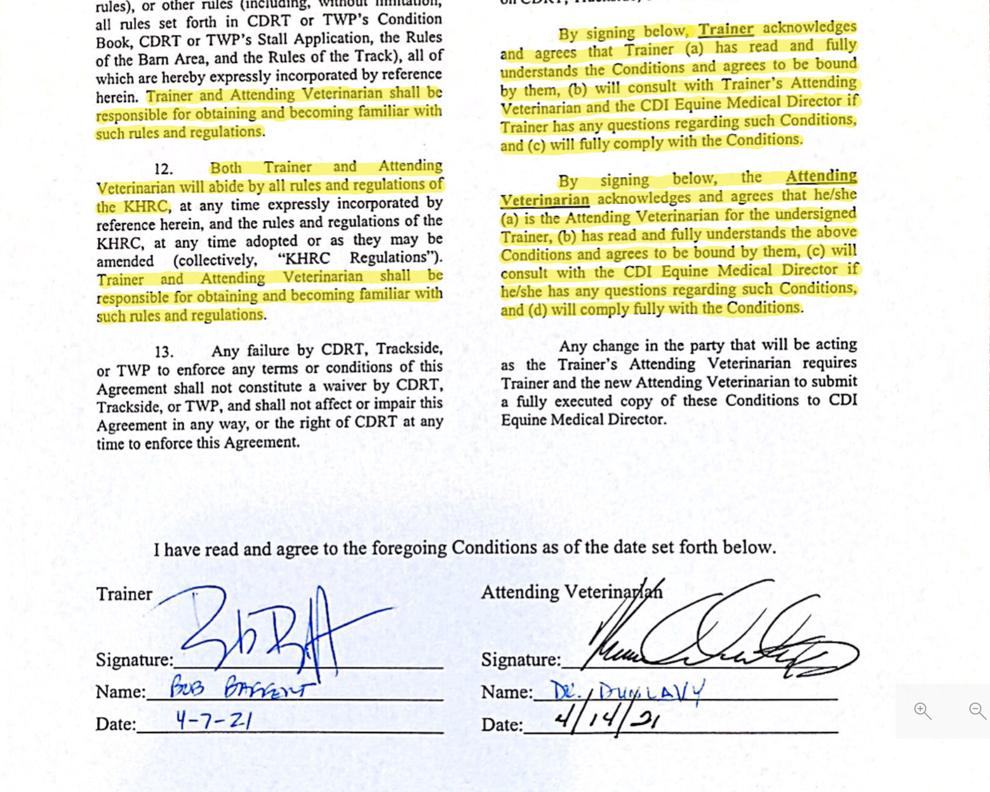 That contract says, in part, "If stabled on CDRT (Churchill Downs Race Track) . . . both the Trainer and the Attending Veterinarian will abide by all rules and regulations of CDRT . . . Trainer and Attending Veterinarian shall be responsible for obtaining and becoming familiar with such rules and regulations."
And again, on down, "By signing below, Trainer (underlined in the contract) acknowledges and agrees that Trainer (a) has read and fully understands the Conditions and agrees to be bound by them, (b) will consult with the Trainer's Attending Veterinarian and the CDI (Churchill Downs Inc.) Equine Medical Director if Trainer has any questions regarding such Conditions and ( c) will fully comply with the Conditions."
In the next paragraph, the Veterinarian acknowledges and agrees to the same things.
With his signature, Baffert promised, before the race, not to allow a positive drug test in the Kentucky Derby (or any other race at Churchill) in one of his horses. Now, oversights happen. Errors occur. And in other races, they are dealt with.
In the Kentucky Derby, with doping as with winning, the stakes are much higher.
It's why Churchill Downs suspended Baffert from racing at the track shortly after his announcement of a positive drug test Sunday -- even without seeing the result of the split sample.
It's why Churchill and Kentucky stewards, in my opinion, aren't likely to have much lenience if the split sample from Medina Spirit comes back positive.
Now you might ask, why didn't Churchill test all of the horses before the race? That's a fair question, but there are logistical issues. How far in advance? Could trainers not still administer impermissible drugs after the pre-race test? Maybe there will be more pre-race testing for these high-profile events moving forward.
A lot of work went into getting the Kentucky Derby back to where it was this year. It was a celebration of the sport, and of life springing back toward normal after a nightmarish year. It was a party, for better or worse, and it resonated in a country crawling out of a pandemic.
More people watched the Derby than the Academy Awards or the NFL Draft. Even Baffert winning had a feel of normalcy, and of history resuming.
It was a triumphant moment. And now you're telling me that it has been jeopardized by a butt rash and a negligent response. They don't make an ointment to fix this kind of mess.
Copyright 2021 WDRB Media. All Rights Reserved.