LOUISVILLE, Ky. (WDRB) -- The party gets started early at Churchill Downs on Kentucky Derby Day, and Keith Kaiser is the life of the party with his funky light-up Derby shoes. 
Paul from Pensacola, who was one of the first people in line at the Derby infield gate, was pretty impressed. Paul has been first or second in line at the gate (which opens at 9 a.m.) for 35 years.
He's used a specific strategy since 1987. 
"I try to get to the gate, go through the gate — don't fall down in the tunnel — get to the tent in the middle part of the back track, right below the jumbotron as I call it," he said.
IMAGES | WDRB News at the 148th Kentucky Derby
Joe said there are four people in his group and he used to be one of the fastest, "but I'm old now." He's prepared with food and snacks. 
The only thing he didn't have was light-up gold shoes like Keith Kaiser. 
"No I do not. I left them back in Florida," Paul said. 
Paul isn't the only person who shows up early. Kevin Barton has been among the first in line for 35 years.
"I would say 18 out of the last 19 I've been first in line," Barton said.
Kevin was sporting his own jockey outfit, a first this year. Because there's no pockets, he said, "I had to get a fanny pack!"
With temps in the lower 50s and a brisk breeze, it was a little chilly outside the gate, and Keith chatted with a couple of men from northeast Ohio who were braving the cold in shorts and shirts with sleeves that were extra short.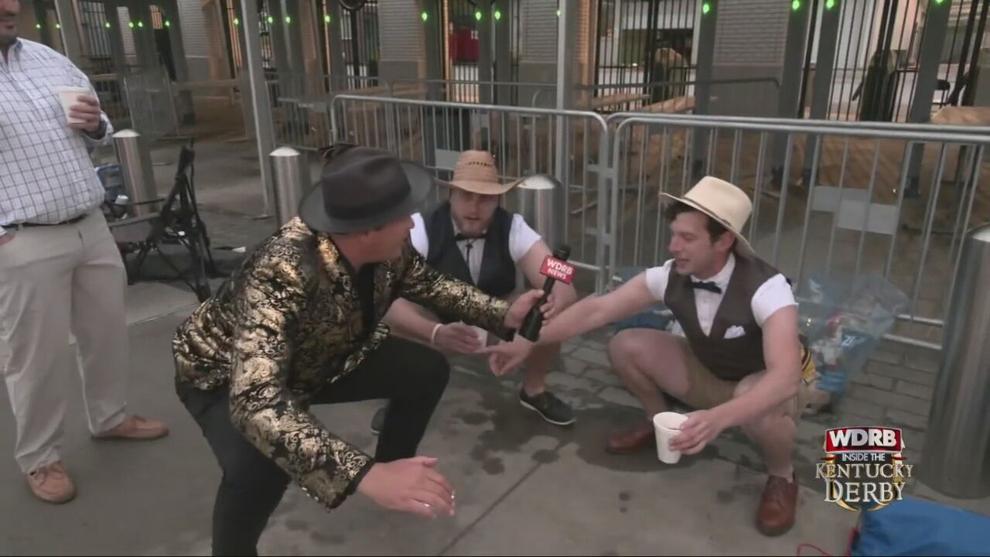 It's their fifth Derby. The reason for the light attire was to make sure nothing slows them down in their dash to find the best spot in the infield. After a few stretches and squats with Keith, they were feeling ready. 
One group of women was celebrating their first Derby. They also had their strategy mapped out as well with a tarp and poncho in case it rains, plenty of food -- and a fast runner to make the mad dash for the best spot in the infield. 
One man dressed in battle costume said he is prepared to become "King of the Infield!" With a Derby horse adorned with roses atop of his head, the unidentified man completed his get-up with a pair of shorts and a cape of sorts.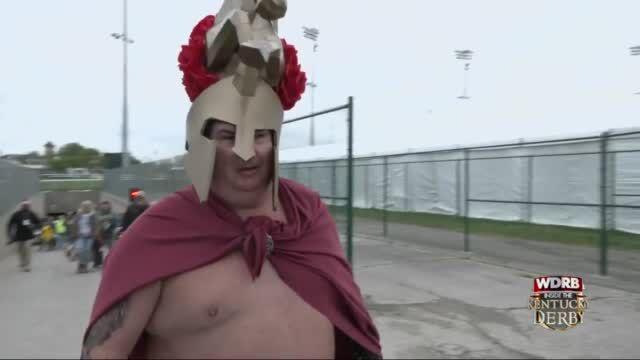 He said the outfit "was another brilliant idea from the pool in the back yard."
Copyright 2022 WDRB Media. All Rights Reserved.