LOUISVILLE, Ky. (WDRB) – Gov. Andy Beshear has issued an executive order recommending Kentucky school districts offer or expand in-person instruction by March 1 or a week after employees are fully vaccinated against COVID-19, he announced during a news conference Tuesday.
School districts must continue requiring indoor face coverings, evaluate schools' ventilation systems, and reduce student density if 6 feet of social distancing can't be achieved in places like classrooms, buses and hallways, Beshear said.
He also said districts must provide "meaningful" virtual learning options for those who choose not to return to classrooms.
"At the end of the day, we didn't vaccinate our educators for nothing," Beshear said. "We did this because we all know that we need some form of in-person learning."
Asked if he recommended setting capacity limits inside schools, Beshear said such decisions should be made "on a building-by-building basis."
"A couple of educators today made a really good point to me that if you have students that are virtual, you have teachers that are going to teach the students virtual, so you can't take the remaining students that are coming in-person and put them all in one room and simply have an empty room between them," he said.
"You've got to figure out how to spread them out."
Kentucky's color-coded guidance for school operations based on COVID-19 transmission will be discontinued March 1 but remain available to show areas of coronavirus spread throughout the state, he said.
"That should impact decisions made by a community and by a school in terms of extracurriculars or those additional things that might bring in that community spread," Beshear said.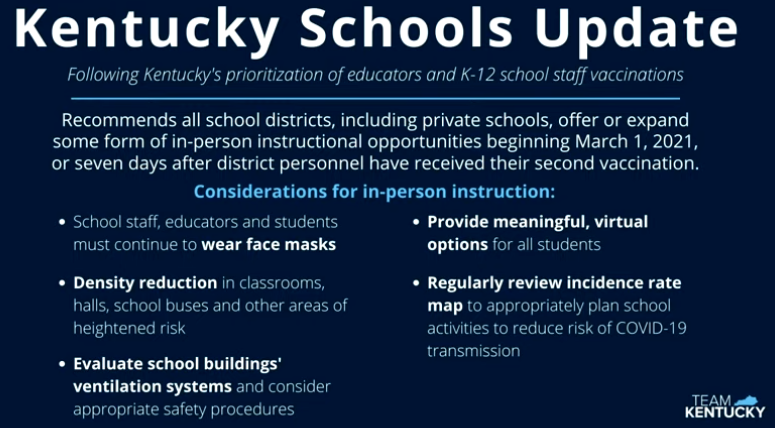 All but five of the state's 171 school districts are offering in-person learning options amid the COVID-19 pandemic, according to the Kentucky School Boards Association.
As of Feb. 23, 166 of Kentucky's 171 districts have returned to in-person instruction. Morgan and Owsley counties will return on March 1, and Berea Ind. will return on March 8. pic.twitter.com/jpn91aPCxa

— KSBA (@ksbanews) February 23, 2021
Jefferson County Public Schools is among those that have not reopened classrooms during the 2020-21 school year. Kentucky's largest school district has not offered in-person instruction since mid-March, when Beshear recommended schools cease classroom learning in the early days of the pandemic.
The governor said JCPS buildings that cannot accommodate 6 feet of social distance should strive to create "some real distance between" students during the COVID-19 pandemic.
"I truly believe it can be done," Beshear said.
"It may mean the model looks very different than other places. It may mean that students aren't in five days, but right now having meaningful chance for students to be in part or all of a certain number of days a week I know would be something that would benefit them and benefit our educators."
The governor's executive order says school districts "should prioritize in-person instruction over extracurricular activities" when determining the best ways to limit COVID-19 transmission risks.
School districts will not be required to provide accommodations for high-risk employees past March 15 "given the widespread availability of vaccines fro school employees," according to Beshear's executive order.
The Jefferson County Board of Education will decide if and when JCPS will resume classroom instruction this school year. Chairperson Diane Porter, who represents District 1, said the board will vote Thursday on whether to offer in-person instruction during the 2020-21 school year.
The board met Tuesday to discuss the latest guidance from the U.S. Centers for Disease Control and Prevention and other health issues with representatives of the Louisville Metro Department of Public Health and Wellness, University of Louisville and Norton Healthcare.
State and city health officials have previously told the board that reopening JCPS classrooms would be safe with a combination of staff vaccinations and COVID-19 mitigation efforts.
JCPS Superintendent Marty Pollio has said elementary schools could reopen five days per week by the third week of March while middle and high school operate on a hybrid schedule starting in the first week of April based on teacher and staff COVID-19 vaccinations.
Pollio has not offered a formal recommendation for the board's vote Thursday.
Copyright 2021 WDRB Media. All Rights Reserved.