ASHLAND, Ky. (WDRB) – In 2014, Craig Bouchard told The Wall Street Journal that the company he led, Signature Group Holdings was "trying to take advantage of a megatrend": automakers such as Ford Motor Co. substituting aluminum for steel in the bodies of their vehicles.
At the time, Bouchard's company, which was stitched together from the remnants of failed businesses for tax benefits, had just spent $525 million to buy the aluminum division of another company.
But Bouchard's vision, the same one he now espouses as the head of Kentucky-based Braidy Industries, wouldn't come to fruition at Signature Group Holdings. He left the company under mysterious circumstances in 2016, and a year later, it collapsed under the weight of its debt, filing for bankruptcy.
Bouchard, 65, says this time will be different.
As the head of Braidy Industries, which he started in 2017 with the help of $15 million in Kentucky taxpayer money, Bouchard is looking to build a $1.7 billion aluminum mill about a half hour outside of Ashland.
He promises 600 factory jobs paying well above the going rate in the area as part of a corporate goal that is much loftier than selling aluminum to automakers and beverage companies.
"Our mission is not to make aluminum, our mission is to rebuild northeast Kentucky and in fact all of Appalachia," Bouchard said in 2018.
LISTEN: CRAIG BOUCHARD ON THE UNCOVERED BY WDRB PODCAST
The people of Appalachia are still waiting. More than two years after the project was announced, Bouchard's company hasn't started the massive building because it still is trying to raise enough money for construction.
Bouchard, who lives in Naples, Florida, has been around the world in recent months pitching his company, including on trips to India and Saudi Arabia.
Last week, he sat for a rare, wide-ranging interview with WDRB News in his spacious and sleek office at Braidy Industries' corporate headquarters in downtown Ashland.
Confident as ever, Bouchard said he's "pretty close" to having enough funding to build the mill — though he wouldn't share many details — and that the foundation could be entering the ground in first three months of 2020.
"I just kind of tell everybody, be patient. These things don't happen overnight," Bouchard said, comparing the mill to the Taj Mahal. "… People are so interested in what we are doing, they want it to be finished tomorrow, and the world doesn't work like that."
Once projected to open next year, the mill is now targeted for the second half of 2021. Bouchard said Braidy Industries could become a publicly traded company as soon as mid-2020, but one analyst said that would be ambitious given that the mill would be far from complete.
Bouchard said he still needs to raise "a few hundred million dollars."
"I can't give you an exact number because money is only money when it changes hands," he said.
As for his previous company, which eventually took the name Real Industry, Bouchard said it went bankrupt not because of his leadership but, in fact, because he left.
He said Braidy Industries, named after one of his daughters, represents the culmination of a vision that he couldn't realize at Real Industry because of disagreements with that company's board of directors.
"We just had a difference of opinion, so I decided to build it myself," Bouchard said.
Whether the mill gets built remains to be seen.
Nearly a year and a half ago, Bouchard, Gov. Matt Bevin and other elected officials held a "groundbreaking" ceremony at the 240-acre site, a former coal mine.
"What we see around us with this equipment and freshly turned dirt, this is what hope looks like," Bevin said at the time.
But today, the dirt at the EastPark Industrial Center on the border of Greenup and Boyd counties remains unturned, except for site preparation work such as drilling to locate bedrock for the mill's foundation.
Bouchard said Braidy Industries has sunk $35 million so far into engineering, design and sitework. But the company still is trying to raise the money, a mix of investments and debt totaling $1.7 billion, to build the 2-million-square-foot facility.
Braidy Industries took a step forward this year when it secured a pledge of $200 million from Rusal, a Russian aluminum giant that will get 40% of the mill in exchange for the cash.
The move came shortly after the Trump administration lifted economic sanctions on Rusal and its parent company, which is tied to Russian oligarch Oleg Deripaska, an ally of President Vladimir Putin.
BACKGROUND: Democrats in Congress "alarmed" by Russian investment in Kentucky aluminum plant
Bouchard dismisses concerns about Russian investment in the U.S. aluminum industry, saying that Rusal is, in fact, integral to another overarching goal of Braidy Industries: combating global warming.
That's because Rusal's prime aluminum comes from a hydro-powered smelter — not one powered by coal or natural gas — which more than makes up for the fact that it has to travel to Kentucky from Siberia, Bouchard said.
"Climate change is going to kill our grandkids, if we are not careful, and their grandkids," Bouchard said.
Treaties to combat the problem aren't worth anything if industry leaders don't take the lead, he said.
"The rest of my competitors (in aluminum) are polluters, and we are not putting up with it," Bouchard said.
'So far, we are believers'
In Ashland, many remain excited about the company's plans.
"First and foremost, it's hope," said Tim Gibbs, CEO of the Ashland Alliance, the area's chamber of commerce. He talked of a grandmother who cried tears of joy at the prospect of her grandchildren getting middle-class jobs at Braidy Industries, rather than having to leave the area for work.
But others remain skeptical.
"I think there are probably more people who don't think it's going to happen than who think that it is," said Kenneth Hart, who lives in nearby Huntington, West Virginia, and works in Ashland selling consumer financing packages for furniture and appliances.
Braidy Industries' potential rise coincides with the downfall of the community's anchor employer, AK Steel. Once providing jobs for more than 7,000, the company has been declining since the 1990s. With only a few hundred employees remaining, it will completely shutter its operation at the end of the year, according to officials at the local United Steelworkers Union.
"We're all hopeful. Any kind of good paying job we're hopeful for, for this area, because we need it," said former AK Steel worker Jack Young, the benefits coordinator for USW Local 1865 in Ashland.
But Young said workers are growing anxious about the mill's slow progress of: "All you see is a field forever, and now you've got a fence around the field. When is these jobs really going to take effect?"
Although the mill is still more than a year from operation, Braidy Industries has been taking job applications for more than a year, and one of the company's points of pride is that 11,000 people have expressed interest in working there.
Bouchard said Braidy Industries will need to "start hiring" next year to prepare for the 2021 opening.
The company has said it plans to pay factory workers $65,000 a year, and for a select few, that promise is becoming real.
At Ashland Community & Technical College, Braidy Industries helped establish a two-year industrial training program that is meant to serve as a feeder for mill workers. About 60 are on track to graduate in May 2020, and Braidy Industries has extended job offers to the top 15.
While the mill is being constructed, the students will work at Veloxint, a Braidy Industries subsidiary in the same business park.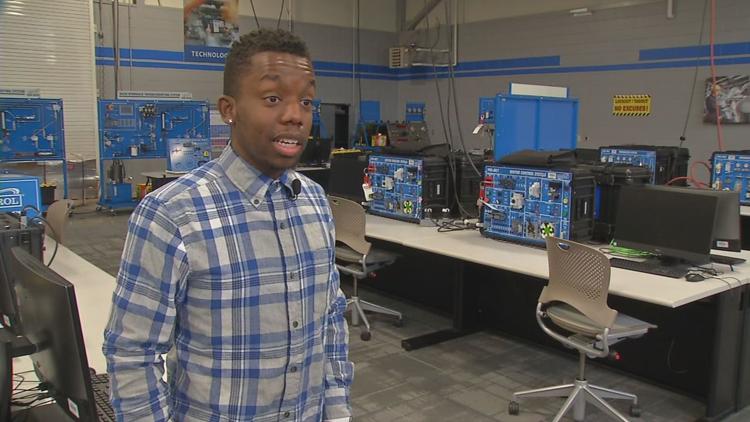 Justin Turner, 26, one of those students, said he quit his job as a food delivery driver to enter the ACTC program. To participate, Turner, a father of two young children, commutes 45 minutes from Pedro, Ohio, four days a week and waits tables at a Texas Roadhouse to pay the bills.
"I had to take care of my family so I decided to take a chance on this," Turner said.
A $65,000-a-year Braidy Industries job would allow him and his wife to move out of his in-laws' home.
Turner said he has "no reason" to think the mill won't be built. "So far, we are believers," he said.
While $65,000 has been the oft-cited figure for the Braidy Industries jobs — some elected officials have rounded up $70,000 — the company's head of human resources told WDRB that two-thirds of the mill jobs will pay at least that much.
But the company may use temp agencies for the lowest-paid tier, about 150 workers, and in those cases the workers would earn at least $50,000 after the temp agencies take their cut, said Curt Carson, the company's vice president of human resources.
'None of your business'
Bouchard, who went to business school and previously bought and sold companies in the steel industry, doesn't shy away from brash talk and bold claims.
He has said Braidy Industries will "crush" its more established competitors in the aluminum industry.
In the interview with WDRB, he took a jab at reporters, saying they might like the "socialistic" aspect of the company's profit-sharing plan for mill employees.
That came only minutes after Bouchard defended Braidy Industries' acceptance of Kentucky's money, as the state provided $15 million of the first $20 million Braidy Industries raised, according to public filings.
BACKGROUND: Taxpayer investment in eastern Kentucky aluminum mill decried as 'cronyism'
At first, Bouchard said the state government money was "necessary" because the state's confidence in the project helped attract investors from "all over the world."
He clarified that Braidy Industries "didn't need" Kentucky's money, but demanded it anyway as part of competition for the mill's location.
"I had a deal in two other states that was better than that. I said, if you want me to come to Kentucky, you've got to have skin in the game," Bouchard said.
He seemed to indicate that Indiana was one of those states when he grabbed an Indiana Pacers-branded basketball from his office shelf and tossed it to a reporter.
A spokeswoman for the Indiana Economic Development Corporation was unable to comment on whether and how the state recruited Braidy Industries, but she said the state does not normally recruit industrial firms by making direct investments in the companies, such as Kentucky did with Braidy Industries.
Kentucky now owns about 15% of Braidy Industries' outstanding shares, according to the company's most recent disclosure on July 15. Bouchard said the state could sell those shares today at a huge profit. Kentucky bought in for $5 a share, and the company is now selling stock at $18.
But Manning Warren, a securities law expert at the University of Louisville law school, said there are generally legal and practical barriers to selling stock in private companies.
"There is nothing truly liquid about the shares that Kentucky holds … there is no market for this stock," he said.
Bouchard initially declined to say how much he personally has invested in Braidy Industries, telling a reporter it's "none of your business" because the company remains private.
He then allowed that he has invested "more cash" in the company than Kentucky has: more than $18 million. But that claim is difficult to reconcile with the company's public disclosures made as recently as July 15, and Braidy Industries declined to elaborate when a reporter followed up in writing.
"As a private company, we do not comment on or provide information about individual shareholders, employees, customers or partners," the company said in an email, adding that no additional financial disclosures will be made until the company moves to the stock market.
Braidy Industries also did not answer whether Bouchard has fully repaid a $15 million personal loan he got from the company in 2018, which the company previously said would mature in August 2019.
The company has previously said the loan was extended to Bouchard, in fact, to in turn allow Bouchard to buy stock in Braidy Industries, all for the larger purpose of completing an acquisition of a smaller company using Braidy Industries stock as payment.
BACKGROUND: Braidy Industries' $15 million loan to CEO raises questions, experts say
BACKGROUND: Braidy Industries CEO used company loan to buy more shares
John Tumazos, an independent metals industry analyst based in New Jersey, said Bouchard is trying to do something new in his business career: building a company from the ground up instead of buying and selling businesses in the steel industry.
Tumazos said that with Rusal's help, Braidy Industries likely will find the money to build the plant. The question is, at what cost?
Braidy Industries' success likely will turn on whether the company can meet Bouchard's goal of being the "low-cost" provider of aluminum, while earning enough money to cover the debt owed for the plant's equipment and construction, he said.
"Their rate of return is basically going to depend on whether the efficiency of their new machinery is greater than their cost of capital, what they have to pay for the money," he said.
For his part, Bouchard said his company will produce the most cost-effective aluminum in the industry, because that's the way to ensure long-term survival.
"I am not having somebody look at me or my family 50 years from now and saying, 'Oh those guys were great and now they are gone.' That cannot happen in Appalachia again," he said. "This area deserves strong employment and really good, healthy, community activity."