LOUISVILLE, Ky. (WDRB) -- After legislation requiring school resource officers to carry firearms overwhelmingly passed the Kentucky General Assembly, Jefferson County Public Schools is forging ahead as if the bill sitting on Gov. Andy Beshear's desk were to become law.
Members of the Jefferson County Board of Education have debated for months whether or not officers in a JCPS security force should carry guns in schools, but draft policies and procedures presented to the board's policy committee have always had them armed.
That didn't change Tuesday, when the committee reviewed updated policies and procedures governing school security officers at JCPS.
The only notable change in that area is reducing the number of loaded magazines the officers could carry from three to two.
Jonathan Lowe, director of policy and systems for JCPS, said the district expects Senate Bill 8 will become law "either through him signing or him not signing or through a veto that gets overridden."
Bills passed by the legislature can become laws without a governor's signature if the 10-day veto period expires without any action.
The proposed policies and procedures presented Tuesday would make a few changes from previous versions.
The draft procedures, if enacted, would create a community team that would meet at least once quarterly to review data from the district's school security officers. Members of the review team would be required to have expertise in data analysis, racial equity in schools, violence prevention, justice-involved youth and other matters.
Those procedures also detail the officers' arrest powers.
Before a juvenile student 12 or older is arrested, the officer must first consult with the district's executive administrator of school safety. Officers must contact court designated workers once they make arrests for further guidance on whether they should be detained or released, and juveniles accused of misdemeanors or felony property crimes must be taken to Safe Place if they're not released.
Officers would be prohibited from arresting any student younger than 12, unless they're directed to take them into custody, and from using handcuffs on them.
While there was little debate during Tuesday's meeting, about half a dozen opponents of JCPS moving forward with its plan for school police held signs that read, "No 2 SROs."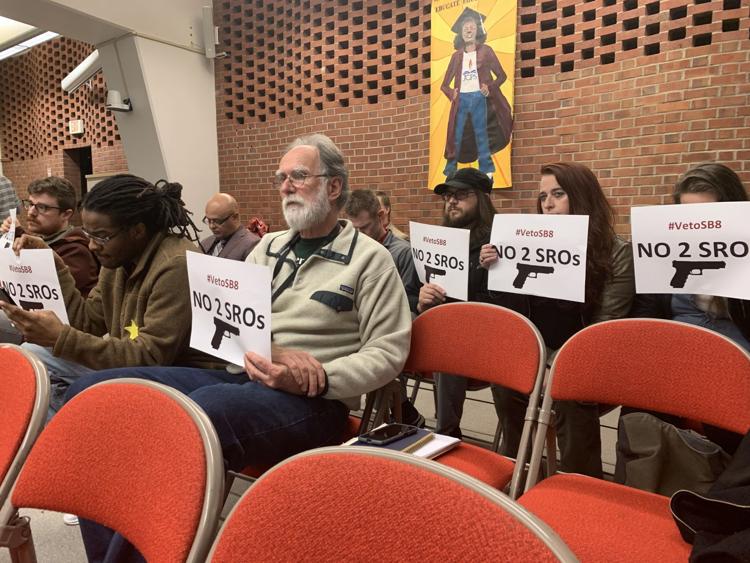 Sonja Devries, with Louisville Showing Up for Racial Justice, is among those who want the board to move in a different direction.
A state law passed last year requires school districts to have officers in every school as funding and qualified personnel become available, but Devries said there's still time to veto SB 8 so that the Jefferson County Board of Education can decide the best path forward on school security.
Two board members — Chris Kolb, the vice chairman who represents District 2, and Joe Marshall, who represents District 4 — have signed onto a letter urging Beshear to veto SB 8. The governor told reporters Tuesday that he will decide by Friday whether to sign the measure into law or veto it.
Devries and others worry that students, particularly minorities, will be targeted for arrest or assault if officers are allowed to carry guns in schools.
"A lot of young people are already traumatized by violence, traumatized by seeing adults carried away by police or having parents incarcerated," she told reporters. "We need to be talking about how to deal our youth's trauma, how to make schools safer for everybody."
The district's decision to move ahead as if SB 8 will assuredly become law is "really discouraging," she said.
"This group of people should have very different discussions about how to keep kids safe in school because they're not going to be safe from the armed guards, and that is a huge concern," Devries said.
School security officer policies are expected to come to the board for a first reading March 24, said Amy Dennes, chief of staff to JCPS Superintendent Marty Pollio.
Copyright 2020 WDRB Media. All Rights Reserved.