LOUISVILLE, Ky. (WDRB) -- Jefferson County Board of Education member Chris Kolb has resigned from his leadership position as vice chairman of the school board of Kentucky's largest school district.
Kolb confirmed Thursday that he will remain a member of the board as District 2's representative and is only stepping down from his leadership position.
He drew a rebuke from the board's chairperson after tweeting "F*** you" to a Republican state senator who questioned Gov. Andy Beshear's executive order on universal masking in schools on Tuesday. Others suggested that he resign from the board entirely.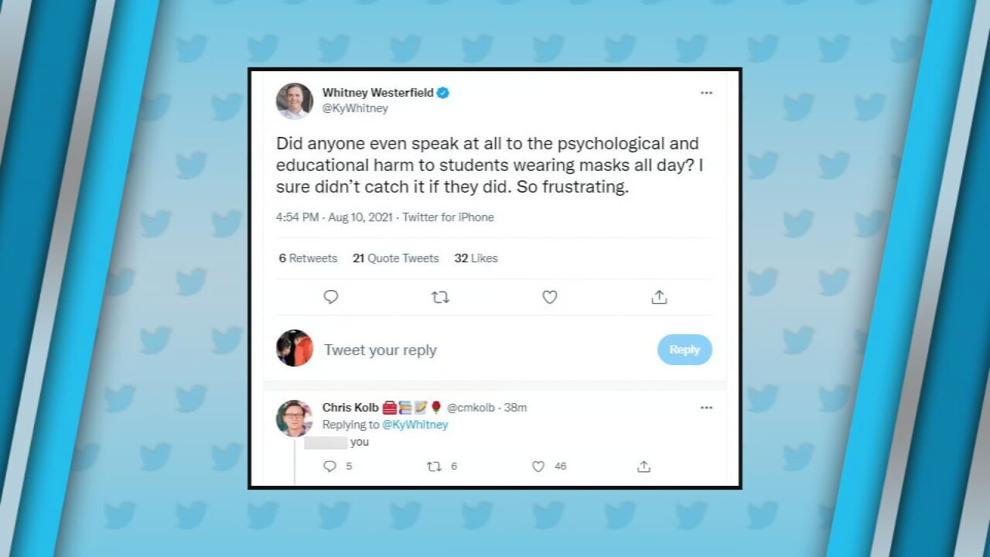 Kolb said in a message to WDRB News that he resigned his leadership position for "many reasons."
"To clarify, as a school board member the only people I work for are the voters of district two," he said Thursday on Twitter. "I don't work for JCPS. I don't work for the board chair. D2 voters can re-hire or fire me every four years. Democracy and free speech still mean at least a little in the U.S."
Kolb had previously told WDRB News in a message Wednesday that his future would be up to District 2 voters in 2024.
Kolb is also a professor at Spalding University in Louisville. Spalding University President Tori Murden told WDRB she talked with Kolb and that he agreed to moderate his language on social media.
"We are also not aware of any incident in which Dr. Kolb has spoken like this on campus or in the classroom," Murden said in a statement.
"As is the case for tenured faculty at nearly all institutions of higher education, a tenured faculty member at Spalding is permitted to speak freely for themselves, including on their personal social media accounts. It's regrettable that, in rare cases, professors can take this privilege too far." 
Murden says she will address faculty on Friday regarding social media following Kolb's tweets.
His Twitter exchange with state Sen. Whitney Westerfield, R-Crofton, prompted Jefferson County Board of Education Chairperson Diane Porter to say Kolb's comments "do not reflect the expectations for individual board members or the board as a whole."
"While individual board members act in their individual capacities when on social media and are each independently elected by their constituents, those actions still reflect upon the board and the district," Porter said in a statement. "... In this time of division within our nation, it is important that we all understand that we can disagree without being disagreeable. Because our children and community are watching and learning, I will continue to lead by example for my fellow board members and colleagues."
The school board is scheduled to meet Tuesday.
Copyright 2021 WDRB Media. All Rights Reserved.