LOUISVILLE, Ky. (WDRB) – The Louisville Presbyterian Theological Seminary's plan to sell 25.5 acres of its campus could threaten a public trail on the edge of Cherokee Park.
The park area's network of trails includes a rugged dirt path that runs parallel to Beargrass Road near Alta Vista, climbing next to rock outcroppings and threading evergreen trees. It overlooks Beargrass Creek across the park road.
While many people who use the trail believe it is in Cherokee Park, it actually is on seminary property, Metro Parks spokesman Jon Reiter said in an email on Tuesday. A map from the Olmsted Parks Conservancy and Metro Government's LOJIC map appear to confirm the location.  
The seminary went public last week with its plan to sell the acreage for $13.4 million, an offering that could yield up to 78 single-family residential lots, according to a listing from Rainey, Allen & Shaw Realtors.
The site includes a wooded section at the base of a hill where the multipurpose trail now passes. Parks and seminary officials weren't able to say on Tuesday what type of arrangement governs the trail's use.
The future of the trail will be up to the land's buyer, seminary spokesman Chris Wooton said.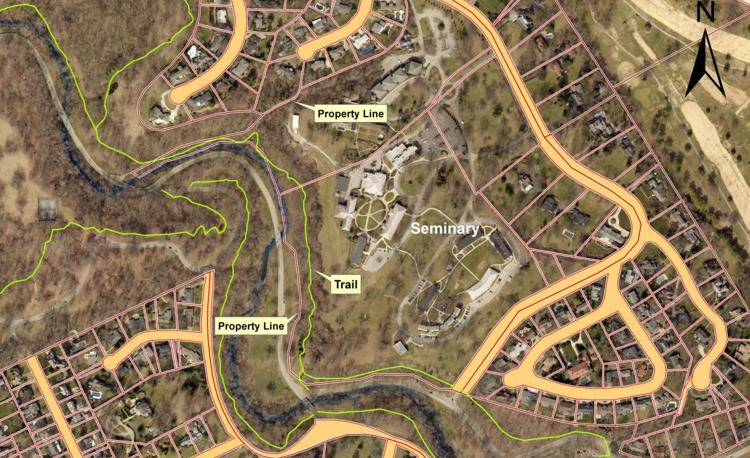 The seminary's board of trustees authorized the sale, which would include aging on-campus units and other land not considered essential. Some neighbors have raised concerns about the possibility of new homes being built nearby; the property is zoned for single-family homes.
"It's not just about Louisville Seminary," Wooton said. "We're being very strategic and intentional, obviously respectful of the fact that while this is our land, this is very much an important part of the park experience here. This is one of the jewels of the city and we want to be respectful of that."
Layla George, the Olmsted Parks Conservancy's president and CEO, said her organization has concerns about disrupting a site that's located on a hillside above Cherokee Park.
"It is heavily wooded right there," she said. "You have a lot of limestone cliffs, and I think if there were a development it would have to involve some amount of clearcutting – and that's going to create some runoff issues and serious erosion issues along that hillside."
She said it's likely that the proposed seminary development would be the largest near any of Louisville's Olmsted parks in recent years. "This has got to be one of the largest tracts of land that's still undeveloped and sort of inside the Watterson (Expressway) around the area," she said.
George said the conservancy is staying in touch with a neighbors' group, the city's parks department and the seminary.
"We're just trying to support protecting Cherokee Park and keeping the park users' interest in mind," she said.
Stefan Rumancik, who was biking through the park Tuesday evening, said he's concerned a new development could lead to increased traffic.
"More homes right here in this little spot is a little bit ludicrous," he said.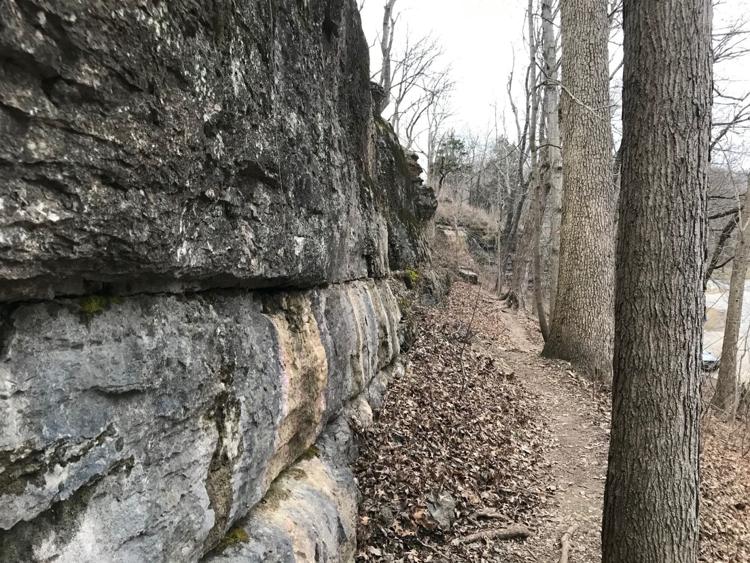 Metro Council member Brandon Coan, whose 8th District takes in the area, noted that a real land-use proposal hasn't yet been introduced. Any development would be an opportunity to improve drainage and other infrastructure and add sidewalks, he added. 
"New proposals are always kind of hot at the beginning, but hopefully as talks continue we will get to a good place with everybody," he said.
Reporter Sara Sidery contributed. Reach reporter Marcus Green at 502-585-0825, mgreen@wdrb.com, on Twitter or on Facebook. Copyright 2019 WDRB Media. All rights reserved.