FRANKFORT, Ky. (WDRB) – To the dismay of hundreds of red-clad educators assembled at the Capitol Thursday, the House State Government Committee advanced legislation that would alter the makeup of the Kentucky Teachers Retirement System's board of trustees and the nomination process for potential members.
An amended version of House Bill 525, sponsored by Rep. Ken Upchurch, passed on a 12-5 vote with a single "pass" vote. The legislation prompted hundreds of teachers to call out sick so they could protest the measure, ultimately closing eight school districts, including Jefferson and Fayette counties.
HB 525, they contend, is an attempt to weaken public education in Kentucky. Upchurch, R-Monticello, argued otherwise, saying the bill is meant to give educators a greater say in how KTRS trustees are nominated.
The bill is also a means to diminish the Kentucky Education Association's influence on the nominating process, he said. KEA's president currently serves as head of a nominating committee that picks two candidates for board elections.
HB 525, if passed, would drastically change that process starting July 1. KEA would be allowed to nominate three people to run for just one seat, one of six groups that would essentially control individual educator seats as terms expire. Others are the Kentucky School Boards Association, Jefferson County Teachers Association, Kentucky Association of Professional Educators, Kentucky Association of School Administrators and Kentucky Association of School Superintendents, according to the version of HB 525 passed by the House committee.
KEA would also control nominations for one of the two trustee seats reserved for retirees, with the Kentucky Retired Teachers Association in charge of finding three nominees for the other. KTRS trustees serve four-year terms, and they can't serve more than three consecutive terms.
The membership of the board would grow from 11 to 13 if HB 525 passes, with teachers getting an extra seat on the KTRS board and the governor getting another appointment from a list of three accountants provided by the Kentucky Society of Certified Accountants.
"One organization has control over the election selection process of seven of the 11 board members," Upchurch said. "What this bill seeks to do is to spread that out across all of the stakeholders and give all educators a say in who their elected representation is on that board."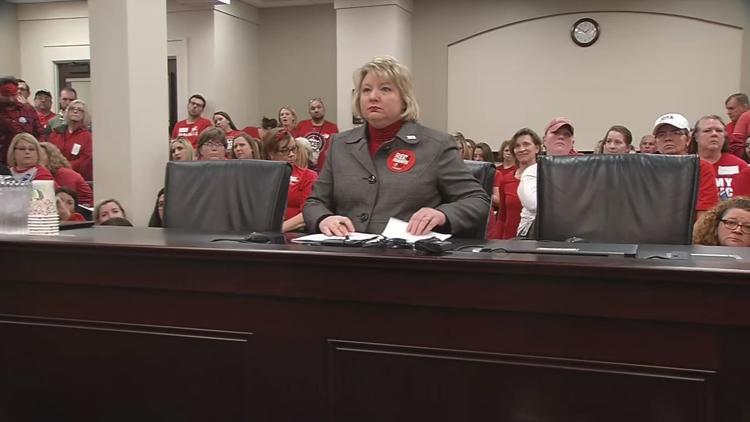 But KEA President Stephanie Winkler says the bill is misguided because the management of KTRS assets has been sound over the years. The pension system, she said, has netted investment returns of more than 8 percent in its lifetime.
HB 525 does not "solve a problem," she said. What's more, Winkler said the Kentucky Society of Certified Public Accountants has asked to be removed from the legislation in part because they don't have a vested interest in KTRS. The group did not return a call seeking comment Thursday.
"If today the committee takes this first step in passing unnecessary legislation such as House Bill 525, you'll be stripping away a perfectly good system of pension oversight and take the trust in our system to be there for us in the future away," Winkler said.
Winkler said no one approached KEA about HB 525 before it was filed, though a KEA staffer did share some concerns with Upchurch.
Likewise, Upchurch said he heard nothing from representatives of KEA and KY 120 United, which called on teachers across the state to call out sick Thursday, after he filed HB 525.
The bill split lawmakers on the panel along party lines, with Republicans voting to move the measure to the House floor and all but one Democrat voting against it. Rep. Joe Graviss, D-Versailles, voted "pass" in hopes of working on a floor amendment to improve the bill.
House Minority Caucus Chair Derrick Graham, D-Frankfort, worried that HB 525 was a "vindictive" measure in response to last year's protests by teachers angered by a pension reform bill that was ultimately overturned by the Kentucky Supreme Court.
"I'm not saying that that's what your intent is, but it sure looks a whole lot like that's the direction that we're going," Graham said. "… When you initiate public policy with the intent of punishing someone, that public policy usually fails and becomes a problem later down the road."
"There is no malice towards any of these groups," Upchurch said in response.
Some took issue with teachers' decisions to call out sick Thursday and protest HB 525 at the Capitol.
"Whether you're for this bill or you're not, it is wildly irresponsible to do this, especially this early in the process," said Rep. Jason Nemes, R-Louisville.
While the group's original Facebook post alluded to the possibility of another "sick out" Friday if HB 525 passed to the House floor, KY 120 United will not repeat its call for teachers to take a sick day on Friday.
Nema Brewer, a Fayette County school employee and co-founder of KY 120 United, said via social media that teachers will be "returning to our communities and our students tomorrow."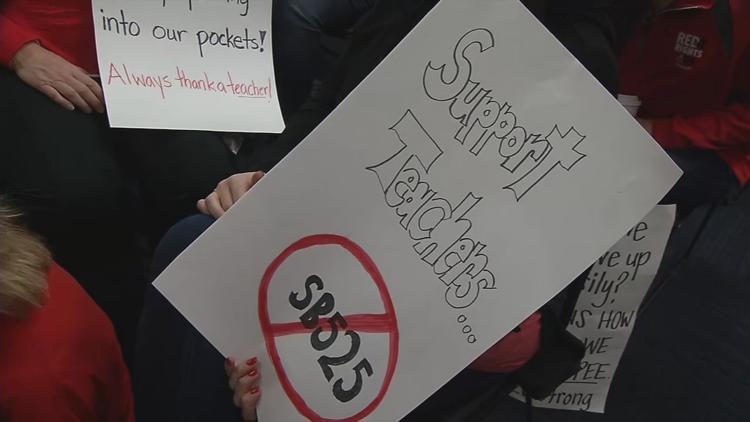 "We are ready for whatever Frankfort throws our way," Brewer said in a Twitter post. "Take that to the bank."
Copyright 2019 WDRB News. All rights reserved.