LOUISVILLE, Ky. (WDRB) — The Denny's restaurant sign that partially toppled in high winds last week wasn't particularly out of place in Elizabethtown, Ky. — nor along most any interstate exit in the country.
The 2,600-pound projectile landed on a car in the parking lot below on Thursday afternoon, crushing 72-year-old Lillian Curtis to death. Her husband Lloyd, who was also in the vehicle, died three days later.
As authorities in Elizabethtown continue their investigation, the tragic incident raises a question about the myriad of tall, free-standing signs along major roads and highways: Who makes sure they are safe?
In Kentucky and most other places across the country, the answer is no one except the property owner, who is responsible for keeping the site maintained.
City and county officials typically approve construction plans for tall signs when they issue building permits, and at that point, government oversight usually ends. Unlike elevators and gas pumps, free-standing signs are not regularly inspected.
"Most every single jurisdiction has permitting for the construction of a sign, but for the maintenance, there's fewer regulations around the country," said Lori Anderson, CEO of the International Sign Association, an Alexandria, Va. trade group representing businesses involved in the on-premises sign industry.
In Kentucky, the regulation of free-standing signs is entirely up to local governments.
Kentucky's statewide building code, which sets standards for commercial construction, does not require the permitting or inspection of signs, according to Ricki Gardenhire, spokeswoman for the state Department of Housing, Buildings and Construction.
The state department does not inspect signs and is not involved in the investigation into the Elizabethtown incident, she added.
While local regulations vary, it's common for cities and counties that do regulate signs to have two levels of review, according to Jon Baker, a land use attorney at Louisville firm Wyatt, Tarrant & Combs.
The first involves site plans to ensure the sign can be built on the property in the proposed location. Then, local officials will review construction plans for the sign before issuing a building permit, he said.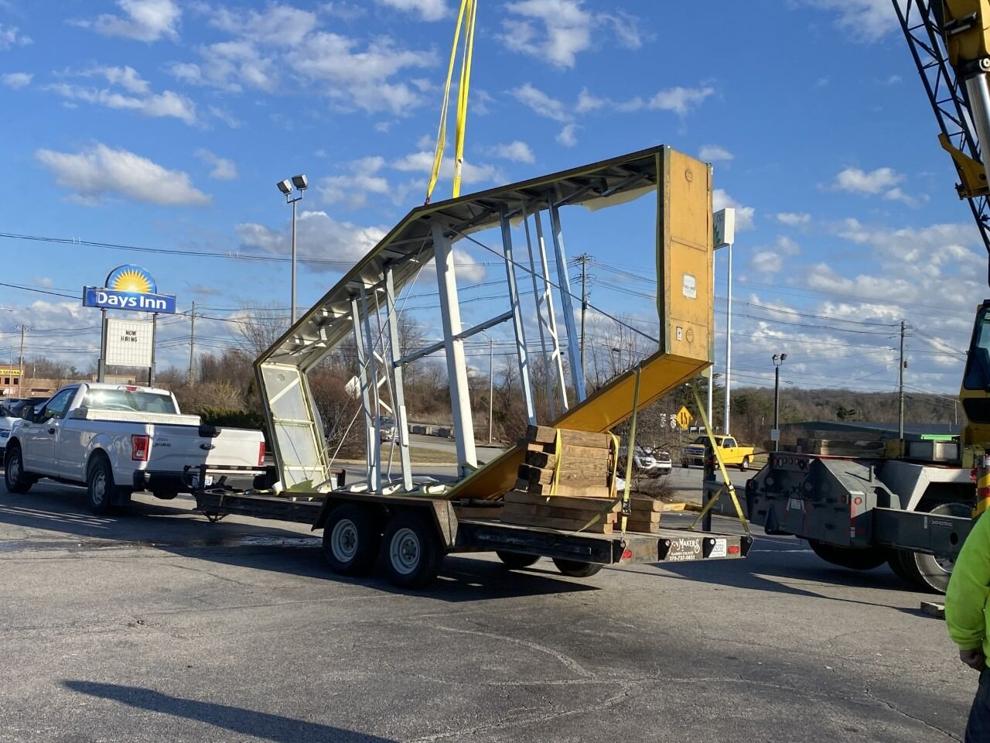 This appears to be the case in Elizabethtown, where the city website says permits are required for signs and the city's zoning code spells out requirements for signs and tasks owners with maintaining them.
Elizabethtown officials have referred questions to the city's police department, which is leading the investigation into the accident. Police spokesman Chris Denham said the investigation continues with no new information as of Tuesday.
The Curtis' granddaughter, Mary Howard, told WDRB News on Sunday that an officer at the scene of the accident Thursday told her that "there was a bolt missing" from the sign.
But Denham could not confirm that.
"I am not aware of any officer making a statement regarding the events that led to this tragedy," Denham told WDRB News in an email Monday. "Any release or statement we make regarding this incident will be fact-based and unfortunately due to the investigation still being in its preliminary stages, many facts are still unknown."
The real estate where the Denny's sits at 2008 N. Mulberry Street is owned by Kenton Cole Inc., a company linked to the family that owns Howard W. Pence Inc., a general contractor in Elizabethtown.
Kenton Cole Inc. previously shared the same principal office as the Pence contracting firm and lists Patsy A. Pence and Donna N. Pence as its officers, according to Kentucky corporate records.
Neither Patsy Pence, who is listed as president of Kenton Cole, nor Mike Pence, a previous president of the company, returned messages left at the general contractor's office.
It's unclear when the Denny's sign was permitted and installed and whether city officials were ever alerted to issues with it. Elizabethtown has not yet responded to WDRB's request for those records under the Kentucky Open Records Act.
The city's police department, meanwhile, withheld its incident report from the Jan. 19 accident, saying its part of the pending investigation.
Anderson, of the International Sign Association, said she was aware of only one other incident involving a failed pole sign, which happened in early or mid-2000s, but she could not recall the details.
In general, people shouldn't doubt that free-standing signs are "very safe structures," she said.
Anderson said her group is open to discussions, but it isn't clear that more regulations are needed regarding the maintenance of signs.
"I think we need to study and really understand what the factors are. And in this case, we don't really know enough yet about what could have been the specifics that led toward this sign failing," she said. "But since it's so rare, the public does not need to be concerned."
Related Stories:
Copyright 2023 WDRB Media. All Rights Reserved.