LOUISVILLE, Ky. (WDRB) -- Gov. Andy Beshear has asked Kentucky school superintendents to remain closed to in-person instruction through May 1 as part of the state's efforts to limit the spread of COVID-19.
Beshear held a conference call with school superintendents at 2 p.m. Thursday and informed them of his request to extend their suspensions of regular instruction, originally slated to expire April 20.
He announced his directive during his 5 p.m. press conference on the COVID-19 pandemic, adding that he will reevaluate his recommendations about two weeks ahead of May 1. Districts are urged to continue their non-traditional instruction and emergency feeding programs during the closures, he said.
Before allowing students back in schools across Kentucky, Beshear said the state will be looking for regular declines in the numbers of new COVID-19 cases before allowing students back at schools.
"We've got to get over what our peak is going to be, and we have to be declining at a rate where it would be safe," he said during a Capitol news conference. 
How other states, such as New York and Louisiana, are dealing with the novel coronavirus will also be a factor in deciding whether schools should resume regular instruction, he said, adding that any recommendation to reopen schools will be made after consulting with Kentucky health officials.
"There is a real chance that we don't go back to in-person classes this year," Beshear said. "I told that to the superintendents. That is absolutely possible at this point.
"We're not there yet. When we get at least halfway through April or a little later, we'll be able to make that decision."
Renee Murphy, communications director for Jefferson County Public Schools, said Superintendent Marty Pollio would announce the district's plans on Friday.
Leisa Schulz, superintendent of schools for the Archdiocese of Louisville, said Louisville-area Catholic schools will follow Beshear's directive.
Surrounding school districts like Hardin and Oldham counties announced that they, too, will cease in-person instruction through May 1.
A number of school districts posted messages on social media in advance of Beshear's news conference Thursday.
Trimble County Public Schools posted information about the extended closure on its Facebook page Thursday, including its plans to continue its non-traditional instruction plan through May 1.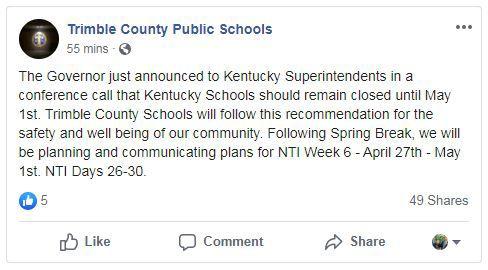 McCreary County School District posted a letter from Superintendent Corey Keith on its Facebook page, letting families in the eastern Kentucky district know of Beshear's updated directive and that McCreary Central High School's prom had been officially canceled.
The district is awaiting guidance from Beshear and the Kentucky Department of Education regarding graduation ceremonies, the letter says.
Keith wrote that he hoped graduation would occur, even if it must "be done so in a creative, non-traditional way to honor our students and families."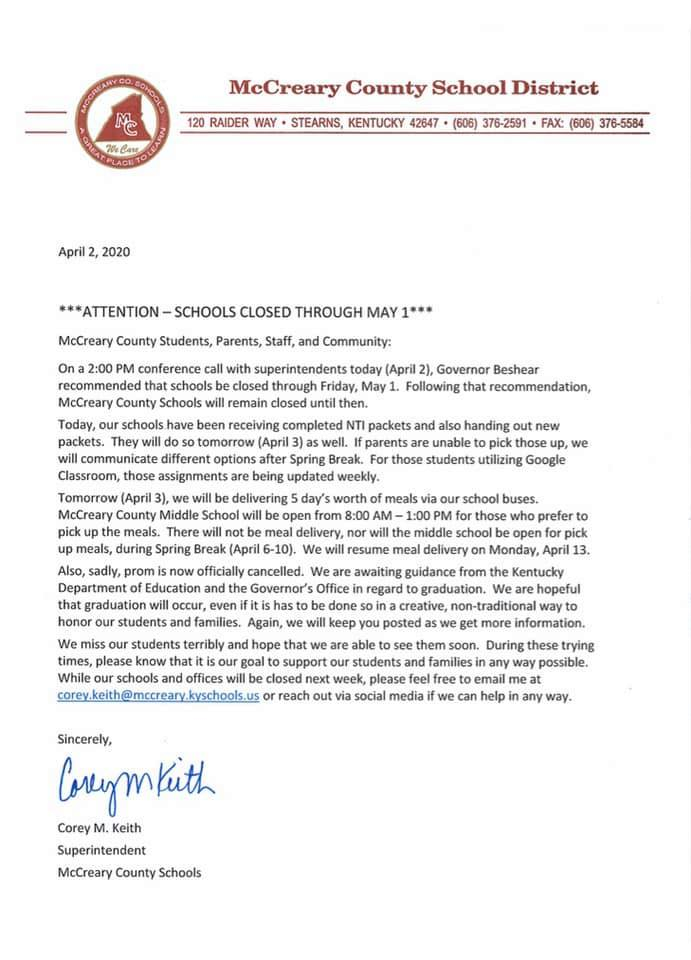 Frankfort Independent Schools Superintendent Houston Barber also informed families in a letter Thursday that the district will continue its non-traditional instruction program through May 1 as requested by Beshear.
Barber wrote that he wished he could say whether Frankfort Independent would reopen its classes this school year.
"It is likely we will not be returning to our school buildings this year," he wrote.
COVID-19 Updates (April 2, 2020) - Please read carefully! NTI Days extended through May 1, 2020. pic.twitter.com/hHYobsGZ1Q

— Houston Barber (@Frankfort_Ind) April 2, 2020
Beshear had asked schools to remain closed until April 20 during the COVID-19 pandemic and hinted this week that additional closures would be coming. He initially asked for schools to suspend in-person classes for at least two weeks in March.
Kevin Brown, Kentucky's interim education commissioner, had already asked districts to prepare enough remote learning material to last through May 1 before Thursday's conference call.
The state has taken unprecedented steps so school districts could continue education during the global COVID-19 pandemic.
A law passed by Kentucky's General Assembly and signed by Beshear in March allowed districts to join KDE's non-traditional instruction program during the 2019-20 school year so they can provide distance learning during the COVID-19 pandemic.
Eighty-nine of the state's 172 school districts, including Jefferson County Public Schools, had not been part of the non-traditional instruction program but now are under Senate Bill 177.
The new law also allows districts to request as many days of non-traditional instruction as they need, with Brown issuing blanket approval for 30 emergency days of the remote-learning program. Districts can also give employees emergency leave during the public health emergency as determined by their local school boards under the new law.
SB 177 also allows districts to seek waivers from the state to hit the minimal 1,062 instructional hours by June 12 during the COVID-19 outbreak.
JCPS called off all classes until April 7, when it will begin its non-traditional instruction program.
Ahead of the lengthy closure at Kentucky's largest school district, JCPS is offering 25,000 Chromebooks, first to low-income families and those with special needs students, and 6,050 hotspots with unlimited data to households with special education students.
Copyright 2020 WDRB Media. All Rights Reserved.