LOUISVILLE, Ky. (WDRB) -- A Jeffersontown Police officer was suspended for two weeks after striking, handcuffing and charging a bystander who was filming what he thought was a traffic stop in November.
Police Chief Rick Sanders suspended Officer Manuel Cruz after an internal investigation found he committed multiple violations when Joe Bennett refused to show his identification to officers while he recorded a Facebook Live video of police from a parking lot across from a bank on Nov. 24.  
The internal investigation concluded Cruz didn't take the time to explain to Bennett why officers wanted to see his ID and failed to de-escalate the situation when Bennett declined to provide it.
"The failure to deescalate the situation resulted in a video going viral which brought discredit to the department and the efficiency of the department being compromised," Former Assistant Chief Steve Schmidt concluded in the investigation. 
Cruz was found to have committed three conduct unbecoming violations but did not violate the use of force policy.
In addition, the city paid Bennett $35,000 earlier this year to settle a lawsuit filed in December claiming Cruz "aggressively confronted" and then "sucker punched" him.
The March 5 settlement, obtained by WDRB News through an open records request, prohibits Bennett from "disparaging" the department or talking about the settlement.
Attorney Sam Aguiar, who represented Bennett in the civil suit, said Bennett "pursued this case to obtain a result that came with a commitment from Jtown that actions would be taken to impose accountability and reduce the likelihood that others have to go through a similar situation." 
Previously, Bennett has said that he was driving by the McDonald's off Blankenbaker Parkway when he noticed a large police situation and "given the current climate that we live in, I was inclined to pull over, to observe as a citizen. That's what we should do."
Bennett has said some people have implied he should have just cooperated with the officers, but he feels he did nothing wrong.
"Some folks will say, 'Why don't you just show your ID?'" he said in a previous interview. "We have personal rights in this nation. I have personal rights against unfair searches and seizures." 
The internal investigation acknowledged Bennett was not required to show his identification. However, the department concluded that police mistakenly believed Bennett was involved in a multi-state check cashing scheme they were investigating, and that Cruz had probable cause to approach him.
In fact, Cruz was told by another officer at the scene to get Bennett's identification and detain him, according to the investigation, obtained through an open records request.
Cruz should have explained to Bennett that he was allegedly involved in the case instead of almost immediately taking him to the ground and handcuffing him, said Schmidt, who has since retired. 
"Based upon the investigation, I believe that this incident would have never occurred if Officer Cruz had taken a very short amount of time to clearly tell Mr. Bennett the reason he needed to speak with him," Schmidt wrote in his investigative letter on Jan. 28.
After Bennett's video went viral, the department "had to go to an automated phone answering service due to the amount of harassing phone calls we received," Schmidt wrote.
The investigative file includes dozens of emails and texts criticizing the department over the incident.
While Cruz was interviewed by investigators, it was not included in the records provided to WDRB News.
Texts from Cruz to a commander that his "stress level" was high that day because of family issue, according to records in the investigative file. 
And he acknowledged he should have de-escalated the situation and spent more time explaining to Bennett why police had approached him, according to an investigative summary.
However, police maintain the incident was not a First Amendment issue.
When Cruz and Officer Eddie Wescott approached Bennett, Cruz asked for Bennett's ID and said it was because he was "filming a crime scene investigation" and Bennett was "involved."
Bennett refused to show his ID, stating he was simply filming in public.
But the investigation concluded that, "As many have tried to make this a First Amendment issue it should be noted that the officers never took or turned off Mr. Bennett's phone."
Sanders said in a December press conference that "had (Bennett) just given his ID to Officer Cruz, we wouldn't be here today. … Even though he didn't have to, had he just done what Officer Cruz asked and produced an ID, we wouldn't be here. And I think that's important to discuss as well."
Schmidt said the incident should be used as an "opportunity" to provide more de-escalation training for officers.
Cruz did not violate department policy by charging Bennett with menacing and resisting arrest, the investigation concluded.
The Jefferson County Attorney's Office dismissed the charges on Dec. 3, according to court records. 
Attorney Steve Schroering, who represented Cruz during a criminal investigation of his conduct, said no charges were filed. Schroering said Cruz is still with the department and declined to comment for this article. 
Cruz, who is a veteran, was sent to see a psychologist in January for a "Fitness of Duty Evaluation" after telling investigators he suffers from PTSD, according to a memo in the investigative file.
At the December press conference, Sanders said Cruz could have handled the incident better but also praised him and other officers for making arrests -- including of one man who had a knife -- and breaking up the check cashing scheme.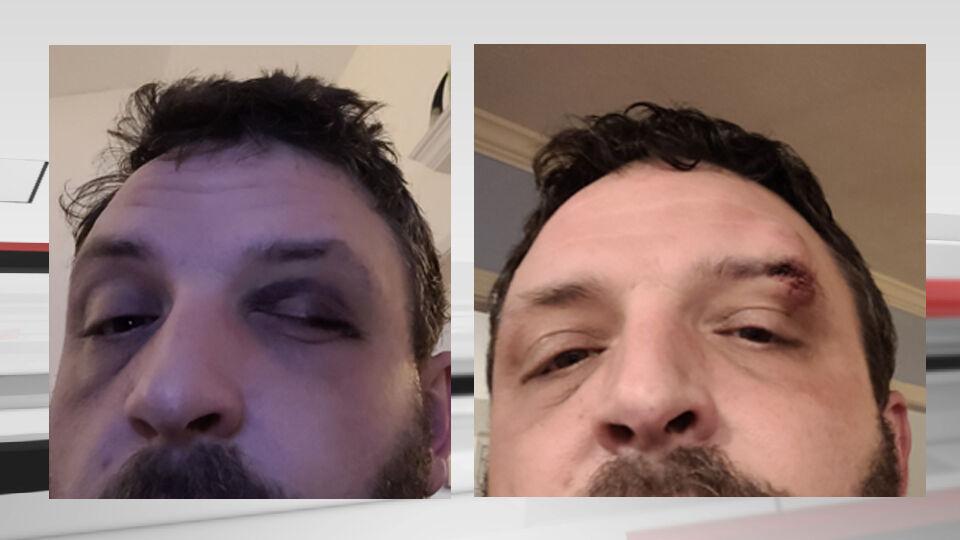 "I'll own up for what we didn't do well," he said, "but I'll also take credit for the great job we did in this check cashing scheme."
The chief also praised Cruz repeatedly during the press conference, saying the officer is a 19-year veteran with an "unblemished record" who was in the military and is a "patriot" who has done a "lot of good things for this city and this country."
And Sanders said Cruz had been involved in several stressful incidents in November leading up to the interaction with Bennett, including saving a woman from an oncoming train and dealing with veterans who were suffering from mental issues.
Sanders said an officer on the scene pointed to Bennett -- who was about 100 feet away from the arrests -- and told Cruz he was also involved, accusing him of dropping off the suspects.
Cruz and Officer Eddie Wescott approached Bennett. Cruz asked for Bennett's ID and said it was because he was "filming a crime scene investigation" and Bennett was "involved."
Bennett refused to show his ID, stating he was simply filming in public.
"I'm not involved with anything," he told police, again declining to show them his identification, according to body cam video.
Cruz then grabbed Bennett, struck him and took him to the ground.
"What have I done wrong?" Bennett asked, according to the video. "I'm not resisting."
The police citation claims Bennett "tensed up and started to pull away" so Cruz "delivered one empty hand strike" to him and took Bennett to the ground.
Sanders has previously said Bennett did not resist arrest and he worked with the Jefferson County Attorney's Office to dismiss the charges.
Copyright 2021 WDRB Media. All Rights Reserved.