LOUISVILLE, Ky. (WDRB) -- Kentucky officials will consider action this week that could soften a toll rate increase on the RiverLink bridges set to start July 1.
The Kentucky Public Transportation Infrastructure Authority plans to vote on a resolution at a meeting Wednesday recommending that the Kentucky-Indiana Tolling Body "minimize" the annual rate hike.
Details of the resolution were not immediately available.
The six-member tolling body includes top representatives of transportation and finance agencies in Kentucky and Indiana. It has the power to set and change toll rates.
The tolling body's policy calls for toll rates to automatically increase each year by whichever is greater: the inflation rate as determined by the Consumer Price Index for the 12 months ending in April, or 2.5%.
With consumer prices soaring nationwide, the average inflation rate over that time is 8.3% in the category RiverLink uses, according to the latest data from the U.S. Bureau of Labor Statistics.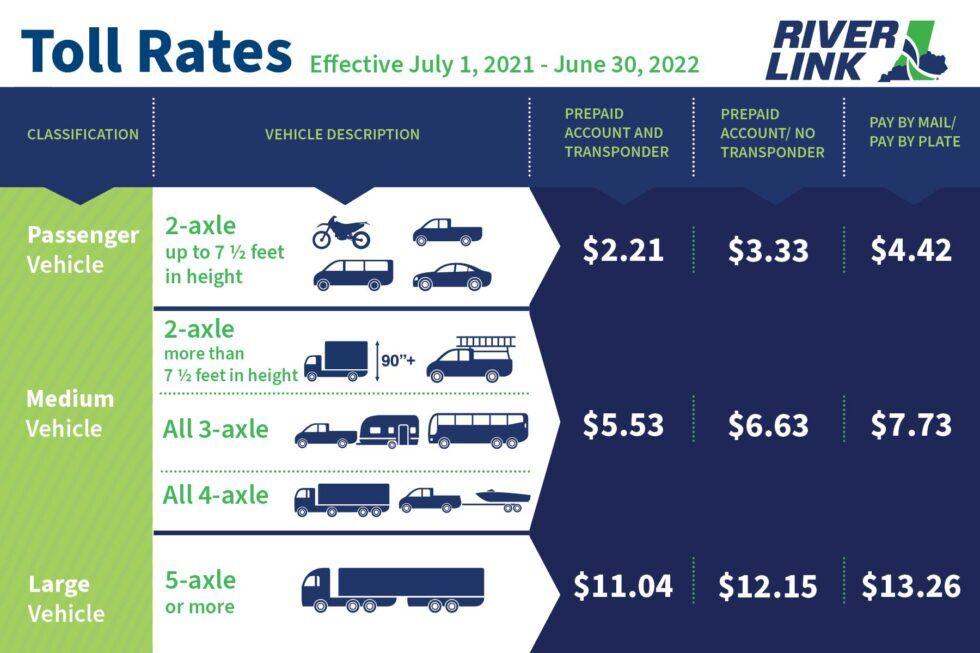 Tolls range from $2.21 to $13.26 per crossing on the Interstate 65 Kennedy and Lincoln bridges and the Lewis and Clark Bridge between Utica, Indiana, and Prospect, Kentucky. Drivers also can get a 50% credit if they make 20 round-trip crossings in a calendar month.
WDRB News asked four government representatives of the tolling body last week if they would support rule changes so that the annual toll increases aren't automatically tied to inflation.
Those members — Kentucky Transportation Secretary Jim Gray; Geri Grigsby, deputy secretary of the Kentucky Finance and Administration Cabinet; Mike Smith, commissioner of the Indiana Department of Transportation and Dan Huge, the Indiana Finance Authority's public finance director — have not yet responded.
The Kentucky board considering the resolution handles the state's financial obligations on the RiverLink project. It meets virtually at 2 p.m. Wednesday.
This story may be updated.
Copyright 2022 WDRB Media. All Rights Reserved.