LOUISVILLE, Ky. (WDRB) – In the midst of the coronavirus pandemic, Chauweda Smith said the demand for therapy sessions spiked at Total Life Counseling after two events: the deaths of Breonna Taylor and George Floyd.
By the summer of 2020, she recalled, more people were seeking out help from her practice that focuses on concerns ranging from anxiety to depression to racial trauma.
"I didn't know how to handle all of these," said Smith, the company's CEO and clinical director. "You know, I had a lot of clients call me. And I was working from the morning to night."
The pandemic, coupled with racial justice protests last year, have contributed to unique mental health challenges among African Americans and other minorities, experts say, including a rising demand for counseling and other professional help.
Issues related to racial trauma aren't new, Smith said, but people now seem more willing to seek help. "It's becoming more prevalent, out in the open."
Spalding University's Collective Care Center, an institute that focuses on race-related stress, saw more than 100 clients in 2020 and helped train more than 600 mental health providers, said Steven Kniffley Jr., the center's coordinator and assistant professor at the university's School of Professional Psychology.
That's up from a "handful" of clients during its first year in 2017, he said. Among other things, Kniffley and his colleagues have provided free telehealth services during the pandemic.
The center's work aims to address harm caused by discrimination and racism, including "vicarious" trauma. Kniffley attributes the increased demand for services, in part, to the nearly inescapable stream of social media posts on high-profile news stories.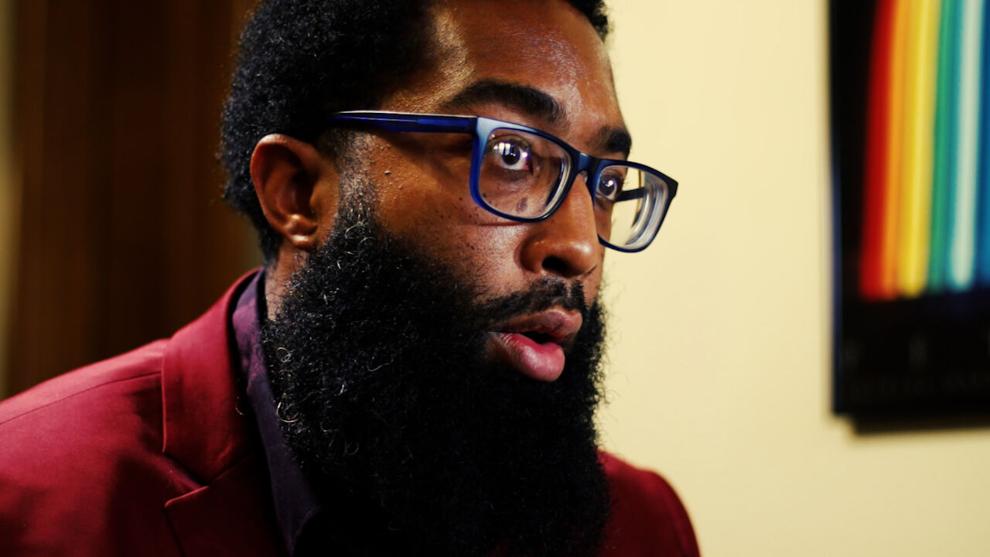 Those include the death of Taylor, a Black woman whom Louisville police shot and killed in her home in March 2020 while serving a warrant in a drug investigation, and the police killing of Floyd in May 2020. Floyd, a Black Minneapolis man, died after a white officer, Derek Chauvin, knelt on his neck as Floyd pleaded, "I can't breathe."
"Most folks assume that you can only experience a trauma if it happens to you directly," Kniffley said. "And one of the interesting things about race-related stress is that oftentimes the trauma comes from bearing witness to the trauma that other folks encounter."
In their own words | Steven Kniffley Jr.
Black Americans have reported higher rates of depression and anxiety than the national average during every period of mental health surveys conducted by the U.S. Census Bureau during the pandemic. The surveys don't include state or local data broken down by race.
As of mid- to late-June, about 34 percent of Black respondents said they had those symptoms, compared with 23 percent among Asians and 28 percent among white respondents.
Meanwhile, about 6 percent of psychologists, 13 percent of social workers and 21 percent of psychologists are members of minority groups, according to the Black Mental Health Alliance.
At the Lexington-based Center for Healing Racial Trauma, founding director Candice Hargons said about one-fourth of the clients sought counseling for the first time last year.
The center served three people during its first year, climbing to 20 last year and 43 thus far in 2021, Hargons said. It's also done two "healing circles" for Black men and women.
And while most of the center's clients have been to therapy before, "they were looking for maybe a therapist who had a racially or ethnically marginalized identity, or they were looking for someone who specialized in racial trauma because of the specific things that they were exposed to," she said.
In their own words | Candice Hargons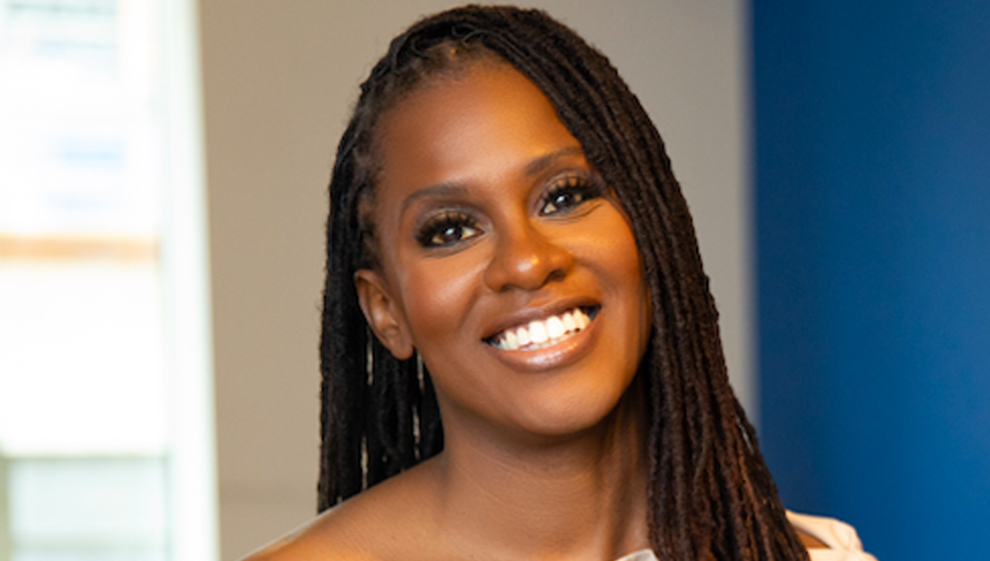 At times the stress on Black therapists has been overwhelming, said Erica Reevey, a licensed clinical social worker and CEO and co-founder of Therapists Need Therapy 2, which counsels mental health providers.
Reevey said therapists were going to therapy themselves before the pandemic, but it's become much more common.
"A lot of Black women who are therapists are struggling with holding their own space, because in one space, they have to be the professional, but they're still struggling with identifying with a lot of their own clients," she said.
Reevey says the pandemic's shift from in-person meetings to Zoom and other virtual technologies also has helped coax new people into therapy and reduce the stigma associated with seeking counseling. 
"It has provided access to people who maybe normally wouldn't have come or wouldn't have even taken out the time to come to get educated on the importance of healing, and how racial trauma impacts you," she said.
In their own words | Erica Reevey 
Still, the stigma associated with seeking help is real, said Arte Chambers, a local artist who has battled mental health issues throughout his life.
"No one wants to feel like there's something wrong with them, you know what I mean. You know, no one wants to be alienated or othered any more than they already are. 'Oh, so you're Black and you're crazy?'" he said.
Chambers has encouraged his friends to seek help and says he has been more aware of his mental health since the summer of 2020.
The themes featured in some of his artwork focus on social and racial justice — subjects that could be considered triggering or controversial.
"The subject matter can be really tough," he said, pausing before using cans of spray paint and a stack of stencils to create an impromptu piece. 
Chambers said he watched hours of livestreamed protests last year, exposing himself to visceral emotions of fear and rage. He says it's important that he and others overcome the perceived humiliation of seeking help.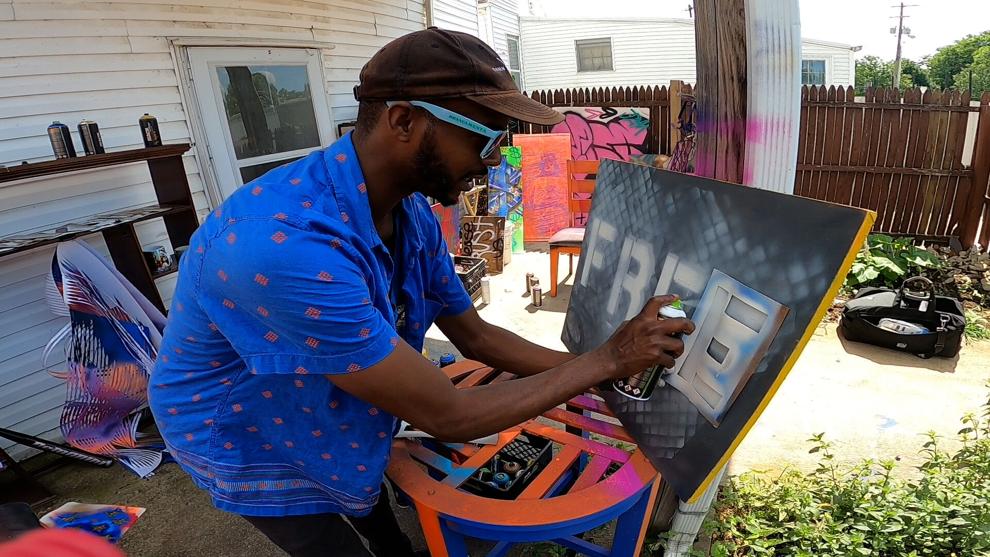 That stigma not only exists in segments of the Black community, but also in churches, said Rev. Tim Findley Jr., senior pastor of Louisville's Kingdom Fellowship Christian Life Center. But he says he is seeing signs of change.
Prior to 2020, Findley said, he would refer a member of his church to therapy two or three times per month. Now, it's happening two to three times each week.
Findley, who is running for Louisville mayor, says having more church members who are licensed clinical therapists has helped change how seeking help is viewed.  
In their own words | Rev. Tim Findley Jr. 
"I think that's important that we give platforms and the megaphone, the bully pulpit, to individuals who are Christian, who are Black, and who are in the community and say, 'Listen, there is nothing wrong with this, you are not less of a Christian because you have a therapist. You are not somehow 'crazy' because you see a therapist.'"
"The truth is: We all need from time to time to sit and talk to someone, a professional. And I think in the Black community, we're starting to see that turn," he said. "We still have a ways to go."
• Previous reporting in WDRB's Quiet Crisis series: An 'unprecedented' mental health toll: COVID-19 drives surge in crisis line calls, therapy wait lists
• Mental health resources list 
Copyright 2021 WDRB Media. All rights reserved.