LOUISVILLE, Ky. (WDRB) -- There is an event center. An elevated pedestrian and cycling path with views of the Louisville skyline. Meadows and wetlands. A paddling trail.
Those features are part of a master plan released Thursday for a proposed southern Indiana park on the Ohio River that would reshape land once home to scrap yards, landfills and low-lying woods.
And it now has a name: Origin Park. 
In releasing its vision for a string of properties near Clarksville, Ind., the nonprofit River Heritage Conservancy has signaled that the project is moving forward despite the uncertainty caused by the COVID-19 pandemic.
Yet much work remains before the park becomes a reality. Scott Martin, the conservancy's executive director, said fundraising for the park's first elements will start in 2021, including working with potential donors and governments.
Announcing the master plan is "a public introduction that's the beginning of a very long dialogue," he said.
But, for the first time, the conservancy has provided a tentative cost for the project: $130 million. Martin said about $10 million has been committed or spent thus far.
And the size has grown, from an original scope of 400 acres to roughly 600 acres. The increase is the result of factoring in land owned by New Albany for future uses, Martin said, although he noted that the city hasn't yet endorsed that plan.
Overall, designers led by Philadelphia-based OLIN, scaled back earlier versions of the park's layout to reduce clutter and, in the era of social distancing, give people more room to spread out, Martin said.
"We know that green spaces have never been more well used and needed than what we have seen since March – globally," he said.
The conservancy has purchased or secured about half of the land envisioned for the project, Martin said. He expects it would take 20 years for all the work.
For now, he said, each of the smaller parks would be built individually, although planners have not determined the order.
"We have to scale the first project to what the community's capacity is – and what excites the community," he said.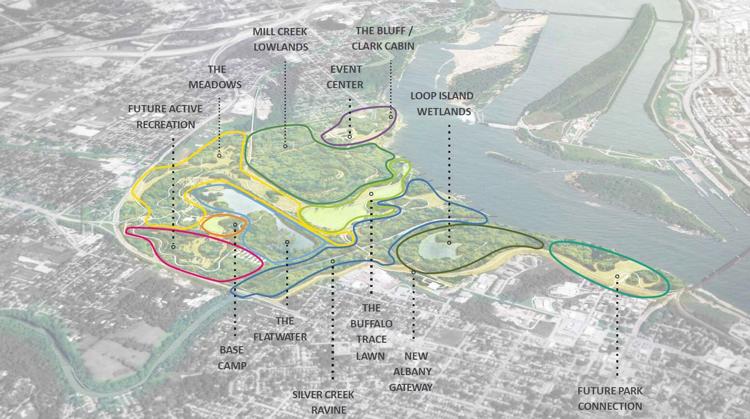 The conservancy didn't consider halting the park plan because of the pandemic, Martin said, instead choosing to look at models like the east Bay Regional Park District in California, which was created in 1931.
At that time, during the Great Depression, it was a "bleak time to be pitching 5,000 acres of new parks."
Martin also said it's important that the park plan plays a role in improving equity in the greater Louisville region.
"We want to be part of that solution, so the first thing you do is start today."
This story may be updated. 
Copyright 2020 WDRB Media. All rights reserved.