LOUISVILLE, Ky. (WDRB) -- Several people vocally opposing critical race theory were kicked out of Tuesday's Jefferson County Board of Education work session during a discussion of the district's strategic plan.
About 40 people gathered outside VanHoose Education Center before the meeting to decry the teaching of critical race theory, a decades-old academic thinking that racism is embedded in U.S. laws and policies.
Some, however, believe critical race theory seeks to divide rather than inform. Some at the protest connected the district's work to improve equity among students with the divisive concept.
Ruth Ann Shumate-Reed defined critical race theory as "judging people strictly on the color of their skin."
"If you delve into it, it's a Marxist theory," she said. "... If you're a Caucasian male, you're an oppressor. That goes totally against the Constitution."
Most of those who attended Tuesday's protest also watched the board's work session from the audience.
Critical race theory has drawn the ire of many, including Senate Minority Leader Mitch McConnell, as states look to ban teaching its concepts in schools. Similar bills have been pre-filed in Kentucky for consideration in next year's legislative session.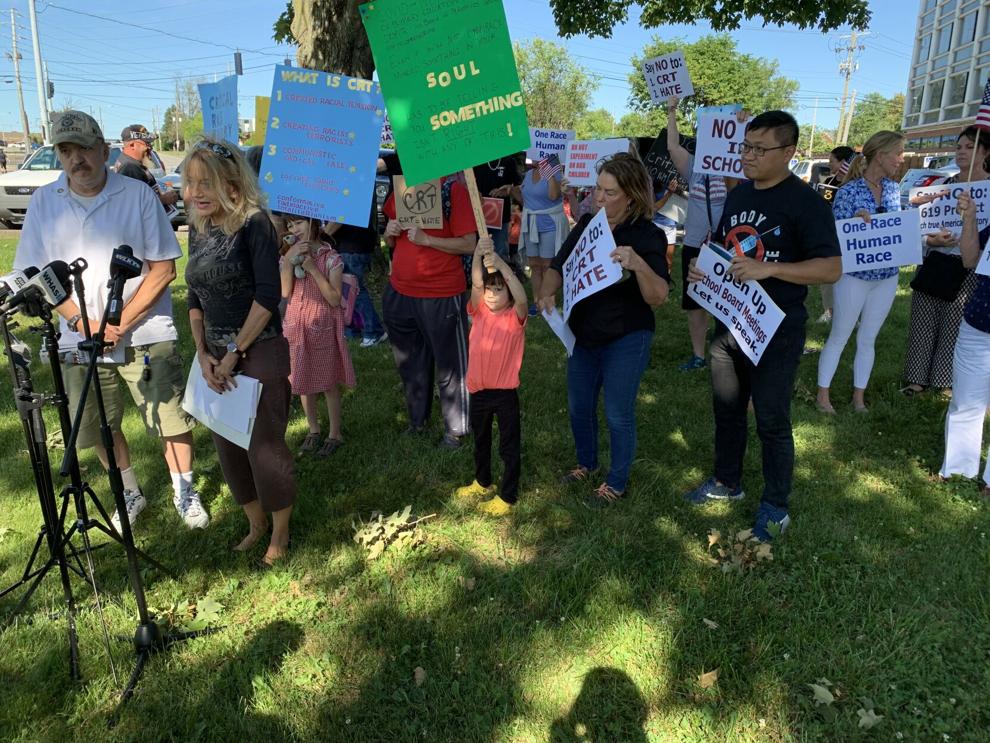 Tuesday marked the first time that a school board meeting in Kentucky's largest school district has been disrupted because of opposition to critical race theory.
The push against critical race theory comes after The New York Times 1619 Project published and months of social justice protests throughout the U.S. The U.S. Department of Education has proposed providing federal grants for more diverse teaching of history and civics, referencing the 1619 Project as an example of work detailing the consequences of slavery and the significant contributions of Black Americans in background information on its proposal.
During a discussion of the district's focus on racial equity, some in the audience of Tuesday's JCPS board meeting said, "All kids matter."
Diane Porter, the board's chairperson who represents District 1, recessed the board after telling a woman in the audience to come to order. As district security approached her and asked her to leave, tempers flared among others in the audience.
"We've got about as much time as it takes you to ruin our schools," one person said.
About half of the board left the meeting room as members of the audience began to shout and security officers confronted them. Some protesters were asked to leave while others left voluntarily.
"I think you all should know that critical race theory is not in the curriculum," said board member Corrie Shull, who represents District 6 and remained in the room.
"Sure it is," one person said in response.
Mentions of critical race theory were removed from outlines of a new elective course called "Developing Black Historical Consciousness" in May as debate around the academic concept intensified, according to The Courier Journal.
Other school boards are dealing with similarly contentious meetings as the debate around critical race theory intensifies across the U.S.
JCPS Superintendent Marty Pollio said he wasn't surprised by the outburst, saying heated debate around critical race theory is something "every superintendent is dealing with" now.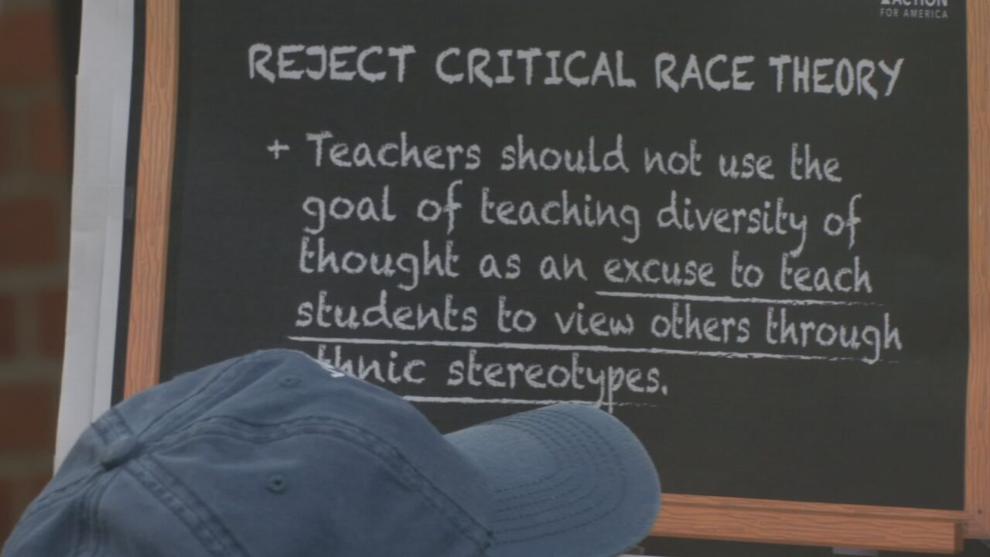 "I think it's gonna be a reality for a while for us to have this division," he told reporters after the meeting.
Pollio defended the district's focus on racial equity as a means to improve outcomes for students and bridge the achievement gap between white and Black students.
"We are looking at racial equity, which essentially means what does a kid need to be successful and providing that to them," he said. "It's not about holding anyone else back."
For some people in Louisville and throughout the U.S., concepts like equity are viewed "as a threat to their existence, a threat to their flourishing," Shull told reporters.
"We have a lot of work to do in order to build bridges, in order to foster understanding, in order to develop compassion where individuals understand that in our schools we must educate all children and that some children, some demographics of children demand more wraparound services, more triaging because those groups of children have been historically left out and have historically received the shorter end of the stick," Shull said after Tuesday's meeting.
Copyright 2021 WDRB Media. All Rights Reserved.