LOUISVILLE, Ky. (WDRB) -- The planned redevelopment of the old Urban Government Center site has missed a series of goals and deadlines, putting the project months behind the schedule set by Metro government and its chosen developer.
By late summer, Paristown Preservation Trust was supposed to have checked off city approvals for its overhaul of the 10-acre plot at Barret Avenue and E. Breckinridge Street and be preparing to get Metro Council permission for a zoning change.
That hasn't happened. Steve Smith, managing member of the Paristown group, said work was slowed after city officials asked his group to hold an extra neighborhood meeting about the development plan, resulting in about a 1-½ month delay.
But the main sticking point is a "community benefits agreement" required when Metro government picked the trust last year to transform the publicly-owned land in a largely residential area into a mix of homes and commercial space.
The Paristown trust must sign the agreement with nearby neighborhood representatives before Metro conveys its properties at 810 and 850 Barret, and 1235 Breckinridge, for $1.
Smith said his team plans to work in the coming weeks with the neighborhoods' advisory panel to finalize the agreement. The city-created committee includes members from Paristown Pointe, Original Highlands, Germantown-Paristown, Smoketown, and Phoenix Hill.
"We're all concerned about the same things, right," Smith said in an interview last week. "So we're all concerned about parking, we're all concerned about keeping the neighborhood clean, making sure that people come and go in a safe manner."
He insisted that "we're not that far apart" and cited some examples of common ground: A dog park and neighborhood signage, as well as new traffic and parking studies that are expected to be done this fall.
But the two sides have traded largely different versions of the benefits agreement, according to drafts reviewed by WDRB News.
Meanwhile, Shannon Musselman, president of the Paristown Pointe Neighborhood Association, recently accused Smith's group of being "unwilling, uncooperative, disrespectful. I am going on record saying they have been absolutely uncooperative. It's been ridiculous."
An initial offer from the development group didn't include any money to address possible gentrification pressures in the area, said Randall Webber, a Smoketown resident who serves on the advisory panel negotiating the agreement.
"We thought that was outrageous. So we responded in an equally outrageous manner," Webber said. "That's just the initial saber-rattling."
That response asked the Paristown development group to contribute $50,000 annually to a neighborhood "gentrification alleviation fund" for the next 30 years. Or, instead of giving $1.5 million over that time, the developer could provide a single payment of $1 million.
It argued that the estimated price ranges of new homes "will increase property values and taxes sufficiently to price many current residents out of the neighborhood and thus exacerbate gentrification and housing instability."
And it claimed the new development, which proposes up to 450 apartments and an undetermined number of condos, will "attract an influx of new residents without preexisting ties to the Paristown Pointe neighborhood or awareness of its culture and history," while its density "will exacerbate the existing traffic issues."
Among other things, their proposal wants Paristown Preservation Trust to install lights, better sidewalks, curbs with cuts and pedestrian crosswalks on Vine and Breckinridge streets, as well as support for converting some streets to two-way traffic. It also is seeking development regulations that limit the number of short-term rentals in the surrounding area.
A version offered by the development group in late August agreed to new sidewalks and street lights, conduct traffic and parking studies and work with the Parking Authority of River City and Metro Council to improve parking in nearby neighborhoods during events at Paristown Hall, which Smith's group also developed.
Eric Baldwin, a Paristown Pointe resident and advisory board member, describes that proposal as "almost a non-response."
"We're a little bit frustrated right now with their ability to actually come back with something substantive," he said.
Baldwin acknowledged that asking for $50,000 a year to address gentrification issues was meant to make a larger point. "The idea behind that was we wanted to make sure that the developer is thinking in terms of displaced individuals and how some people are going to be priced out of the neighborhood," he said.
The development team's recent proposal calls for a one-time payment of $10,000 to the Paristown Pointe Neighborhood Association, which could spend it on neighborhood amenities as it sees fit. Baldwin said he believes a "more realistic solution" is a recurring annual payment.
He said the items in the neighborhood groups' request are based on what residents say they want to help offset the increased traffic and other changes from new development on the site, which has been vacant for years, and two related projects nearby.
The Paristown Preservation Trust plans to raze almost all of the existing buildings on the site, including the old Kentucky Baptist Hospital building. It would keep a former steam plant and smokestack, turning that into retail and other uses.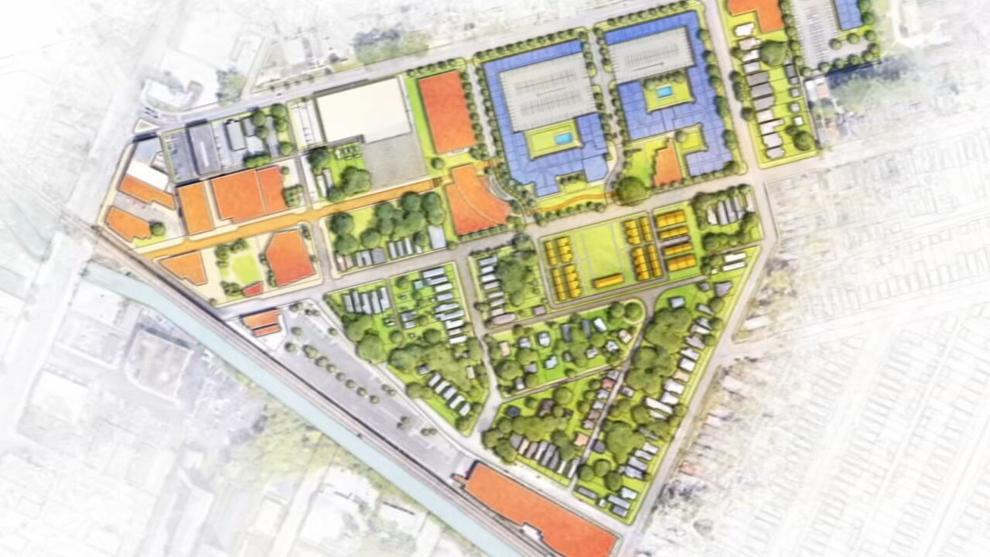 Site plans also call for a 110-room hotel/condo building with an adjacent parking garage at Vine and Lampton streets; a 150,000-square-foot office building on Barret Avenue; two apartment complexes, each with their own parking garage; and about 1.3 acres of open space.
Smith has estimated the cost of the project, and a related plan to build 20 single-family "cottage" homes on land the Paristown trust owns on Vine Street, at around $167 million.
The proposal is the third development plan put forth since Mayor Greg Fischer's administration announced in 2016 that it would seek ideas from private entities for the land, once home to city offices, a police station and public housing office.
The first two failed to advance. The Marian Group walked away from the deal in late 2019 after it claimed Metro government didn't help with land-use and other approvals it agreed to obtain. In August 2021 city officials ended talks with Underhill Associates after claiming the two sides couldn't reach an agreement.
The Metro Council ultimately would have to approve the Paristown group's zoning change from office, residential and commercial uses to a planned development category, which allows for flexible design standards.
The council also must authorize a local tax increment financing, or TIF, subsidy for the project. The TIF district would let the developer receive a portion of property tax revenue generated there for public infrastructure costs.
Besides the city-owned property, the Louisville Metro Housing Authority also would sell its former building at 768 Barret Avenue for the development. Housing authority spokeswoman Jelisa Chatman said the board approved selling the property in March but hasn't yet heard back from the U.S. Department of Housing and Urban Development.
Developers have until December 31 to secure the government approvals, although that deadline could be extended, according to city documents.  
The Louisville Forward economic development agency is acting as a "negotiator" between Smith's Paristown group and the neighborhood representatives, spokeswoman Caitlin Bowling said.
"Louisville Forward staff is working with the developer and the advisory group to ensure that the agreement and the overall development positively serve the neighborhood and the city as a whole," she said.
For his part, Smith said he is hopeful an agreement can be reached soon.
"I'm not going to get everything I want. They're not going to get everything they want," he said. "But I think there's a respectful place that we're going."
Copyright 2022 WDRB Media. All Rights Reserved.