LOUISVILLE, Ky. (WDRB) – More than 10,000 people work at the River Ridge Commerce Center in southern Indiana, an old Army ammunition plant that has been transformed into an employment powerhouse over the last decade.
From Amazon's e-commerce warehouse to Autoneum's automotive parts plant, the park is a haven for logistics, distribution and light manufacturing, with more than 50 companies operating there.
But while there's no shortage of massive, windowless boxes, River Ridge has its sights on a different clientele: professional office workers.
Offering a bucolic setting  -- complete with a man-made lake and 16 miles of walking trails – River Ridge has set aside up to 10% of its 6,000 acres for "Class A" suburban office buildings. That's the sort of office space aimed at law firms, architects, corporate headquarters and other white-collar users.
Louisville real estate firm Hollenbach-Oakley, the master developer of the "Gateway" office park at River Ridge, has broken ground on the first building, a $12 million facility with three floors.
The building has only one signed tenant – the River Ridge Development Authority, the government agency that oversees the park – but developers are confident its second and third floors won't go vacant. At least two more buildings are in the works.
"This kind of tracks and ties into this global trend that we're seeing where certain types of firms don't necessarily want to be in a downtown core," said Devin Hillsdon-Smith, deputy director of the River Ridge Development Authority. "They want to be out somewhere kind of closer to their workforce, and have a bit of space around them so that employees can walk … We think that, not only is this building going to get filled up pretty quickly, the next two that come from that are going to probably have some pretty good attention as well."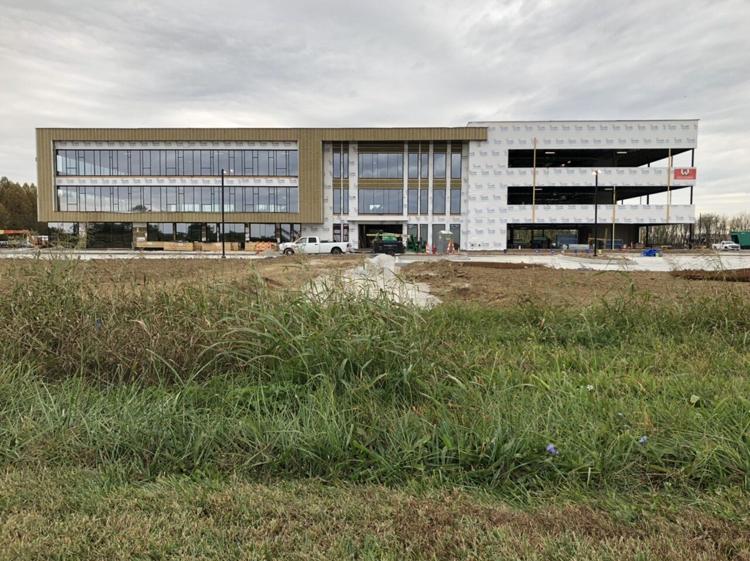 While not located in the "Gateway" portion of the park reserved for office buildings, River Ridge has already landed one corporate occupant: Pharmacord, the fast-growing Louisville startup involved in the specialty medication business.
The company is at work on a three-story building that could house 800 workers.
The new Lewis & Clark Bridge between Prospect, Ky. and Utica, Ind. – part of the Ohio River Bridges Project completed in 2016 – has propelled employment growth at River Ridge in recent years.
The new bridge also makes River Ridge a more plausible location for office workers who may live on the Kentucky side, Hillsdon-Smith said.
While River Ridge plows ahead, downtown Louisville has struggled in recent years to fill its Class A office space, and some worry that companies will permanently reduce their office footprint after workers got used to telecommuting during the pandemic.
Accounting firm Dean Dorton announced in August that it would vacate the 14th floor of PNC Plaza and become the main tenant in a new suburban building at the ShelbyHurst park in eastern Jefferson County.
But Hillsdon-Smith said River Ridge's ambition to become a suburban office hub wouldn't come at the expense of downtown Louisville.
Instead, River Ridge "adds a diversity to the office options" available in the metro area, which is good for the whole region, he said.
"We think that providing this option across the river in the suburban area means that if we have firms that don't want to be downtown because of their business model, or they just have a different culture, it gives them an option to stay in the region, to keep folks from Louisville and from Southern Indiana employed," he said.
Doug Owen, a commercial real estate agent and senior vice president of Louisville's JLL office, agreed that new buildings like the one under construction may attract companies who otherwise might bypass the Louisville area.
"I think all boats rise together," he said. "I am supportive of any new, Class A product in our market."
Owen said the River Ridge is well established for industrial activity, but remains "untested" as an office destination.
"It is a great building and a beautiful area," he said. "Whether office users migrate out there, it remains be seen."
Efforts to remake the surplus Army property started in the late 1990s, and only about 30% of the 6,000 acres have been developed, Hillsdon-Smith said.
"We have a long way to go," he said.