FRANKFORT, Ky. (WDRB) – Teachers continued their protest at the Capitol over legislation they deem harmful to public education despite assurances from lawmakers from both parties in both chambers that the General Assembly won't act on any of the measures for the remainder of this year's legislative session.
Thursday marked the sixth "sick out" for Jefferson County Public Schools in two weeks and the third consecutive day schools have been called off due to teacher shortages. Schools in Bullitt County were closed for the second straight "sick out" day Thursday.
An administrator in the grassroots Facebook group JCPS Leads, which helped mobilize JCPS teachers, said that the joint statement from Senate Majority Caucus Chair Julie Raque Adams, Senate Minority Floor Leader Morgan McGarvey, House Minority Whip Joni Jenkins and Rep. Jason Nemes rang hollow because it didn't come from Senate President Robert Stivers and House Speaker David Osborne.
"The fact that Stivers and Osborne knew that they should not put their name on there tells you why we are here," said Ivonne Rovira, a Spanish teacher at Wilder Elementary, in a phone interview with WDRB News.
The lawmakers, in their joint statement, said they wanted to reiterate that neither scholarship tax credits nor Kentucky Teachers Retirement System board reforms would be included in any legislation passed by the General Assembly this year "after speaking with leadership from both chambers."
Rovira said their statement did nothing to convince her and others that lawmakers would not try to slip such language into a bill passed Thursday, though she said she saw no point in continuing the "sick outs" once the clock strikes midnight. Lawmakers will return following the veto break on March 28 for the last day of the session.
"Midnight tonight is when their capability to do damage ends, at least until January," Rovira said, though she stressed that she could only speak for herself and not for the collective JCPS Leads group.
Teachers' refusal to believe lawmakers points to a deeper distrust of the legislative process after last year's "sewer bill," a pension reform measure that was included in a bill and passed in one day.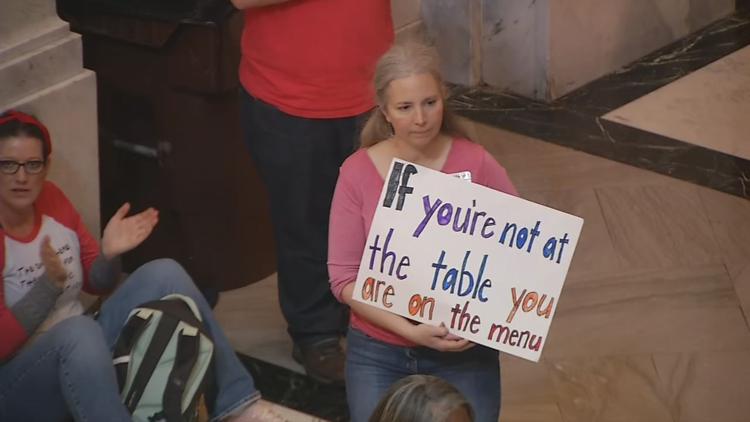 The bill was ultimately overturned by the Kentucky Supreme Court on procedural grounds, primarily the speed by which it passed.
"They still have sewer bill (post-traumatic stress disorder)," Rovira said.
"There have been a slew of bills that have come forward over the last year that rightfully have them upset," said McGarvey, D-Louisville.
When asked whether Thursday's "sick out" showed that teachers don't trust him, McGarvey said the closure of Kentucky's largest school district demonstrates "just shows the deep level of distrust in the entire way that Frankfort operates."
"There is a party in charge in Frankfort," he said. "That party last year ran a sewer bill through in the middle of the night that gutted teachers' pensions. That causes this distrust. We're going to have to work to regain it, and that won't happen overnight."
Nemes, R-Louisville, offered a far blunter criticism of Thursday's demonstration. He noted that others, including JCPS Superintendent Marty Pollio and the state and local teachers unions, wanted schools to be open on Thursday.
"It's just completely uncalled for that they're here today," he said, calling the work stoppage "illegal."
"The students and the teachers need to be in the classrooms," Nemes added. "End the chaos for our families."
Nemes said JCPS administrators should do something to ensure future "sick outs" don't occur.
"There must be a reaction to stop this kind of thing," he said. "It's not going to become the normal. It is the new normal."
The Kentucky Education Association issued an opinion to the Jefferson County Teachers Association that regardless of whether a school district cancels classes, teachers who call out sick to protest at the Capitol could face disciplinary action.
For Rovira, who is four years from retirement, potentially risking her job to be at the Capitol is worth it.
"I can't retire until I'm 65 because of the insurance," she said. "I'm risking more than most people here, but you know, people have died for issues like this. Nobody's threatened my life. I'm sacrificing a lot less than a lot people have done."
JCTA President Brent McKim, whose group has not endorsed the "sick outs," said he had heard nothing from JCPS administrators about potential disciplinary actions from the district or possible chances to the district's policy on sick leave.
McKim said "misinformation" on social media that prompted teachers to call out sick has posed challenges for the union's communication strategy.
"In the past when we communicated to our members, we had a very clear signal and message," he told WDRB News. "Now there's an awful lot of noise and static in our signal. Not because our signal isn't clear, but because there's so many competing messages on social media and misinformation and confusing information. It's very hard for us to get through all of that with a nice, clear message like we used to."
Lawmakers who spoke to WDRB News also voiced concerns about teachers relying on inaccurate information to base their decision to force JCPS to close Thursday.
"One of the reasons that I'm so confident that these bills are dead is just how much time is left on the clock," McGarvey said. "… The clock is absolutely on our side with these bills. Is there the smallest chance that they could come forward if someone wants to do something? It is a microscopic, miniscule chance that we have been told privately and now publicly it will not happen, but you cannot erase all doubt."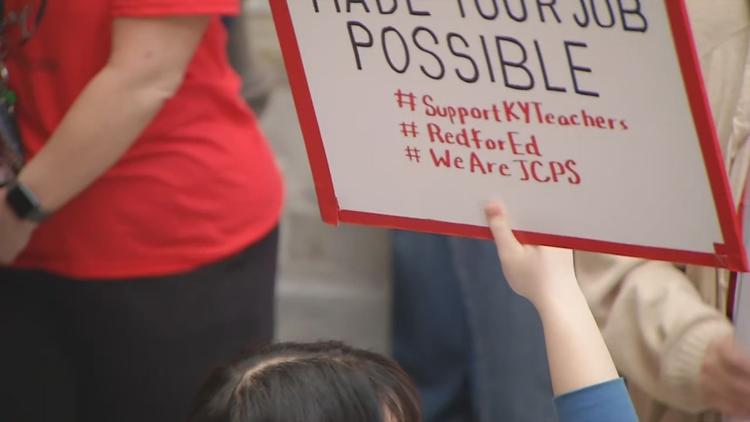 However, Rovira said teachers did not call out sick based on misinformation.
"There's always going to be misinformation out there," she said. "That is not why people are here. People are here because they know that if you're not here until the minute you gavel out, if anybody on the fence sees a sea of red, you've just pushed them onto our side."
Asked whether teachers would return to Frankfort in similar "sick outs" next session, when the same issues will likely emerge, Rovira said she hoped teachers would engage lawmakers much sooner than next January.
"We need to be meeting with people this summer," she said. "We need to be reaching out to legislators all across the state. We need to be visiting other counties, preaching the gospel of why public education is under attack."
Copyright 2019 WDRB News. All rights reserved.