LOUISVILLE, Ky. (WDRB) – Jefferson County Public Schools' proposed student assignment plan faced fresh scrutiny Tuesday from members of the Jefferson County Board of Education, who pressed district leaders on improving student achievement, deploying culturally responsive curricula in schools throughout the district and recruiting educators comfortable teaching such material.
The questioning came as JCPS prepares for its last scheduled community feedback session on the student assignment proposal at the new Elev8 learning center on West Broadway on May 17. The district has gathered feedback on its proposed changes to the expansive student assignment plan from about 600 people thus far, according to Tuesday's presentation to the board.
"We're happy to do that three more weeks in a row, five nights a week, whatever that takes," JCPS Superintendent Marty Pollio said.
The board is expected to vote on substantial revisions to the district's student assignment plan by June based on previous timelines offered by JCPS. If approved, changes ushered in by the new student assignment plan, such as the new choice zones in neighborhoods near west Louisville and downtown, would begin taking effect during the 2023-24 school year.
The proposed choice zones, which would offer families selections between the Academy @ Shawnee and a new West End middle school or other middle and high schools based on neighborhood assignment boundaries, drew some criticism from Chairwoman Diane Porter.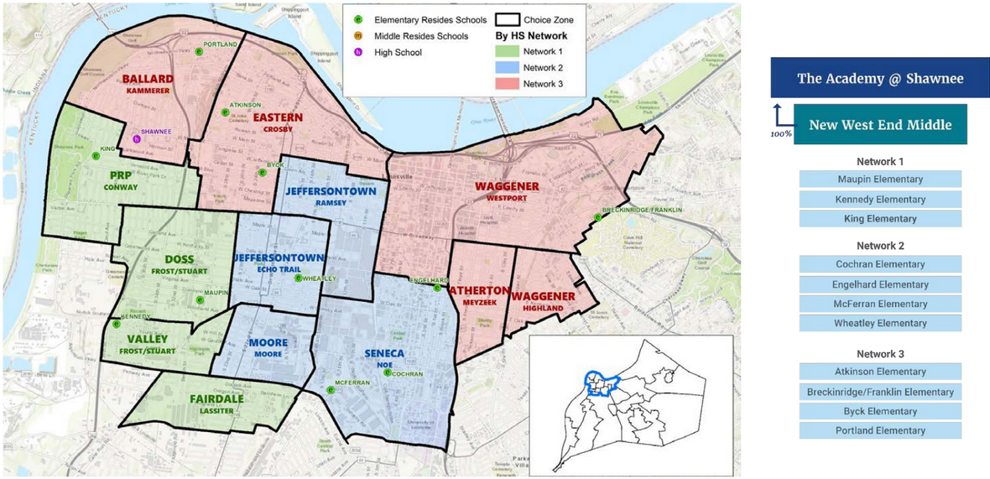 Her district includes all schools contained within the proposed choice zones. District 1 families, she said, often ask whether their children will get the same opportunities as others in JCPS in the proposed student assignment plan.
"How do we make the schools closer to home more academically successful for the students who are going closer to home?" Porter said. "… District 1 is segregated. It's segregated by race, and it's segregated by income. That does not mean those children will not learn."
JCPS plans to pump $2.5 million each into the Academy @ Shawnee and the new West End middle school and $7 million into 11 elementary schools in choice zone neighborhoods to cover initiatives like smaller class sizes, extended learning opportunities, tutoring, mental health counseling and attendance support.
On Thursday, the board's Policy Committee is considering including student achievement, choice zone funding, performance on non-academic indicators and school diversity in annual evaluations of the district's revised student assignment plan.
Pollio expects revisions to the district's student assignment plan will make "an immediate impact" on students.
"What we are doing now cannot remain," he said. "The alternative of staying with we what we have is not an option for student outcomes."
Porter agreed.
"There has to be something out there more than hope and prayers for our children," she said. "They deserve what everybody else has in the other districts."
JCPS plans to implement reading programming by EL Education and math programming by Illustrative Mathematics, both highly regarded by the nonprofit EdReports, which analyzes school instructional materials, for kindergarten through eighth grade.
While the programs were included in the district's presentation on choice zones, Pollio said the district planned to include them in all schools.
Asked by Vice Chairman Corrie Shull whether the two had yielded results in closing achievement gaps between students, Pollio said they had.
But finding teachers with deep knowledge of culturally responsive curriculum has proven challenging for JCPS, Pollio said. The district is working with the University of Louisville for its Louisville Teacher Residency program to develop a diverse team of educators in its schools.
Ricky Jones, head of UofL's Department of Pan-African Studies, urged the board to recruit from historically Black colleges and universities and Black studies departments to find prospective educators interested in leading JCPS classrooms.
"You cannot teach what you don't know, and you just can't take a social studies teacher and have them watch 'Roots' one weekend and then they'll be able to teach this information," Jones said. "… We now live in the most multiracial, multiethnic America we've ever seen, and that's not turning around. The truth of the matter is in American educational systems, most children, if not most public school children, have been exposed to European-descended curriculum that do not tell complete stories and at times tell false stories."
Copyright 2022 WDRB Media. All Rights Reserved.