LOUISVILLE, Ky. (WDRB) -- For the past year, skateboarding has become Timmothy McCarty's "life."
"It makes me feel kind of great," the incoming seventh-grader at Shelby County West Middle School said. "I can accomplish a lot of stuff, and I can do new things in my life instead of staying home playing video games all day."
But this summer, it's not just skateboarding that has captivated his interest. Timmothy has developed an appreciation for art, thanks to his participation in a four-week skate camp sponsored by Shelby County Public Schools.
In fact, it's tough for him to choose between skating and art when asked for his preference.
"I like both," Timmothy said. "I like painting and skating."
This summer, school districts across the state are offering programs in hopes of keeping young minds thinking and learning during a monthslong break from traditional classroom settings. The summer enrichment programs give educators more leeway to try new teaching methods while students can explore things that they might not otherwise get exposed to at home or at school.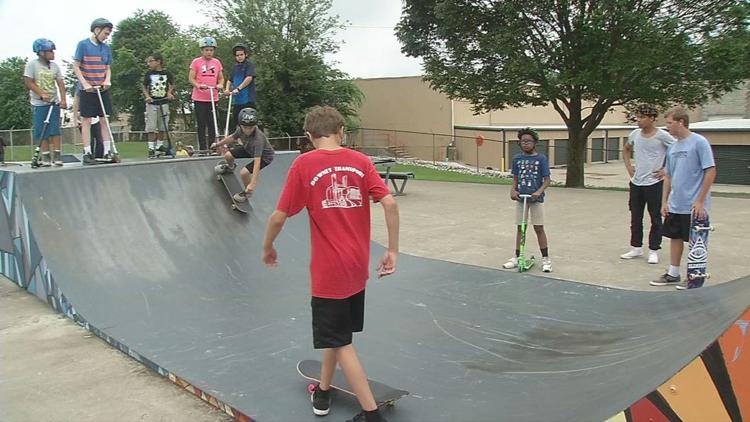 The skate camp isn't Shelby County's only summer offering. As kids were practicing ollies, grinds and other skating essentials at the park behind the district's central office, others were filming scenes for short movies they put together for the district's new media camp at Shelby County High School.
In nearby Bullitt County, the sounds of students quickly stacking and taking down plastic cups filled the gymnasium of Crossroads Elementary School. The lesson, according to kindergarten teacher Kim Baker, involves kids learning how to build, persevere and develop their fine motor skills. By Friday, the students at the school's science, technology, engineering and math camp were competing for medals to see who could stack and disassemble their cups the fastest.
And in Kentucky's largest district, Jefferson County Public Schools is launching a summer learning opportunity that school officials believe will make major headway in bringing struggling students up to speed. The Summer Backpack League, an offshoot of the district's new Backpack of Success Skills portfolio program, starts July 8 and has about 900 kids enrolled.
JCPS also offers a variety of other summer enrichment programs, such as literacy camps and extended school services.
Such programs, school officials say, help prevent the so-called "summer slide," a theory that students who aren't mentally stimulated over summer breaks regress academically when classes resume.
"I think it's really easy to fall back on, 'Oh, it's my summer. I just want time off,'" said Maria Carrico, a Title I specialist at JCPS. "And it's so important to keep that learning going. You get in your groove over the school year, and believe it or not, if you don't keep at it, you're going to lose it."
Baker said kids can lose up to two months of learning if they're not exercising their brains during the summer months.
"When they come back in August, that means that those teachers in the next grade spend about six weeks catching them back up," she said.
With summer programs comes the hope that students can "jump right into the content for that grade level" once their breaks end and the new school year begins, Baker said.
Thinking outside the box
The sets of multicolored cups had been tucked away in a classroom at Crossroads Elementary as the four-week camp's STEM week approached. Baker and the other certified teacher in charge of the program, which is part of the district's 21st Century Community Learning Centers grant, decided to use them for that week's lessons after talking with one of the school's STEM teachers, she said.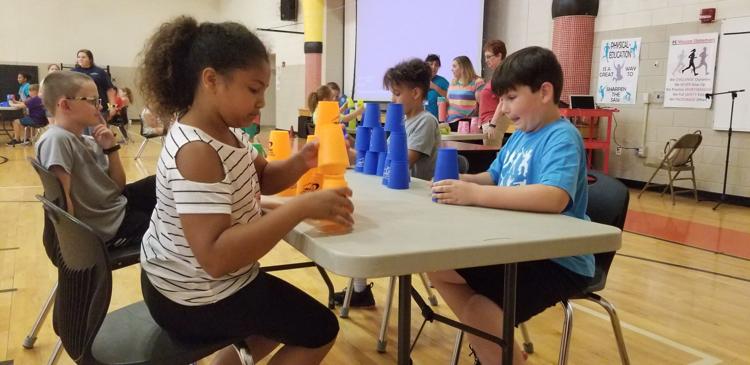 Such hands-on activities follow morning lessons in reading and math have shown Baker that finding engaging activities for kids can be easy. Stacking cups helps students in the summer camp, who must be entering first through fifth grade, with hand-eye coordination, focus and persistence as they try to improve their speed in assembly and deconstruction, she said.
"Look throughout your house. Look throughout your classrooms," Baker said. "You have a lot of stuff. You don't necessarily have to go out and buy something to have them be engaged."
While the camp at Crossroads Elementary is a grant-funded endeavor, other programs can trace their geneses to ideas floated by teachers in the district.
This year is the first for both the skateboarding and new media summer camps at Shelby County. Zachary Hypes, an art teacher at Shelby County East Middle School and the district's Teacher of the Year award recipient, said he wanted to combine his passion for skateboarding with his love of art and give kids opportunities to explore both.
This marks the fourth skate camp he's run for the school district and the first during the summer lull.
"It's just been really successful," said Hypes, who has been skateboarding since his youth. "The kids are loving it."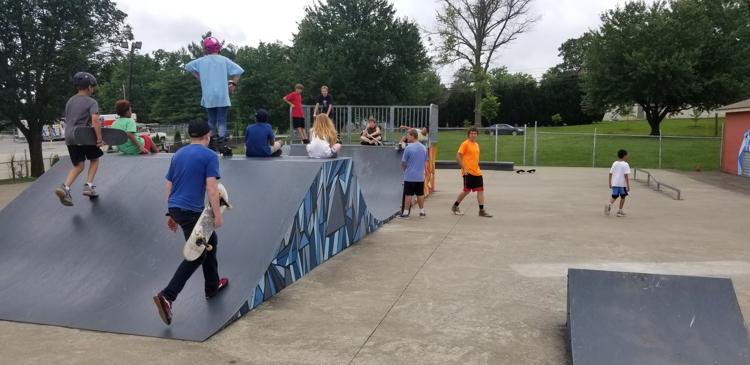 About 30 Shelby County youth now spend their days learning how to ride skateboards, scooters or rollerblades at the local skate park. On Fridays, the group travels by school bus to Louisville's Dave Armstrong Extreme Park to test their skills in a more advanced setting, and Hypes intermingles extreme sports with art projects throughout the week, such as having kids stencil designs onto their boards.
Skating, he said, can build confidence in kids and teach them the importance of getting up and trying again when – not if – they fall.
"It's really good for their brain," Hypes said. "It gives them something to focus on, something to be proud of themselves for, and then with the art aspect of it, they can build their creativity and express themselves.
"We really need to have them outside, staying busy, hanging out with their friends, and that keeps their brains growing and learning new things instead of just kind of getting hypnotized into that daze, that summer daze."
At the district's new media camp, kids were busy roaming the halls of Shelby County High School as they shot scenes for short movies on iPads that they later edited together on computers. About 20 students entering fifth through eighth grade had signed up for the program.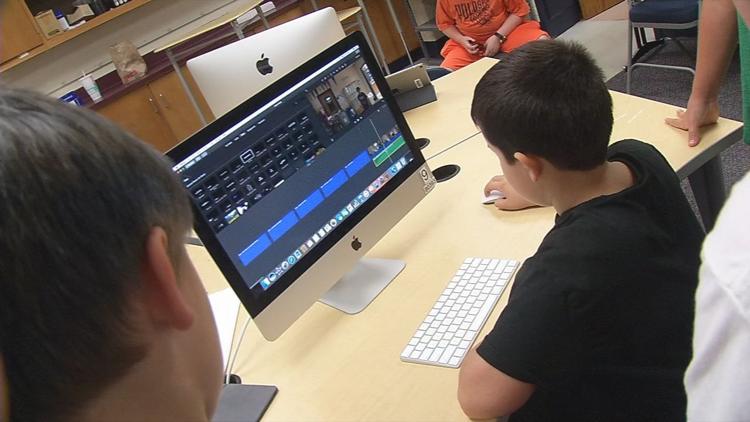 Annabelle Whitfill, who is entering fifth grade at Simpsonville Elementary School, said creating movies is much better than simply sitting in a classroom and learning new material. Her small group was working on a murder-mystery movie on Wednesday when WDRB News visited the week-long camp.
"I think this is more entertaining," said Annabelle, who wants to be either an actress or a nurse.
Jimmy McKnight, a rising senior at Shelby County High School, volunteered to help kids in the camp. Students learned basics like camera angles, visual storytelling and editing as they put together their finished products, and McKnight said the projects help the kids learn how to collaborate on projects.
"I think over the summer giving social programs for kids to learn something together helps them discover things about themselves that they may never have," McKnight said.
For JCPS, its $1.2 million Summer Backpack League has also tapped into teachers' creativity in creating engaging projects for the roughly 900 kids signed up to attend the month-long program in its first year, Carrico said, noting that the activities will focus on "deeper learning" for some of the district's struggling students.
"Teachers submitted proposals about different interests that they had, and there will be all kinds of programs that the students will be able to participate in," Carrico said.
Tackling 'summer slide'
The "summer slide" concept was popularized through a study that followed about 800 Baltimore, Md., students into adulthood starting in 1982 and found evidence that learning gaps between students of different socioeconomic backgrounds grew during the summer months.
The concept has its supporters and detractors in the research community, but those who spoke to WDRB News subscribe to the theory that summer learning can make a major impact for kids, particularly those who are struggling in the classroom.
"If kids don't engage their brain over the summer, they're going to slide," Carrico said. "Think about when you work out your muscles: If you don't use them, you're going to lose them. It's the same thing with your brain."
Baker said she has seen data that suggests summer learning programs have helped students at Crossroads Elementary, according to their scores on Measures of Academic Progress tests.
Scores for students who participate in summer programs generally stay the same from the previous school year, she said, suggesting that they haven't lost ground academically in the summer months.
"There might not be an increase in their scores, but there definitely wasn't a drop," Baker said.
Copyright 2019 WDRB Media. All Rights Reserved.