LOUISVILLE, Ky. (WDRB) -- The second weekend of big concerts in Louisville with Bourbon & Beyond is underway, but residents across Louisville are already grumbling about the noise.
The Louisville Trifesta began last weekend with the inaugural Hometown Rising country music festival, followed by this weekend's Bourbon and Beyond. Louder than Life is next weekend, and organizers said they're on pace this year to sell about 280,000 tickets over the three weekends.
During Hometown Rising last weekend, MetroSafe said it received just one complaint about noise from the festival that they can specifically identify. The city numbers show that in the LMPD Fourth and Sixth divisions, there were 32 noise complaints from 8 a.m. Friday, Sept. 14, through midnight Saturday, Sept. 15. In Jefferson County, there were a total of 66 complaints during that time period.
One resident who lives about three miles away from the Kentucky Exposition Center said she can hear the noise while working from home.
"If we're going to have noise ordinances, that's great," Lara Augustine said. "But it apparently doesn't apply to the fairgrounds."
Others don't mind at all.
"You can hear it. But we also kind of expected it," said Mark Riddell, who is accustomed to the extra noise near the fairgrounds and airport. "I mean, 747s are landing every night at ungodly hours. So it's loud around here to begin with."
This is the third year of the festival, but this time, it's at a new location. An unused part of the Expo Center property called the Highland Festival Grounds is now filled with stages, tents and art. Crowds will enjoy bourbon, food and big music acts Friday, Saturday and Sunday. Last year, the second day of the Bourbon & Beyond was canceled because of heavy rain and flooding at Champions Park. Louder than Life was canceled because the park was so waterlogged and muddy.
But show producers have dealt with many noise complaints from their previous venue off River Road. People on both sides of the Ohio River complained about how far the sound traveled, so organizers used technology, stage positions and deployed techs with sound meters to measure the decibel levels in nearby neighborhoods. 
"We absolutely check the decibel levels," said Lindsey Medina, director of marketing for Danny Wimmer Presents. "It is monitored at every second of every song of every artist that plays that stage. We have a monitor that's showing us exactly where we're at."
.@PresHall getting our Friday started on the right note. @BourbonNBeyond @WDRBNews pic.twitter.com/L82tca0lex

— Gina Glaros (@ginaglaros) September 20, 2019
The headliners for Friday's Bourbon & Beyond include the Foo Fighters and John Fogerty. On Saturday, Robert Plant and the Sensational Space Shifters headline along with Daryl Hall and John Oates. Sunday's headliners are the Zac Brown Band and ZZ Top.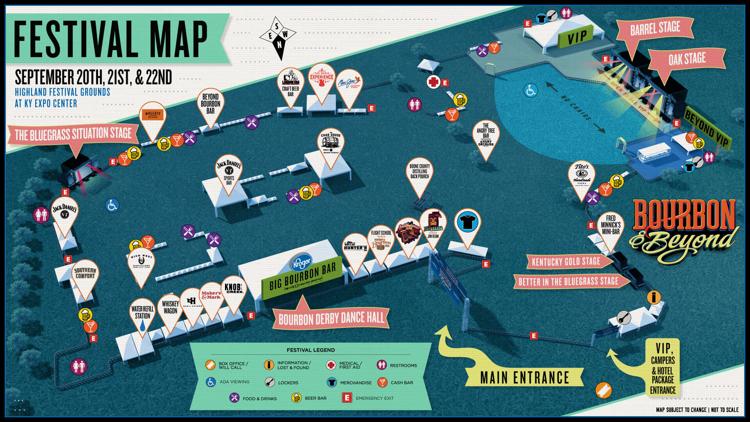 Monster Jam is also booked in Freedom Hall on Saturday and Sunday, which could mean very full parking lots at the Kentucky Expo Center.
Parking is usually $10. Parking at Bourbon and Beyond is $20. Kentucky Venues said because both events were planned for a while, it'd be unfair to change the price. 
There are several items you cannot bring inside, including umbrellas, strollers selfie sticks, hula hoops, beach balls, music instruments and coolers. All bags must be clear or be small clutch purses. You can also bring in one refillable and sealed plastic water bottle. You can also bring binoculars, earplugs, sunscreen and some folding camping chairs.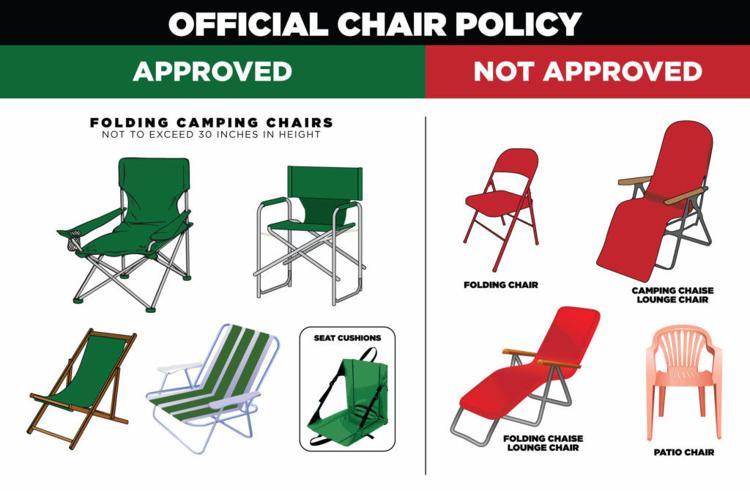 Festival organizer Danny Wimmer Presents has a 10-year commitment with Louisville. Next year, the Kentucky Bourbon Affair will be added to the mix, moving from June to September.
Related Stories:
Copyright 2019 WDRB Media. All Rights Reserved.