LOUISVILLE, Ky. (WDRB) - Country music lovers across the country filed into the Highland Festival Grounds this weekend at the Kentucky Exposition Center for the first annual Hometown Rising, but many of them left frustrated.
Darrell Hall (not the lead singer of Hall and Oates set to play at Bourbon and Beyond this coming weekend), spent more than $800 on VIP tickets for he and his wife's 40th anniversary. They bought the tickets in hopes of avoiding the crowd, but what ensued was quite the opposite.
"It got so crowded, it wasn't worth it," Hall said. "Once you got in there, it was chaos. Especially at night."
Early bird VIP prices started at $400 apiece for the weekend, but by this weekend, they could be purchased as an upgrade for much cheaper prices of $75/day or $150/weekend. This frustrated several people who bought tickets earlier and were told the prices would go up at later dates.
"They were deceiving you to buy them at that time, because they knew they weren't going to raise the prices on these tickets," Hall said.
Thousands of people filed into an open field at the Kentucky Expo Center on Saturday and Sunday. Hometown Rising was the first of three festivals happening there over the next several weeks.
Danny Wimmer Presents produces all of the festivals. Last Friday, CEO Danny Hayes told WDRB News that he's already losing $3 million on the festivals and significantly lowers prices so that he won't lose an additional $2 million.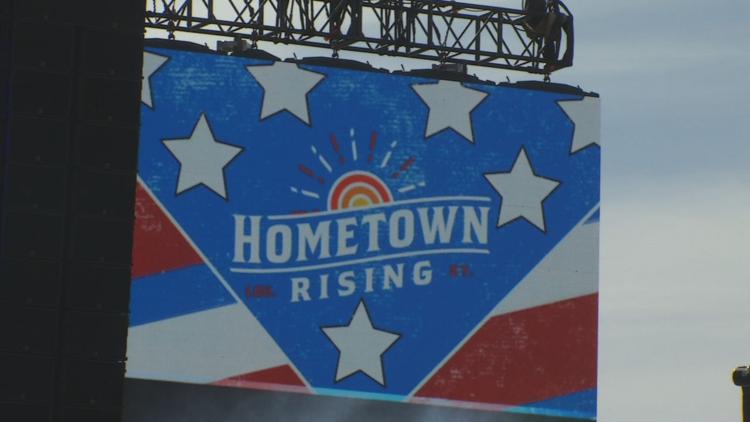 "Otherwise, there's no sustainability to the business model," Hayes said. "Yeah, I understand people are upset about it. But if they would prefer, I'll just stop producing the festivals."
The Better Business Bureau rated Danny Wimmer Presents as a D-. The website also lists 18 customer complaints, many citing dramatic price drops days before the concert. 
"It's a ripoff," Hall said about the business model. "The Danny Wimmer, whatever it is ... Presents? They're a joke," Hall said.
Some people living nearby who didn't go to the concert were frustrated with noise. 
A MetroSafe spokesperson said 32 noise complaints were made to 911 between 8 a.m. Saturday and 11:59 p.m. Sunday. Those numbers were pulled from the Fourth and Sixth LMPD divisions around the venue space. Only one complaint specifically addressed the festival noise.
The noise isn't going anywhere, though. September 20-21 is Bourbon and Beyond, followed by Louder Than Life the next weekend. All of the festivals are produced by Danny Wimmer Presents.
Related Stories:
Copyright 2019 WDRB Media. All Rights Reserved.