LOUISVILLE, Ky. (WDRB) -- The chairman of the Bullitt County Planning Commission is under fire for comments he made during a public meeting, and now some people want him removed.
An estimated 150 people attended a meeting at the Paroquet Springs Conference Center on July 23. Some residents, like Sheena Theising, were there to speak out about plans for new subdivisions in Brooks and Mt. Washington.
Theising has submitted a petition with hundreds of signatures against the proposed development in Mt. Washington.
"We were at the meeting to give our concerns in regards to a proposed development of 166 homes on 49 acres that's gonna be behind our home," Theising said.
The meeting was sidetracked, however, when Bullitt County Joint Planning Commission Chairman Jerry Burke made the following comment to a man wearing a red Donald Trump baseball cap: "If you are going to support Donald Trump and be a jack***? (inaudible) Get out of here. Get out of here."
The crowd then started yelling. Someone saying, "Take the political out the door." Another saying, "That's b***s***."
"How embarassing that is for the whole community of Bullitt County and who the local cities are sending their people to. I don't think they are okay with that," Theising said.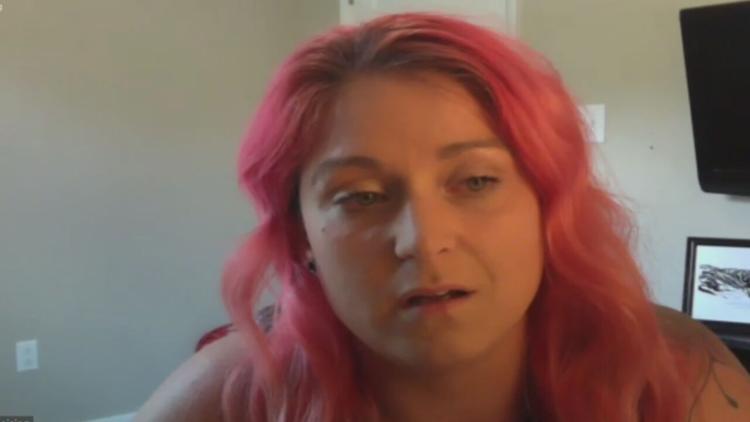 The meeting, at times heated, continued for more than four hours. Some residents say the tension in the meeting was made worse by Burke's comments, some of which were captured on audio tape. (Planning and Zoning does not make video recordings of meetings, and the audio recording of the July 23 meeting only covers the second half of the meeting because the recorder wasn't turned on).
During one of the votes, Burke says "Six for approval, that will carry with that and be sent to the appropriate body for... " He's interrupted as someone in the crowd blurts out, "racist f****** dog."
Bullitt County Judge Executive Jerry Summers says his office is now investigating Burke's comments. Summers calling them, "not appropriate" and "not model behavior."
Theising says Burke was "just calling out people, calling them rednecks, hillibillies and calling them stupid."
Burke, who was just re-elected Chairman at the meeting, declined an on-camera interview saying he had requested law enforcement to be there and that would've helped control the crowd. Burke says he was responding to a man who he claims was being disrespectful throughout the meeting, but wasn't saying anything for or against the President.
Burke's seat is one of five appointed by Fiscal Court, with the other eight seats appointed by Bullitt County cities.
Theising believes Burke "needs to lose his job. He does not need to be in that position. He does not need to deal with the general public who are going to come there emotional."
Summers says options being considered include Fiscal Court recommending to remove Burke as Chair. But the judge-executive is also seeing if Burke can legally be removed from the board.
"Someone in his position needs to be able to control himself and his emotions and know how to de-escalate the situations," Theising said.
Planning Commission member Tony Thompson tells WDRB he agrees that Burke could have used more reserve and decorum at Thursday's meeting.
Burke says as Chairman, he is paid $60 per meeting and board members are paid $55. He says he has a proven record and was also on the Planning Commission years ago. He welcomes whatever the county wants to do with exploring the future of his position. He says he's a retired developer who is helping his community by serving on the Planning Commission.
Attorney Eric Farris, who represents two of the developments under consideration, says it could take as long as 10 years to complete the projects.
"The Coral Ridge Springs project (Brooks) has potential for 150-170 single family homes (which again is a reduction from the current potential for 250-350 multi-family and single family residential units total)," Farris said.
Farris noted that the Bethel Springs project in Mt. Washington potentially has 164 buildable lots for homes with 2-car garages, ranging in size from 1,200 to 1,300 sq. ft. $250K-$350K in cost; 1200-3000 sq ft homes all with 2 car garages."
According to Farris both projects "received a favorable recommendation to approve our applications. The Coral Ridge Springs project was approved for single family dwelling units ONLY, thus removing the apartment concept from the prior zoning status AND reducing the overall density (number of living units)."
Farris said there should be less traffic under the new proposal that's now headed to Bullitt Fiscal Court, where it will have two readings, for review and approval. The same is true for the Bethel Springs project, which was also approved for single family dwelling units.
Copyright 2020 WDRB News. All rights reserved.