INDIANAPOLIS (WDRB) -- Two judges from southern Indiana were hospitalized early Wednesday morning after being shot in the parking lot of a White Castle in downtown Indianapolis. 
According to a statement from the Indiana Supreme Court, the judges have been identified as "the Honorable Andrew Adams and the Honorable Bradley Jacobs." 
Jacobs and Adams were both rushed into surgery and are in stable condition. Sourced confirmed to WDRB News that Adams had damage to his colon and bowels and Jacobs was shot twice in the abdomen, damaging his liver.
Police say the shooting happened around 3:20 a.m. at 55 W. South St. Adams and Jacobs were visiting Indianapolis for the Spring Judicial College, a conference for judges from across the state that started Wednesday.
The news brought a universal shock to Clark County's legal community 
"People are absolutely mystified," Jeffersonville attorney Jack Vissing said. "This is highly unusual. Neither of these guys are confrontational. You wouldn't find them out drunk and running a muck."
"We aren't judges or lawyers when things like this happen, this is brad and drew and that's why I am sick about it." attorney Matthew Lemme said. "They're trusted, well-liked and respected by members on both sides of the bar." 
Indianapolis Police interviewed several witnesses and determined that both men went to several downtown restaurants or bars Tuesday night and Wednesday morning. Jacobs, Adams and two others went to the White Castle around 3 a.m. The two victims and a third person stood outside the restaurant while the fourth went inside. During that time, a car pulled into the parking lot, several people got out and tried to get into the restaurant, but it was locked.
A fight started outside the White Castle, although IMPD doesn't know how it started. Shots were eventually fired, and Jacobs and Adams were hit. The shooter ran away, and no suspect information has been released by IMPD.
"Three o'clock in the morning — I would have to say that's a little late. This is something that needs an answer," Vissing said. "These are decent guys. They're decent judges."
Adams and Jacobs both served in the military before going into law and were elected to the bench in 2014. 
Wednesday court was canceled in Clark County. The sheriff and prosecutor were among a host of local officials who rushed to the hospital in Indianapolis after the shooting.
"Both suffered some serious injuries, and they both need the prayers of the community at this time," Clark County Prosecutor Jeremy Mull said. "They and their families."
 Indiana Supreme Court Chief Justice Loretta Rush has visited with the judges and their families, and released the following statement:
"Our judges across the state are heartbroken to learn of this violent act against our colleagues. We send our prayers for a speedy recovery for both Judge Jacobs and Judge Adams and our love and support to their families and the Clark County community."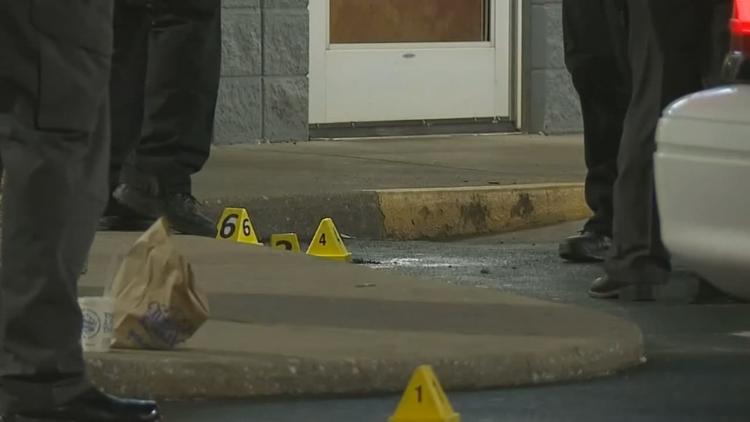 Clark County Sheriff Jamey Noel said he doesn't believe the men were targeted because they are judges. He said Clark County court cases were canceled Wednesday after the shootings. Noel, along with several attorneys and court officials, rushed to the hospital in Indianapolis after hearing their colleagues had been shot. 
Indiana State Bar Association President J. Todd Spurgeon also issued a statement in response to the shooting.
"I am saddened to hear the terrible news that two Judges were victims of a shooting overnight. I have appeared before these judges many times, and count them among my friends in this community. Although our justice system is generally adversarial by nature, we are one legal community, and at times like this we come together to lift up our colleagues and their families. Personally, and on behalf of the Indiana State Bar Association, I offer our heartfelt support and prayers for the judges' recovery."
Spurgeon is a New Albany-based partner at Kightlinger and Gray LLP.
Anyone with information is asked to contact Crime Stoppers at 317-262-TIPS.
Copyright 2019 WDRB Media. All Rights Reserved.