LOUISVILLE, Ky. (WDRB) -- A man and woman were arrested early Wednesday with drugs and guns, after leading police on a high-speed chase  from two states in a stolen pickup truck. 
According to a news release, Indiana State Police were notified by the Louisville Metro Police Department that officers were in pursuit of a stolen 2019 GMC Sierra that was westbound on I-64, and approaching the state line. LMPD broke off the pursuit as the pickup crossed into Indiana.
The stolen Sierra was equipped with an On-Star security system, but attempts by On-Star to remotely disable the car had been unsuccessful. As the pickup continued into Indiana, a state trooper spotted it heading westbound near the 105 mile-marker in Harrison County and unsuccessfully tried to make a traffic stop.
The chase reached speeds above 100 mph through Harrison and Crawford Counties. Deputies in Perry County tried unsuccessfully to end the chase by deploying tire-deflation devices. The driver also managed to avoid tire-deflation devices set in Spencer County. As the driver approached SR70 near Chrisney, Indiana, On-Star was able to shut down the vehicle remotely, and the truck drove into the median.
The driver -- 25-year-old Nelson Jacob Emery of New Albany -- was taken into custody without further incident. His passenger -- 25-year-old Kaelin Marie Brian, was also arrested. While searching the vehicle, a state trooper found "a revolver with the serial number removed and a loaded 9mm semi-automatic pistol."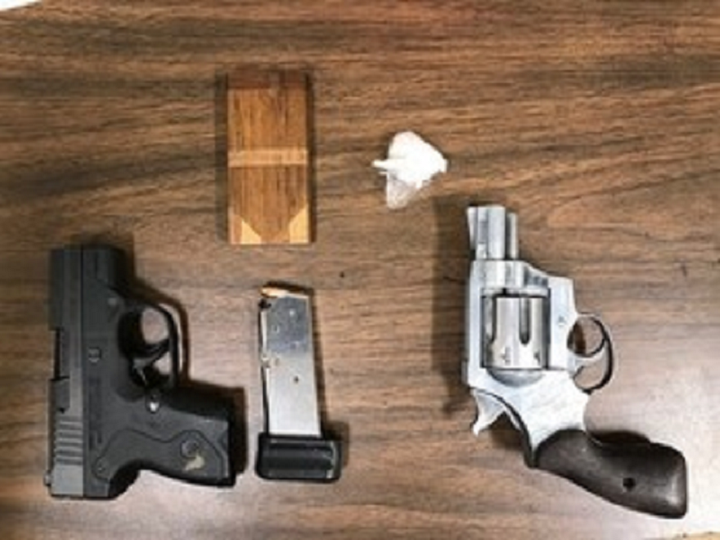 Five grams of methamphetamine and one gram of marijuana were also found, according to the news release. 
Emery and Brian were both taken to the Harrison County Jail. Emery is facing several preliminary felony charges including: possession of a handgun with obliterated serial number, possession of a handgun by a felon, resisting law enforcement with a vehicle, and possession of methamphetamine. He was also wanted on several warrants out of Floyd County, Indiana.
Brian is charged with one count of marijuana possession. 
Copyright 2021 WDRB Media. All rights reserved.