LOUISVILLE, Ky. (WDRB) -- Louisville Metro Police said officers arrested a man Friday night at Jefferson Square Park after he fired a gun into the air while standing in a street nearby. 
In the video provided by LMPD below, which authorities said was "edited for length," a man in a white T-shirt, black shorts and white shoes with a black bandanna around his neck can been seen leaving the sidewalk surrounding Jefferson Square and firing a shot into the air while standing in a crosswalk of a bordering street with at least a dozen people within close proximity. Police did not report any injuries related to the incident. 
LMPD officers moved into the park just after 8 p.m. Friday and arrested the 24-year-old man for first-degree wanton endangerment, spokeswoman Jessie Halladay said in a statement. Police did not release the identity of man who was taken into custody. 
A WDRB News review of Friday's booking log at Louisville Metro Corrections and an arrest citation shows Frederick Potter, 24, of Louisville was taken into custody at 8:15 p.m. at S Fifth Street on a charge of first-degree wanton endangerment. According to Potter's arrest citation, LMPD's Real Time Crime Center cameras spotted Potter "retrieve a handgun from a vehicle and fire the weapon into the air."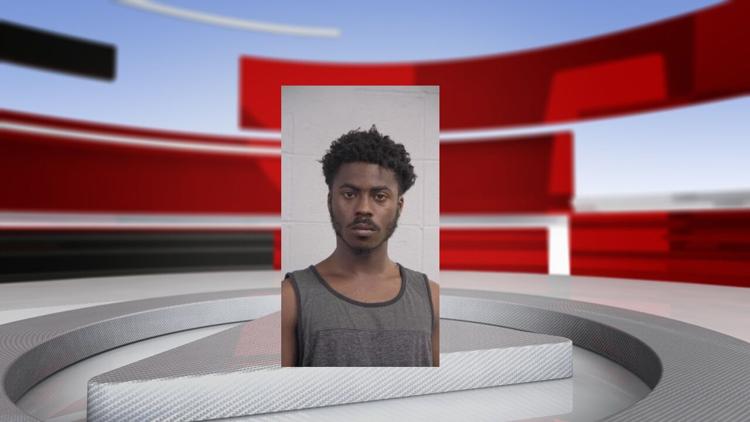 "The listed (subject's) actions placed everyone in the area in extreme danger or serious injury or death," Potter's arrest citation states. 
Court records show Potter pleaded not guilty to first-degree wanton endangerment Saturday morning in arraignment court. His bond was set at $5,000. 
For more than a month, Jefferson Square Park has been the primary gathering place for protesters demanding justice in the shooting death of Breonna Taylor during an LMPD raid on her apartment in March. On June 27, Steven Lopez, 23, fired multiple shots into a crowd of people gathered in the square, killing 27-year-old Tyler Gerth, a frequent participant in and photographer of the ongoing demonstrations. 
Halladay said in a statement that the man arrested Friday fired a shot "following a fight with someone in Jefferson Square." The alleged fight was not included in LMPD's edited video, which begins with the man firing the shot. 
A woman who was participating in demonstrations Friday at Jefferson Square told Maxwell Mitchell, who frequently livestreams the protests, that the man who fired the shot was not involved in the demonstrations, according to a video on Mitchell's Facebook page. 
According to Potter's arrest citation, someone took the gun from him "immediately after" he fired a shot into the air. LMPD's edited video does not show the gun being taken from the man and instead transitions to officers taking the man into custody while others who have gathered at the park watch — some with phones out appearing to record video of the arrest. 
LMPD's edited video then transitions to officers leading the man out of Jefferson Square with several protesters following. The man in custody is shirtless but appears to be wearing the same black bandanna, black shorts and white shoes as the man who fired the shot at the beginning of the video.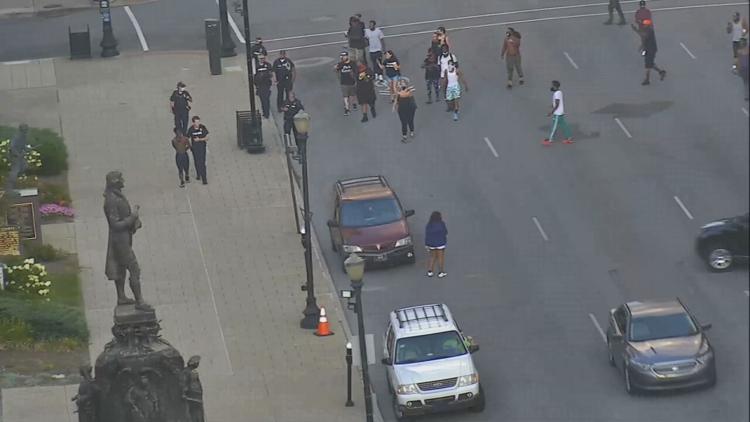 Police video shows protesters continuing to follow officers as they escort the man down Jefferson Street to Fifth Street before turning around and heading back toward the park. Protesters were "yelling and threatened officers" as they took the man in custody to a patrol vehicle, Halladay said in a statement. 
More police responded to the area to make sure the other officers were able to get away from the park safely, Halladay added. 
Video shows people who were gathered in the park continuing to yell at officers, even kicking their vehicles and throwing items at them, as they were leaving.
Copyright 2020 WDRB Media. All Rights Reserved.