LOUISVILLE, Ky. (WDRB) -- A round of golf at Seneca, one of Louisville's best public courses, is a perfect afternoon for Greg Spencer of Middletown. In fact, Spencer likes the course so much that he'd be willing to pay more to play there.
And soon, that's probably going to be a reality.
Facing the squeeze of another tough budget, Louisville leaders were tasked with figuring out what to do with the city's under-performing courses. Thursday night, a Metro Council committee unanimously voted to increase fees at most courses. Daily fees will go up by $5 during the winter and summer at Seneca, Charlie Vettiner, Iroquois, Long Run, Shawnee, Sun Valley, Cherokee, Bobby Nichols, Crescent Hill and Quail Chase. The price for an annual pass will also go up for adults. The price will decrease for juniors. Golf pros at the 10 courses can also raise or lower the greens fees based on dynamic pricing.
"I felt very passionate about keeping golf in Louisville as close to the same as possible," said Metro Councilwoman Cindi Fowler (D-District 14), the architect of the plan. "I am not concerned at all, because we are still well below what any of the private — even public-private courses — are charging."
Fowler said it'll preserve and sustain public golf in Louisville and protect courses from closure. It also lays out specific criteria any private entity or person would have to meet in order to manage a course.
Her solution earned the praise of most council member but not fellow Democrat Bill Hollander (D-District 9).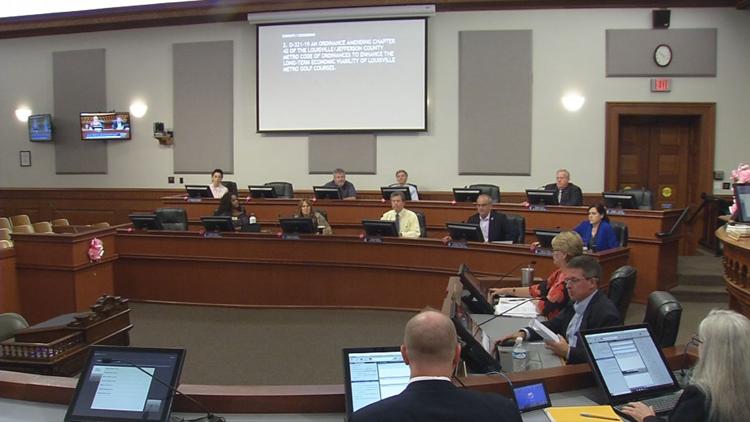 "What I hope people will do is look at our situation and say, 'What we're doing is not sustainable,'" he said.
Hollander was a fan of ongoing efforts — a so-called Request For Proposal (RFP) put out by Mayor Greg Fischer's administration — to gauge interest in private management of the courses and get ideas from all over the country that might help Louisville run its courses more efficiently.
Hollander thinks Fowler's plan to preserve all 10 city courses might "short circuit" those efforts that could potentially save precious taxpayer dollars.
"I just don't think we have that luxury in this city when,"  he said. "Again, we're going to have 70 fewer police officers. That can't be the default: Let's keep doing everything we're doing and just cut the police department."
Fowler believes that argument is flawed, since she believe the increased fees will make the golf courses revenue-neutral and self-sustaining.
Hollander, on the other hand, said that's not guaranteed, since steeper fees could decrease play at the courses. Fowler, based on signatures she's received from thousands of golfers, doesn't think the steeper fees will decrease play.
Fischer, however, agrees with Hollander.
"City golf courses have been collectively losing increasing amounts of money each of the last three years so we prudently issued an RFP to solicit new ideas for their operation," Fischer's spokesperson, Jean Porter, wrote in a statement. "While we appreciate Councilwoman Fowler's passion for the sport, we agree with Councilman Hollander that her proposal may limit responses to the RFP process before it can play out, which could leave us with an unfunded status quo that threatens golf sustainability altogether."
Regardless, Fowler's plan received a unanimous, bipartisan vote from the council committee, and 12 council members have signed on as cosponsors. It needs one more vote from all of Metro Council next Thursday.
Copyright 2019 WDRB Media. All Rights Reserved.