LOUISVILLE, Ky. (WDRB) -- The national conversation has shifted away from the coronavirus over the last week and a half, and rightfully so, but doctors are reminding people to be aware that COVID-19 remains a threat.
Kentucky announced a jump of 265 new cases Wednesday, bringing the state's total to 10,410.
"The coronavirus is still out there. It is still a disease that can spread easily." said Dr. Hugh Shoff with U of L Health. "People still need to take the precautions that we have been (taking)."
That includes mask-wearing, hand-washing and staying 6 feet apart, Shoff said.
"With large gatherings, without good social distancing, without proper wearing of masks, you are increasing the risks of a possible spread of the virus," he said.
As crowds gather for protests against racial injustice in Louisville and across the nation, Shoff said those participating in demonstrations don't need to suddenly scramble for a test.
"If you were in a large gathering, you don't immediately need to be tested right after," he said. "But if you do develop symptoms or you're starting to have fever, chills, cough -- symptoms that are concerning to you -- please reach out to your primary care provider."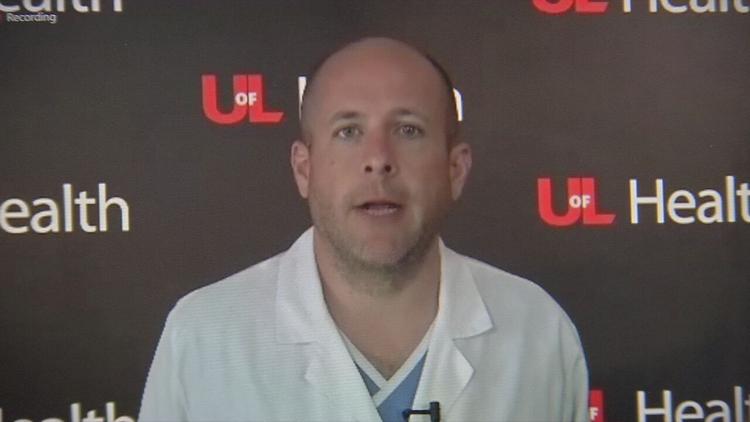 However, in a director contradiction to that, Dr. Sarah Moyer, director of the Louisville Metro Department of Public Health and Wellness, said in a news release Wednesday that those protesters SHOULD be tested for COVID-19.
"Our city has gone through some very painful events over the past months," Moyer said. "But the Department of Public Health and Wellness continues to work to achieve health equity for all of our people and to bring about a healthier Louisville where everyone and every community thrives."
Right now, U of L is requiring patients to get tested before non-emergency procedures. If they test positive, the procedure will be rescheduled.
Shoff said if you've been putting off a doctor's appointment because of the pandemic, it's now OK to reach out again.
"We don't want people to feel like they should be afraid to come in and seek the care that they need and deserve," he said.
Doctors will continue to monitor how the virus changes over the summer, including any spikes in cases or possible hot spots.
Copyright 2020 WDRB Media. All Rights Reserved.