LOUISVILLE, Ky. (WDRB) -- Nelson County School's Board of Education voted to effectively kill its campus community project.
In a 3-2 vote Tuesday night, board member Amanda Deaton's motion to reject documents and terminate its construction contract, passed, effectively killing the overall campus community project.
Deaton's overall motion was: 
"To authorize the board chair and superintendent to execute all necessary and appropriate documents to release, reject and cancel all documents received for the Thomas Nelson Community Campus project and thereafter terminate the construction manager contract with Codell construction providing per payment of all funds to Codell according to the executed construction manager contract."
Board members David Norman, Diane Berry, and Deaton voted in favor of the motion. Members Tracy Bowling and Damon Jackey voted against the motion.
The Community Campus plan would consolidate Nelson County middle schools and create a 7-year learning experience for students, merging middle schools and high schools. The plan was already approved by the Kentucky Department of Education, but board members cited budget concerns as a reason why they didn't want to move forward with the plan.
In a statement released Wednesday, the board said it would "continue examining the long-term organization of the district's facilities and how those facilities impact student learning."
In recent weeks, community members said they grew more frustrated with the board as there alternative options were discussed, straying from the original Community Campus plan, causing confusion within the community.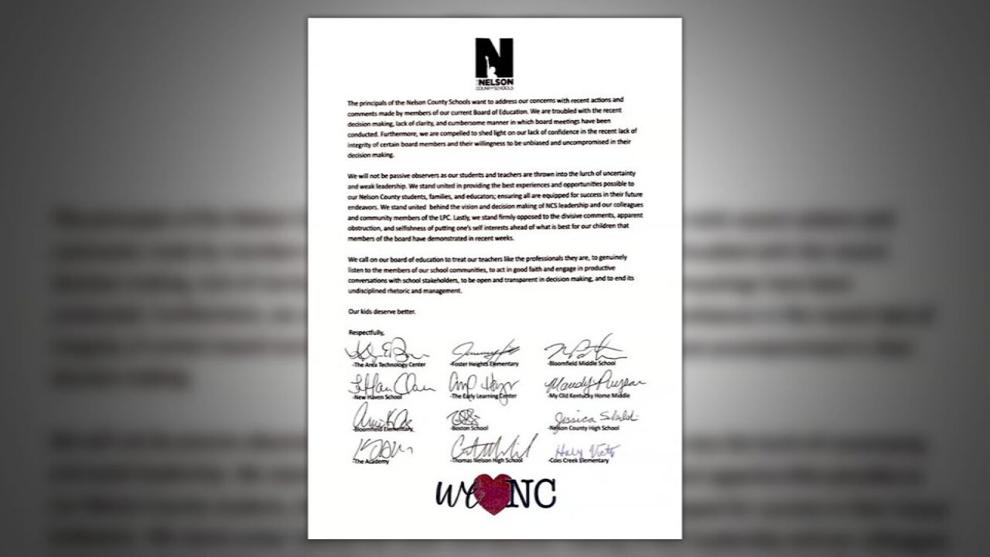 Principals also expressed frustration, and all 12 Nelson County Schools principals' signed a letter expressing their concerns.
In part, they wrote, "We are troubled with the recent decision making, lack of clarity, and cumbersome manner in which board meetings have been conducted. Furthermore, we are compelled to shed light on our lack of confidence in the recent lack of integrity of certain board members and their willingness to be unbiased and uncompromised in their decision making."
The principals stood together, as they read the letter to board members during public comment. As they continued reading, other staff members joined them behind the podium to show support. 
"Conversations have changed to where the principals felt like their voices weren't being heard," said Curt Merrifield, Thomas Nelson High School principal. "We wrote this letter together, to ensure that our community being heard and that their voice is being heard." 
In the letter, principals continue, "we stand firmly opposed to the divisive comments, apparent obstruction, and selfishness of putting one's self interests ahead of what is best for our children that members of the board have demonstrated in recent weeks."
"Part of that was the letter to leaders are just looking for some clarity and what's been said, " Merrifield said.
The principals asked the board for more transparency and better decision making.
"While recent board meetings have been emotionally charged at times, it has focused the conversation on what is best for all students throughout the county," Nelson County Schools' Superintendent Wes Bradley said in a statement Wednesday. "Community engagement in the future of public education will be vital to long-term community growth and well-being. Each of us play an important role in shaping and improving the future of public education and public service."
Copyright 2023 WDRB Media. All Rights Reserved.