LOUISVILLE, Ky. (WDRB) -- Schools in New Albany and across Floyd County are still in session, but officials with the district said they're having trouble getting students to their seats. 
A shortage of school bus drivers happens every year, according to Rick Cathcart, the district's assistant director of transportation. The problem has been magnified in 2020, however, because of the pandemic.
"It's pretty much all hands on deck this year," Cathcart said. "The mechanics and myself, we've been driving the bus about every day this year. Some of our shorter downtown routes we've actually combined, and we've even done some double runs here recently to help out."
Cathcart estimates 10-15 extra drivers are needed to make the shortage more manageable. The biggest problem, he said, is that there are many steps one has to take before they can operate a bus.
"You have to get a (Commercial Driver's License), Class D, with a school bus passenger endorsement," Cathcart said. "Then, there is about a four- to six-week period of actually training here on site. After you get trained, then you gotta take your state driving test in a school bus." 
The school cooperation has more than 11,000 students. Of those students, around 7,500 use a school bus every day, according to Cathcart.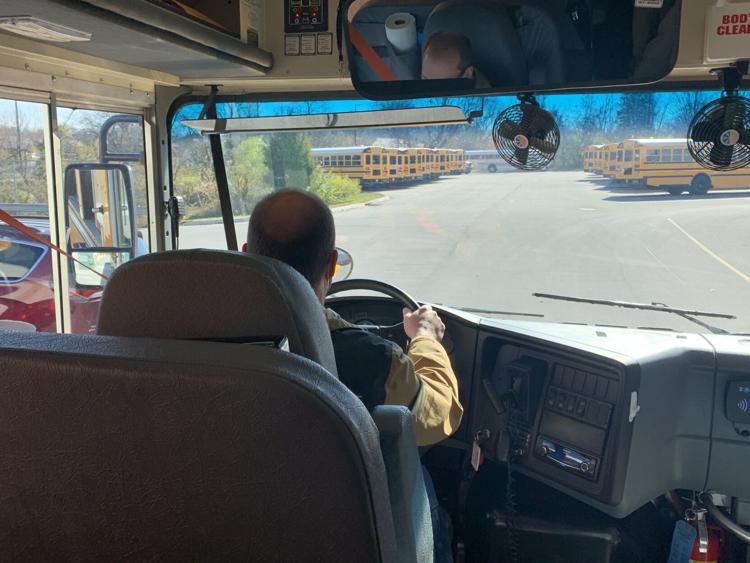 During the pandemic, students and drivers must wear masks while aboard the buses. Cathcart said the district also has implemented seating charts for every route to allow for better contact tracing and cleaning protocols.
The buses run 117 routes each day. Each route is a combination of either a high school and a middle school or a middle school and an elementary school.
"Each driver is basically doing four runs each day, two in the morning and two in the afternoon," Cathcart said. 
If there aren't enough drivers for each route, Cathcart said parents will be notified as soon as possible. Parents will then either have to drive their child to school themselves or plan for their child to participate in virtual learning until a bus service becomes available.
Substitute bus drivers will earn $20 an hour, and full-time drivers are eligible for additional company benefits. If you're interested in applying, contact New Albany-Floyd County Schools' Transportation Department at 812-542-4707.
Copyright 2020 WDRB Media. All rights reserved.