LOUISVILLE, Ky. (WDRB) -- The federal courthouse in downtown Louisville will be closed next week in anticipation of a decision in the Breonna Taylor case. 
The Gene Snyder U.S. Courthouse & Customhouse, at 601 W. Broadway, will be closed from Monday, Sept. 21, to Friday, Sept. 25, according to Tom Moore, the facilities manager of the General Services Administration. 
Workers spent Saturday putting plywood boards on windows at the courthouse.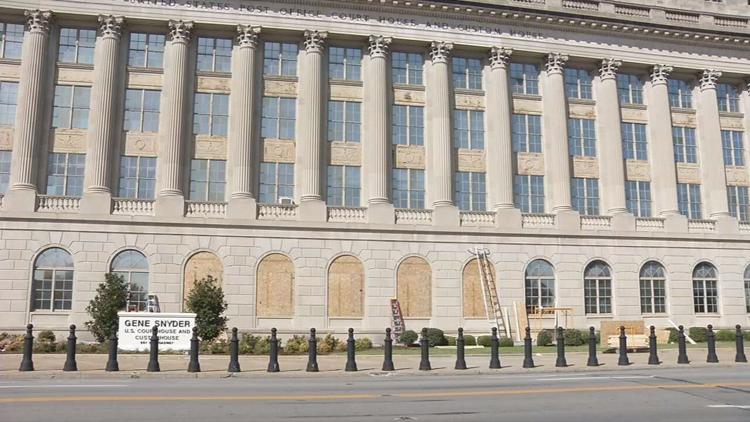 The decision to close the courthouse was made due to the "possibility of civil backlash" that could occur next week in connection with an announcement regarding Attorney General Daniel Cameron's investigation into the Taylor case, Moore said. 
The Department of Homeland Security has identified four federal buildings as "high-risk" targets in Louisville, Moore said. Those include the aforementioned federal courthouse, the Romano L. Mazzoli Federal Building, the U.S. Attorney's Office building and the U.S. Immigration and Customs Enforcement building. 
The General Services Administration has already begun taking proactive steps to protect the buildings, Moore said. Windows will be boarded up at the Gene Snyder U.S. Courthouse & Customhouse throughout the weekend.
Louisville Metro Police officers shot and killed Taylor, a 26-year-old emergency room tech, during an undercover raid on her apartment near Pleasure Ridge Park in March. Taylor was struck five times, according to her death certificate. 
Police have said that Taylor's boyfriend, Kenneth Walker, fired a single shot from the hallway of the apartment that struck Sgt. Jonathan Mattingly in the leg when officers burst into the residence. The officers returned fire, striking and killing Taylor in the hallway. Walker claims he and Taylor did not hear the officers announce that they were police and believed someone was breaking into the apartment. 
Taylor's death has sparked months of racial justice protests in Louisville and gained national prominence as demonstrations spread across the U.S. in response to the death of George Floyd, a Black man who died in Minneapolis after a white officer, Derek Chauvin, knelt on his neck as he pleaded, "I can't breathe."
On Tuesday, Louisville Mayor Greg Fischer announced that the city will pay Taylor's family $12 million and implement numerous reforms in LMPD to settle a wrongful death lawsuit Taylor's family filed in May. 
Cameron's office has been tasked with determining if criminal charges will be brought against the officers who fired their weapons during the raid on Taylor's apartment — Mattingly, Detective Myles Cosgrove and former officer Brett Hankison, who was fired in June over his conduct during the raid. 
Cameron has not said that there will be a decision this week and has declined to provide a timeline for any such decision. On Sept. 9, he tweeted a statement, saying that, "My office is continually asked about a timeline regarding the investigation into the death of Ms. Breonna Taylor. An investigation, if done properly, cannot follow a specific timeline."
Cameron added that, when the investigation is concluded, an announcement will come from his office, and not from any other.
Copyright 2020 by WDRB Media. All rights reserved.