LOUISVILLE, Ky. (WDRB) -- For Lashell Carter, poems make the hard things she's experienced easier to talk about and, sometimes, easier to let go.
"Poetry is not just my outlet," she said. "It's everything."
Carter is a JCPS senior, ready to graduate from the Marion C. Moore School. But just a few years ago, a diploma may not have been in reach.
"I was really at the point where I didn't care for school," she said. "I was just done with everything — another day, time to get up, whatever."
A teacher at the school introduced her to creative writing as a way to express her anger and sadness about bullying, a hard family life and even bouts of homelessness.
"Coming to school was really hard for me, so I was just like, 'What's the point?'" she said.
But instead of keeping her pain inside, she could release it on paper.
"I felt like I was yelling and screaming at everything was wrong with the world," Carter said of her poetry. "It made me find out what was right with the world instead of wrong with the world."
Carter said her teachers also helped her push past another hurdle. With dyslexia, words that were once an enemy are now a close friend.
One of Carter's poems is even etched into the sidewalk on Fourth Street next to the Brown Hotel, something that wasn't thinkable when bullies made fun of her stumbling over words.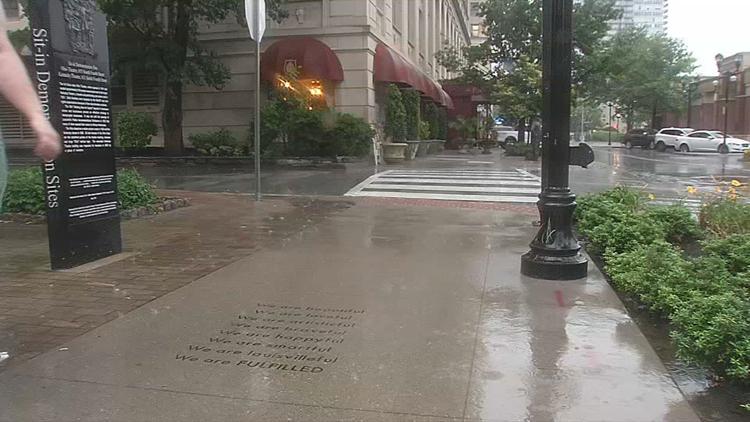 "People can say anything they want, but it doesn't define me as a person," she said. "So I had to realize that, and it took me a long time to realize that."
She found her voice through paper and pen with the power to write her own story.
Marion C. Moore School's graduation is Monday, June 10. Carter will attend Kentucky State University in the fall, where she plans to study science and creative writing.
Here is a poem Carter wrote about some hardships at school, titled "Moving Beyond The Hate":
Copyright 2019 WDRB Media. All Rights Reserved.