LOUISVILLE, Ky. (WDRB) -- Sparks flew inside Iroquois High School on Friday as welding students worked on their industry certification.
The students' future welding careers could eventually pay them six figures, part of a Jefferson County Public Schools program that has teenagers working toward high-paying jobs without ever needing college degrees. 
One of the students, 17-year-old Jesus Alcocer, completed his industry certification test by proving his welding skills to an inspector.
"There's no bubbles, no cracks, nothing," Alcocer said as he showed off a piece he welded by melting metal with electricity. "That means I have a good weld."
Through his certification, Alcocer is set up for job success before he graduates high school.
"Straight into a job," he said. "This certification will give me a higher pay rate."
Alocer can start at up to $20 per hour and already has work lined up at a local manufacturing company.
"It will give me the opportunity to live on my own, work on my own, get a car on my own," he said.
Iroquois welding instructor George Nichols said he likes to fast-track students right into apprenticeship programs that are typically hard to get into.
"I wish there was a mindset change from white collar to blue collar, and I wish people wouldn't look down their nose at people that work for a living," Nichols said.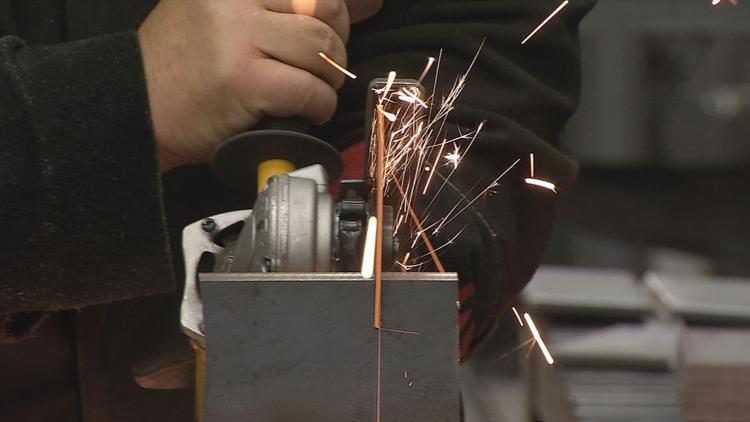 Because careers like welding pay off.
"I have students that come back and show their paychecks to their teachers, and (former students) are making more money than (teachers) are, and they don't have any student loan debt," he said.
Hope Harp, a welding inspector with the Indiana Kentucky Ohio Regional Council of Carpenters, signs off on students' work.
"We're letting people know there are other options out there besides going to college, because college really isn't for everybody," Harp said. "This is their way of testing and making sure that they can actually do the work."
Harp said local skilled trade jobs are high demand and that Louisville is a "hotbed for industry" between UPS Worldport, two Ford plants, General Electric, plus other manufacturers and suppliers.
"They need these people," said Harp, who has raised a family on a single-income welding career and is ready to retire, if she wants to, at age 48.
"College is not the only way," she said. "There are a lot of different ways."
The Indiana Kentucky Ohio Regional Council of Carpenters and Millwrights is an Academies of Louisville Partner at Iroquois, Pleasure Ridge Park and Jeffersontown high schools and also supports students at Minor Daniel Academy and Breckenridge Metro.
Copyright 2019 WDRB Media. All Rights Reserved.