FRANKFORT, Ky. (WDRB) -- Lawmakers have scrambled for nearly 24 hours to find a solution to the public pension problem, but just after 7:30 p.m., the House adjourned.
With four hours notice, Gov. Matt Bevin called the session Monday in the hopes of finding a solution to the pension crisis. This comes after the state Supreme Court ruled the pension bill passed in the spring is unconstitutional.
But House Speaker David Osborne addressed the chamber Tuesday night, saying irresponsible gubernatorial politics has been injected into the issue, adding that the pension problem can't be solved within a five-day special session.
"There's disappointment on everybody's part," Osborne said Tuesday night. "We came in here hoping that we could find a quick resolution on this ... It just didn't happen."
Afterward the House adjourned, Bevin called it the darkest financial day in the commonwealth's history.
"They've punted on this and abdicated on it for years," he said. "They don't have a solution. Have you asked any of the people in opposition to this what their solution is? They don't have one. There is none."
Gov. Bevin's Official Statement Regarding Conclusion of Special Session to Address Kentucky's Pension Crisis: pic.twitter.com/6TliZj6JUv

— Governor Matt Bevin (@GovMattBevin) December 19, 2018
The House convened for few minutes Tuesday afternoon and then went into recess so the members could meet in caucus behind closed doors. The same thing happened on the Senate side.
The Republican majorities in both chambers are trying agree on some version of pension reform they can pass.
During a meeting of the state government committee, chairman Rep. Jerry Miller (R) presented two different versions of the bills filed late Monday night.
One version supported by the governor is designed to withstand possible court challenges.
A second bill is backed by lawmakers, who want a bill that looks more like Senate Bill 151, which they passed last session. That was the bill overturned by the Kentucky Supreme Court. The Republican majority is trying to come to agreement.
"The current members, all but four of which were re-elected, campaigned on 151, were proud of 151, and want to defend 151. So we have a difference with the governor from the standpoint of defending our work or winding up in court," said Miller.
Kentucky Education Association president Stephanie Winkler is skeptical. "No one has seen anything in writing. We're still not following the constitution. We're still not governing the way we way we need to be governing, and that's the bottom line. The Supreme Court was very clear on that. We are still not allowing transparency."
Bevin says the state has to change the system, for its teachers and government employees that has a $43 billion deficit. 
"This is not an ideal time for anybody," Bevin said Monday. "None of you, none of them. But there is nothing ideal about the situation that has been put upon us."
Rep. Jim Wayne (D-Louisville) says Republicans have been less than transparent in passing legislation. 
"This is immoral, it's unjust," Wayne said. Transparency has been thrown out the window.
"So what we need to do is step back, take a deep breath, and represent the people the way we are supposed to. This governor and these Republican leaders now are doing the exact opposite."
Senate President Robert Stivers (R), admitted Tuesday that the special session isn't popular, but it is their job.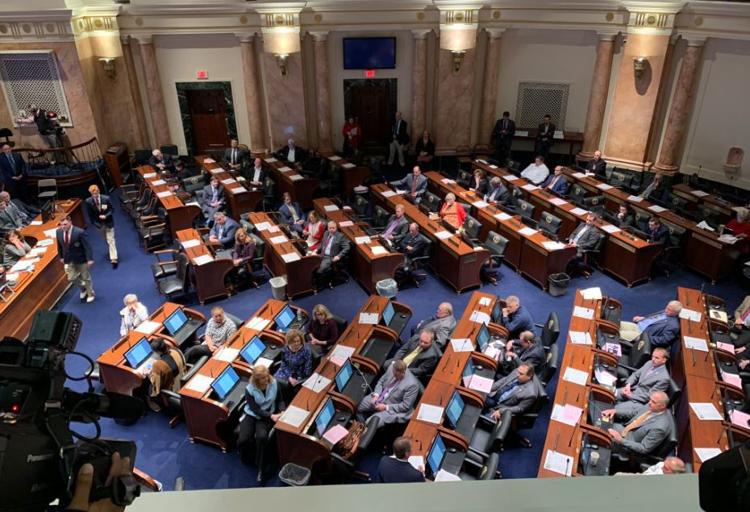 "Do we want to be here? No. It is our duty. The governor has called us in. That is his constitutional prerogative. We should be here. We should be participating whether we are in agreement or not until we decide what we need to do or if we need to do anything," he said.
Bevin called the special session after the Supreme Court threw out the pension bill passed in the last session because of the rushed way lawmakers passed it. Unless he calls another special session, lawmakers will return for the next session in January.
Copyright 2018 WDRB Media. All rights reserved.