LOUISVILLE, Ky. (WDRB) -- A fire station in Louisville installed a safety device to protect newborn children.
Okolona Fire Protection District Station 3 on Rangeland Road unveiled a Safe Haven Baby Box on Thursday afternoon. 
A new safe haven baby box is now available in Okolona. This is the second baby box in Okolona and the 10th in Kentucky. It's #111 for the country. @WDRBNews pic.twitter.com/Qep7j0hhXJ

— Darby Beane (@DarbyBeane) June 16, 2022
Safe Haven Baby Boxes allow parents to surrender their infants legally, safely and anonymously. The boxes are located inside buildings such as fire departments or hospitals. When the box is opened and a baby is placed inside, a silent alarm notifies first responders.
"It's important for us to have resources locally for women. We need to have as many choices and options for moms that we can give them," Monica Kelsey, founder of Safe Haven Baby Boxes, said. "A baby box might just be the last stitch effort to save this child's life."
The newest baby box in Kentucky is the state's 10th. It's the second baby box in Okolona. Okolona Fire installed Kentucky's first baby box in the summer of 2021 at its station off Preston Highway. While that baby box has not been used, the department is determined to get baby boxes installed at each of its stations.
"It was my mission to try to be the first, so there was a little race between a couple of us, so very exciting for us," said Okolona Fire Chief Mark Little. "We were very proud to be the first in the state of Kentucky to have a baby box at our main station off Preston Highway."
In the past year, several baby boxes has been installed in Kentucky. Most of them have been in the Louisville area including fire stations at Zoneton, Fern Creek, Pleasure Ridge Park and Louisville Fire's station off Griffiths Avenue.
There are more than 80 baby boxes in Indiana, including in southern Indiana communities like Madison, Seymour, Corydon, Paoli, Jeffersonville and others.
At least one baby has been surrendered at the fire station in Clarksville. It happened less than a year after the baby box was installed.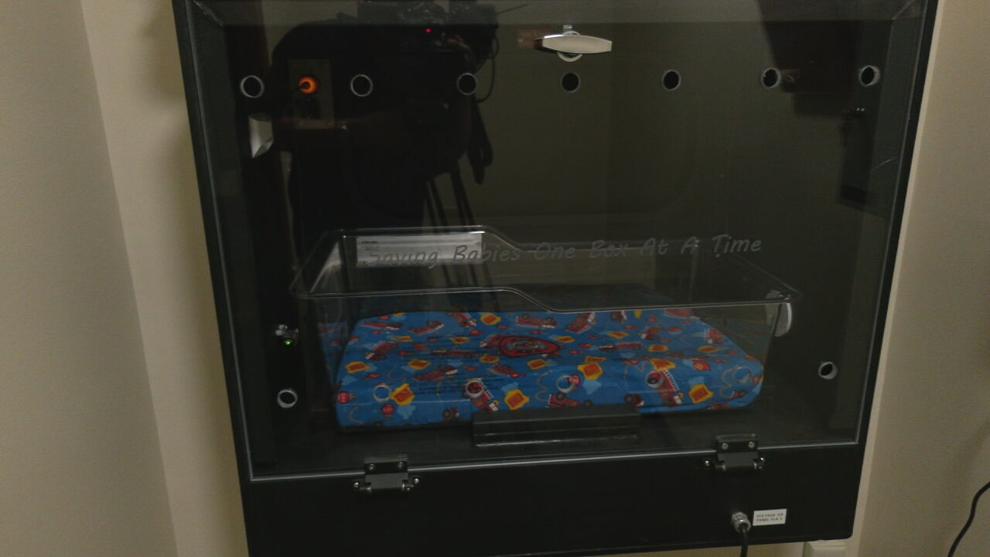 In May, a mother surrendered her newborn at a Louisville Fire station under the Safe Haven Law. That station didn't have a baby box, but the child was handed over directly to firefighters.
At that time, Louisville Fire said there are plans to install additional baby boxes at fire houses in the city within the next six months.
Kelsey said the baby boxes have helped 121 women surrender children by handoffs, while 19 babies have been placed in a Safe Haven Baby Box.
In Carmel, Indiana, the Department of Child Services is getting an emergency blood test to determine a baby's DNA after parents who surrendered the baby say they want him back.
Thursday, Kelsey said she believes that test has now been completed, but said she doesn't think results are back yet. 
"This is actually the second parent that has changed their mind. The very first woman that changed her mind, she's actually a volunteer for our organization now. The very first thing that judge did (in the case of the first parent) was order a DNA test. So we knew the process. We knew that this was normal and then when this case came up in Carmel, this was not normal, this was not the way it was supposed to be handled," said Kelsey. "So, us bringing it to light, I think put that back on the forefront that if this happens again, the Department of Child Services has to protect this child, especially when a child is surrendered in an anonymous box where no one sees the parent."
There are 111 Baby Boxes in the U.S. Kelsey hopes the baby boxes will save babies' lives and protect parents.
"If a mother wants that anonymity piece and will not face anyone, we do not want that baby in a dumpster. We want her to come here and safely, legally and lovingly surrender her child," said Kelsey.
Click here for a list of drop-off locations. The National Safe Haven Crisis line is 1-866-99BABY1. The business office can be reached at 1-888-742-2133. 
Related Stories:
Copyright 2022 WDRB Media. All Rights Reserved.