LOUISVILLE, Ky. (WDRB) -- A Kosair Charities board member is under fire after making a comment during Mayor Greg Fischer's Facebook live on Saturday that some say was inappropriate.
Jerry Ward posted a comment that said "Move to Africa" directly below a post of someone calling for Fischer to resign.
"I made a comment — people are telling him to quit and leave town and stuff and I just made a comment, you know, move to Africa," Ward told WDRB News Sunday afternoon.
Fischer was giving his daily COVID-19 case update on Facebook live when Ward made the comment. He quickly deleted it.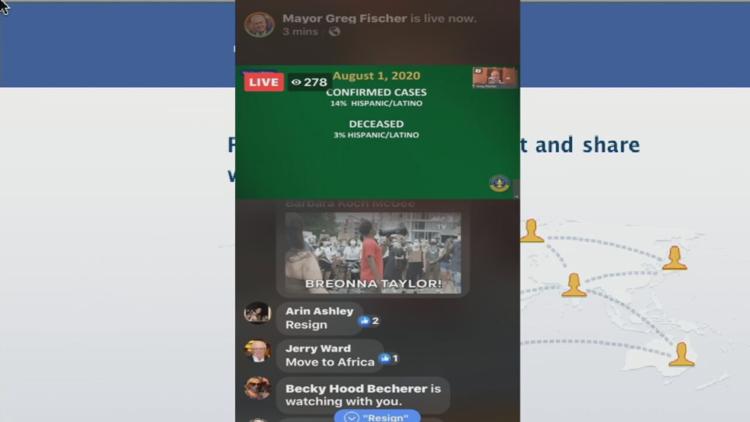 "Somebody said, 'Why did you say that?' And I said 'Well, I've been to Africa and it was the furthest place I could think of, to be honest with you,'" Ward said. "(I) had no idea — there wasn't any racist comment about it. It was purely being frustrated with Fischer's lack of performance."
Metro Council President David James — who serves on Kosair's Advisory Board — said he is "very disappointed" in the post.
This isn't the first time Ward's comments have raised some eyebrows.
Two years ago, he stepped down as chairman of Kosair Charities after he shared a meme on social media that compared protesting students to Hitler Youth regarding a Parkland, Florida, school shooting survivor.
While he is currently on Kosair's Board of Directors, Ward said it's his First Amendment right to express unhappiness with a politician's performance — something he stands by.
"I made a simple comment about somebody in a political office. I thought in America we had a right to do that," Ward said.
The President of Kosair Charities says the board will be meeting to discuss Ward's comment and will work together to find a resolution.
Copyright 2020 WDRB Media. All Rights Reserved.